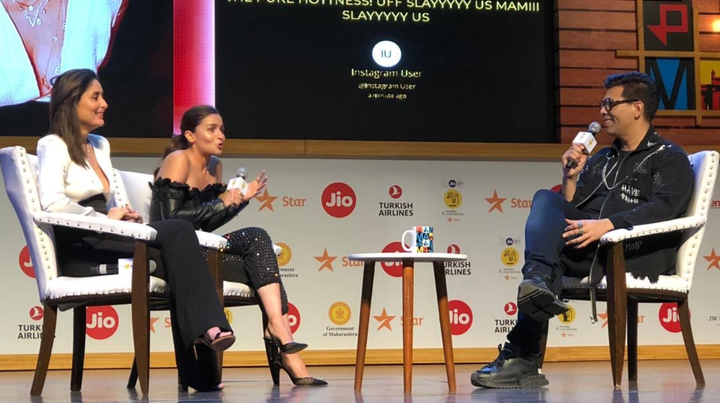 Johar, in his characteristic style, drew Kapoor and Bhatt out in the manner that only he can. Here are the highlights:
When asked how did she deal with the failure of Kalank, a film that Johar produced, Bhatt said she was okay when they found out that the film has tanked but eventually started feeling upset thinking about all the hard work that had gone into it. "Then I spoke to (pause) a friend...who really put things into perspective," she said, to which Johar replied, "So what did Ranbir say?"
Other than just being colleagues, it's likely that Bhatt and Kapoor will soon be a family. When the question of Alia and Ranbir's impending marriage popped up, Bebo said she "will be the happiest girl in world" if Bhatt becomes her sister-in-law.
"Stay above the rat race, protect your talent and don't sell it cheap," was Kapoor's advice to Bhatt. She also called the Highway actor, "this generation's best artist." Then, after taking a slight pause, Kapoor said, "It takes a great artist to know another," to thunderous applause.
Since Kareena Kapoor was amping up her diva act, Johar who introduced his Poo as the 'ultimate movie star', jokingly said, "Kareena, do people ever criticise you? Do you even understand criticism?" To which Kapoor promptly responded, "Nope. Main apni favourite hoon." Jab We Met fans (all of us) obviously went berserk.
"Interactions have become less interesting since everything you need to know about us is already out there," Kapoor said, talking about the perils of overexposure on stardom. The actress said things have become predictable as the "interviewer always knows what the interviewee is going to say." and the mystique of stardom has started to fade. Bhatt agreed, giving an example of her recent YouTube show, where she chronicles her daily life.
Tired of her own goof-ups - at one point she used the word 'scout' when she meant to say 'scroll' - Bhatt gave up. When an audience member asked her a question, Bhatt imitated an automated voice, saying, "Alia Bhatt is currently facing confidence issues while speaking publicly." Laughter ensued.