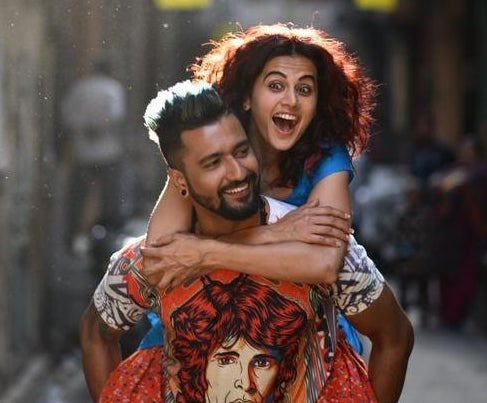 It's the season to make lists.
And this year, it's safe to declare that the corridors of Bollywood have, temporarily as it may seem, relieved the Khans of their blockbuster duties and instead, recruited, the Kaushals, the Khurranas, and the Raos to infuse young energy into the tried-and-tested paradigm of the conventional Hindi film.
While we're yet to see Shah Rukh Khan's Zero and Ranveer Singh's Simmba, so far, it's the middle-of-the-road cinema and not the tentpoles, that have dominated 2018, a year that has seen a seismic shift in Bollywood as an industry.
Appropriately mirroring an ongoing dialogue on abuse and exploitation, Hindi cinema this year gave us empowering narratives for women, with some strikingly memorable characters that called out patriarchy in households and outside while simultaneously breaking archaic stereotypes that Bollywood has cashed on since ages.
Below is a list of 5 of our absolute favourites of the year, films that subverted the idea of commerciality and set new rules.
It's like Ayushmann Khuranna can do no wrong. After de-stigmatising sperm donation and erectile dysfunction, Khuranna found himself dealing with his parents getting pregnant again in this film. Amit Sharma's Badhai Ho, at once, dismantled several subjects considered fiercely taboo in Indian society ― sex and more specifically, old people having sex.
Creating an authentic Delhi universe, Sharma told a heartfelt story about an ageing couple coping with the prejudices of a conservative society. Badhai Ho, with its outrageously eccentric humour and an ensemble cast, managed to rip apart staid notions and shared a decidedly progressive worldview.
Bollywood has rarely confronted patriarchy as boisterously as it did in Amar Kaushik's Stree, a film that ingeniously used tropes of horror and comedy to critique social oppression of women. The Rajkummar Rao-Shraddha Kapoor starrer imagined a world where the men were locked up in their houses in a sleepy Madhya Pradesh town.
Stree presented a dystopia which mirrored the actual lives of women in India, a country where women have to live with the constant threat of sexual violence and domestic abuse. Given the current conversation around predatory behaviour, Stree turned out to be an unexpected feminist masterpiece.
Though he has a reputation for helming violent gangster films, there's nobody who handles romance as deftly as Anurag Kashyap. The Wasseypur director submitted himself to Kanika Dhillon's sparkling screenplay and the product of this wonderful collaboration was Manmarziyaan. In an industry notorious for churning out hyper-unrealistic love stories that bear no semblance to a real life romance, Manmarizyaan ripped apart the idea of romantic idealism and looked at love in all its unflattering reality ― the bitterness, the jealousy, the insecurities, the hate.
In Rumi, Kashyap and Dhillon gave us a flawed protagonist unapologetic about her selfishness, confusion, and her indecisiveness, while Vicky Kaushal owned the screen as the raging romantic, in every frame that he appeared in. The film also encapsulated the dilemma the Tinder generation faces today ― to settle for certain stability guided by the mind or to keep exploring the unknown terrains the beating heart takes us to.
An achingly poetic reflection on love, loss, and longing, Shoojit Sircar's October is a difficult movie to watch as it sucks the viewer into a world of uncertainty and grief, making us confront our biggest vulnerabilities: sudden death of a loved one. In October, celebrated writer Juhi Chaturvedi created memorable characters in Dan and Shiuli, two could-be lovers who live a lifetime in a brief window between life and death. Aided by a melancholic background score, October gently wove in themes of remorse and mortality and spoke the loudest in its silences, quietly meditating on the healing powers of unconditional love. It remains Varun Dhawan's most endearing performance.
Sriram Raghavan's mind-boggling thriller takes the top slot of 2018 for its terrific performances (Tabu is outstanding), a nerve-wracking plot that culminated with a hefty payoff, and Raghavan's inventive directorial vision ― a vision so boldly adventurous it challenged the accepted notions of commercially-acceptable cinema and went about setting its own rules. Raghavan, a true-blue cinephile, also weaved in several homages in the film's narrative. From doffing his hat to Louis Malle to Chazelle's La La Land to the kitsch of 80s Bollywood, AndhaDhun is a film for the ages.