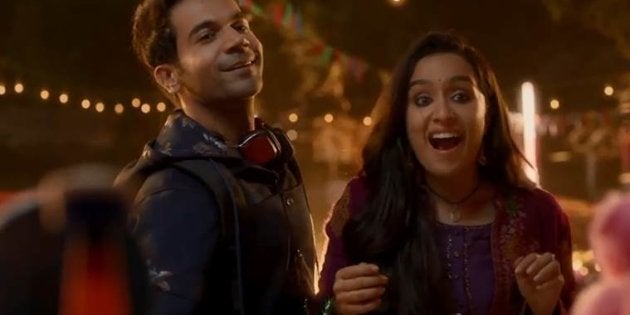 In one of the more powerful scenes in Amar Kaushik's Stree, which revolves around a disgruntled female spirit who terrorises Chanderi, a small town in Madhya Pradesh, the men are forced to lock themselves up in their houses, telling the womenfolk to come home soon, as they are afraid to be by themselves.
In a climate where violence against women continues to rise but exploitative behaviour is also being called out in some spheres, the role reversal is profoundly satisfying. Which pretty much sums up Stree, a movie so deliciously subversive and astute in its pop culture references (Kuch bhi ban, bus bhakt mat ban), it's hard not to be impressed by what it manages to deliver within the horror-comedy space.
The film uses elements of camp cinema in an ironic way and the results are unexpectedly hilarious. A spooky witch, part of village folklore, terrorising a sleepy town where everybody knows everything about everyone is pretty formulaic on paper. But what if there was a character who is so fed up of a ghost making ghostly noises that he just asks her to shut the hell up? Or mimic Shah Rukh Khan as a way to wriggle out of the spook-show? This is a film where the laughs come as frequently as the scares.
Writers Raj-DK and Sumit Aroraa (dialogues) elevate a formulaic setting and cleverly use tools of satire to take a stab at horror, not just as a genre but as a sociocultural evil. In that sense, Stree is as reactionary a horror story as Netflix's Ghoul was. The film isn't just a tale of a dead woman haunting men as she never found love, she's also haunting them for years of systematic oppression and mistreatment. By terrifying them so much that they can't come out alone in the night, she's reclaiming a space that's been toxified for women by actual and perceived threat of male violence. She's making them feel what she, and by extension all women, have been made to feel: caged and worried for their safety.
In that context, there's not much better than seeing a man walking home alone at night, constantly watching over his shoulder, worried sick about his safety
Beyond its strong feminist leanings, the film also brilliantly captures the distinctly unique Madhya Pradesh milieu, where friends insult one another with such earthy humour that you feel like stealing all their uproariously funny one-liners. Some terrific performances add to the film's superlative writing.
Rajkummar Rao is outstanding as the small-town boy, the son of a well-known tailor, who is so besotted by a city girl (a decent but underwritten Shraddha Kapoor) that he can't see the problem when she asks him to source cat hair and lizard tails on their second date. Abhishek Banerjee, Aparshakti Khurana and can-do-no-wrong Pankaj Tripathi shine in this film which creates a sleepy, mythical and cinematic world of its own.
This is a film where supers on screen are a tribute to the Ramsay brothers, where subtle digs are aimed at everything — from Sanjay Leela Bhansali's Padmaavat to the Modi government. There's a brilliant line where Tripathi tells another character that stree, the ghost, doesn't pick men up without their consent. Stree wins her consent through fear, but this also critiques the prevalent culture where men don't have to assume a ghost-like identity to abuse women.
The film's biggest undoing is a sleazy item song and an ending that drags. Not all loose-ends tie up perfectly and this may have been done to leave the scope for a potential sequel. These are, undoubtedly, problematic portions in an otherwise sharp film that expertly treads the fine line between humor and horror to present a biting commentary on patriarchy and societal oppression.