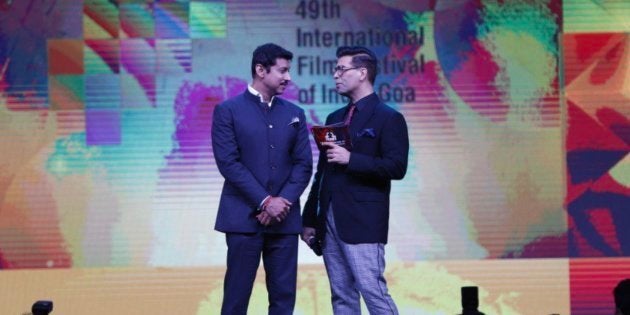 At the opening ceremony of the International Film Festival of Goa (IFFI) on Tuesday evening at the Shyama Prasad Mukherjee indoor stadium near Panjim, Goa, an inordinate amount of time was spent talking about national pride, nationalistic cinema and how the current Information and Broadcasting Minister, Rajyavardhan Singh Rathore, had brought glory to India by winning over 20 medals in shooting, a sport he once played.
Hosted by Mandira Bedi and Amit Sadh, the ceremony kicked off with impressive dance performances to songs from Padmaavat and Baahubali, but slowly moved on to dull speeches by government officials until singer Shilpa Rao bought the house down with live renditions of hit numbers such as Bulleya and Aaj Jaane Ki Zid Na Karo.
In between those speeches, the hosts repeatedly referenced the need for 'national pride' and an entire segment was dedicated to Prime Minister Narendra Modi's vision in planning the controversial statue of Sardar Patel in Gujarat. This was followed by a video reel of the Prime Minister visiting the project.
Israeli filmmaker Dan Wolman was awarded the Lifetime Achievement Award, and while cursory references were made to cinema and how IFFI has become a home for diverse films from all over the world, a significant chunk of the event was dominated by an elaborate segment hosted by Karan Johar, who interviewed Rathore and actor Akshay Kumar. Numerous efforts were made to connect Kumar's recent patriotic drama Gold with, well, the gold medals won by Rathore when he was an athlete.
Kumar said he felt proud to do films on 'social issues' and that Airlift, Toilet: Ek Prem Katha and Padman were three of his favourites. Rathore was asked to name all of Kumar's films which had 'Khiladi' in the title. Rathore also said that if he were to give a political portfolio to Kumar, it would be Information and Broadcasting and Sports considering he was good at both.
He also lauded Kumar's famous dialogue from Rowdy Rathore, 'Don't Angry Me', which, Rathore said, Goa CM Manohar Parrikar had used to "describe our neighbour", presumably Pakistan when he was defence minister.
At a film festival, the exercise felt stunningly out of place.
Not only did the ceremony not give adequate attention to cinematic endeavours by Indian and international filmmakers, it also revealed its apathy towards the #MeToo movement by excluding any conversation around the subject. On the contrary, the Mumbai Film Festival, which wrapped up just a few weeks ago, had included panels, talks and workshops on #MeToo.
The Modi government, in the past, had been criticised for remaining silent about accusations of sexual assault against one of its ministers, MJ Akbar. Akbar eventually resigned after intense media pressure.
That IFFI wants to keep difficult conversations at bay was also evident when the organisers ensured that red carpet interviews, a chance for journalists to get comments by industry stakeholders on relevant issues, were restricted.
A source from the organising team said that after last year's faux pas, where the festival drew intense criticism for dropping Nude and Sexy Durga, and where celebrities were asked pertinent questions regarding censorship and the Padmaavat issue, it was decided this year to keep reporters out.
The guests who walked the red carpet only interacted with the national broadcaster, Doordarshan.
"The ministry is paranoid about any negative press regarding the festival. These are preemptive measures," the source added.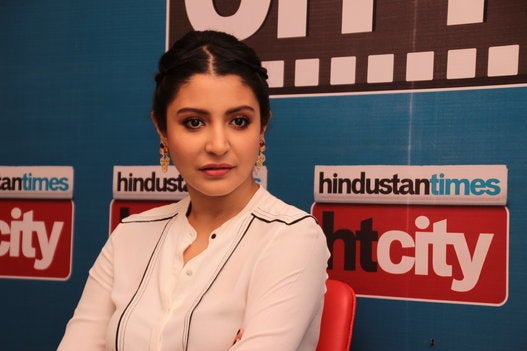 6 Times Anushka Sharma Nailed It While Speaking About Censorship