Wires
It is coming to an end today. But the campaign in the run up to this assembly election has been feisty and sometimes bare-knuckled, as the BJP and AAP went at each other with gladiatorial fervour.
It started almost playfully. An old woman on the radio chided Arvind Kejriwal for "running away" despite being voted to power. "We spent so much time supporting him, organising meetings for him, and what did he do? Ran away!" said the old lady on radio, as part of a BJP advertisement cautioning voters against a repeat of Kejriwal's last stint as Delhi chief minister, when he quit after 49 days in power.
Kejriwal was quick to reply. "I heard an old lady on the radio the other day," he said in his own advertisement. "She seemed very sad." He went on to assure her that he will be back in power for the next five years. "Ab naraazgi chhoriye, thora muskuraiye." (Now don't be upset, give me a smile instead.)
But the mud slinging in the run-up to this Delhi Assembly Elections steadily got worse, with allegations and insults flying thick and fast between the parties. It sometimes seemed that the controversies completely overshadowed the conventional election issues, such as water, electricity, regularisation of illegal colonies and full statehood for Delhi.
Here are eight such issues that dominated the campaign.
1. AAP Funding Allegation
The AAP Volunteer Action March (AVAM), which broke away from AAP last year, accused the party of money laundering, a charge that Arvind Kejriwal was quick to refute. Alleging that AAP had accepted funding from dubious sources, AVAM claimed that four cheques of Rs50 lakh were sent to AAP by companies that didn't seem to exist. The BJP was quick to jump in, with finance minister Arun Jaitley saying that AAP had been "caught red-handed."
"Kejriwal used to give certificates on who is corrupt and who is honest some time back. He used to hold press conferences and show similar records for others. At least stand by your so called standards," BJP leader Ravi Shankar Prasad reportedly said. "All his (Kejriwal's) claims to be the sole custodian of propriety and morality stand exposed."
AAP has denied any wrongdoing and welcomed any investigation into its funding. Many voters noted the irony in the BJP, which does not disclose its sources of funding, attacking the only party to transparently do so.
2. BJP 'Casteist' Advertisements
The BJP's print advertisements against Kejriwal sparked a huge row when one of the advertisements in question attacked his caste. Kejriwal lashed out at BJP, saying it was "unacceptable" that the party had targeted the entire Aggarwal community in their advertisement by calling them "upadravi gotra" (anarchist).
"This is unacceptable and they should apologise from the entire community," he said. "We will complain to EC that BJP has stooped down to racial attacks. Delhi's people do not like this abusive politics."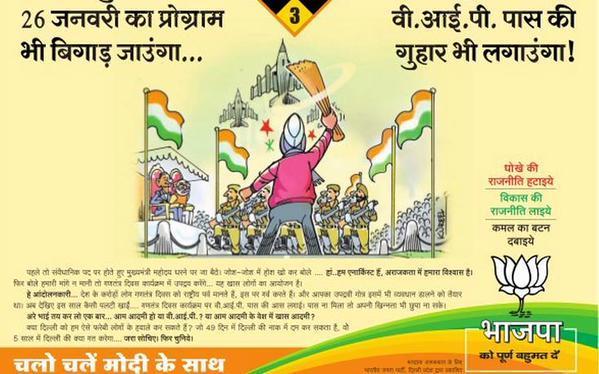 The BJP later said it was not a reference to his caste, but only to AAP's anarchist politics.
Prime Minister Modi too called Kejriwal an anarchist, suggesting he should go to the jungles and fight with the naxals.
In another advertisement, BJP showed Kejriwal with his children, and marrying Congress. Anna Hazare's portrait hangs in the background, with a garland around it, which is traditionally done when someone dies.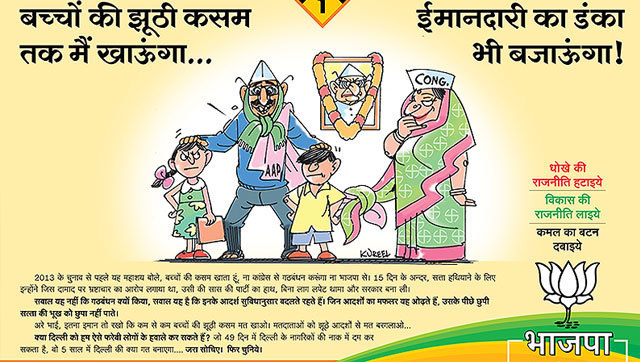 Nathuram Godse killed Gandhiji on this day in 1948. BJP has killed Anna in its ad today. Shudn't BJP apologise?

— Arvind Kejriwal (@ArvindKejriwal) January 30, 2015
3. Shazia Ilmi Versus Arvind Kejriwal
The former AAP leader launched a full frontal attack against Kejriwal, saying "I really want to expose AAP for what it is and so, I'll do whatever I can to that effect." Soon after, Ilmi joined the BJP, and Kejriwal couldn't resist a jibe back at her. He retweeted one of her tweets from November 2013, where she had said, "Hypocrisy, thy name is BJP."
Since then, it's been open war between the once-comrades, with Ilmi calling Kejriwal "immature."
4. UK Suits And Italian Glasses
Congress vice president Rahul Gandhi lashed out against Modi, alleging that his promises of generating new jobs were hollow. Claiming that Modi wore a UK-tailored suit worth Rs10 lakh during his meetings with US president Barack Obama, Gandhi said it proved that Modi's "Make In India" campaign was just empty talk.
This was after BJP president Amit Shah said that Rahul Gandhi wears "Italian glasses" and couldn't see the difference in Indo-Pak firing since BJP came to power.
5. Liquor For Votes
While an AAP candidate was accused by Delhi Police of luring voters with smuggled liquor, AAP has accused BJP of buying votes with liquor, non-vegetarian food, and cash promises.
"We have information that BJP is distributing money, liquor and non-vegetarian food to the public and they are also seizing voter identity cards of poor," AAP leader Ashutosh alleged.
WE have the information that BJP candidates are distributing huge money to buy voters. They are also collecting VOTER IDs of poor.

— ashutosh (@ashutosh83B) February 5, 2015
Meanwhile BJP spokesperson GVL Narsimha said, "They (AAP) have even sold their party tickets in these elections and their candidates were found collecting and storing liquor for distribution in elections."
6. 'Take Bribes'
Arvind Kejriwal in an election rally asked voters to accept bribes from Congress and BJP, but vote for AAP. Both parties lashed out against the AAP leader, demanding cancellation of his nomination and complained against him to the Election Commission for allegedly violating the model code of conduct.
"We have complained on four-five things against him to the Commission and demanded cancellation of his candidature and banning him from giving any speech," BJP's Delhi President Satish Upadhyay told reporters.
Congress' Kiran Walia also complained to the Commission saying, "His name should be removed from the electoral rolls and he should be barred from contesting election."
Kejriwal had also used BJP chief ministerial candidate Kiran Bedi's photograph calling her "opportunist", and Upadhyay claimed it was against the model code of conduct.
7. EVM Tampering
Kejriwal alleged that BJP might tamper with the Electronic Voter Machines (EVMs) to win votes, claiming that discrepancies had been found when inspecting some of the EVMs in Delhi Cantonment, where the vote went to BJP even if you pressed the button for a different party.
We suspect EVM tampering. Tried to meet CEC yesterday. He was busy. Hope we will be able to meet him today.

— Arvind Kejriwal (@ArvindKejriwal) February 4, 2015
The Election Commission, however, dismissed the claim, saying the machines could not be tampered with.
8. Immigrants from the Northeast
BJP's vision document for Delhi referred to people from north-eastern states as immigrants. The party was quick to dismiss it as a clerical error, but protests broke out in Assam against the reference.