Twitter
Furious at a BJP advertisement that calls his community disruptive, Aam Aadmi Party Chief Arvind Kejriwal today said he will approach the Election Commission if BJP failed to apologise for the "personal attack".
"BJP in the past few days has been giving few advertisements personally attacking me. They attacked me and my children, I kept quiet because Anna used to say that if someone personally attacks you, you should have the strength to bear it. But today they have crossed their limit," he told reporters.
"They have called the entire community 'updravi'. BJP's fight is with me, whatever they have to say they should say it against me, they should not attack the entire Aggarwal community," he said. 'Updravi' means someone who causes nuisance or disruptions.
The BJP advertisement targets Kejriwal for threatening to disrupt the Republic Day parade last year while complaining this year that he was not been invited for the event.
The ad that upset Kejriwal: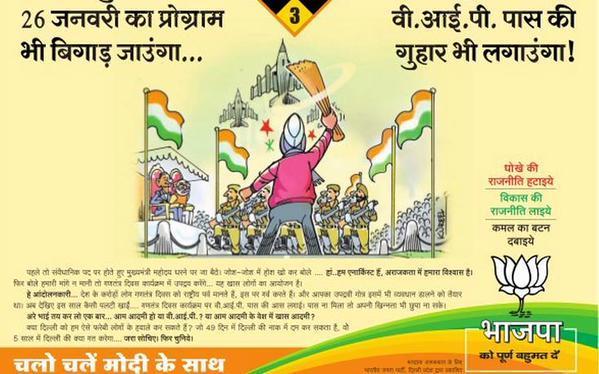 "Desh ke karodon log gantantra divas ko rashtriya parv mante hain, us par garv karte hain (The country's crores of people consider Republic Day as a national festival and feel proud about it). Aur apka updravi gotra isme vyavdhan dalne ko taiyar tha (And your trouble maker community was ready to disrupt it).
"This is unacceptable and they should apologise from the entire community. We will complain to EC that BJP has stooped down to racial attacks. Delhi's people do not like this abusive politics," Kejriwal said.
The AAP chief also called a meeting of top party leaders at his residence to deliberate on the issue.
AAP leader Ashutosh came down heavily on the BJP, saying people will teach the saffron party a lesson in the upcoming Delhi Assembly elections.
"BJP stooped another low. Now it has attacked Kejriwal's GOTRA in today's advertisement. People belonging to his GOTRA will teach BJP Lesson (sic)," he said on micro-blogging site on Twitter.
Kejriwal has often described himself as a "baniya" to reach out to traders' community, which have traditionally supported BJP.
The Aam Aadmi Party (AAP) last week also took a swipe at the BJP for its newspaper advertisement in which Anna Hazare's sketch was shown with a garland, asking the saffron party whether it had had "killed" the veteran anti-corruption crusader.
BJP has not tendered apology in two hours. Rather they are defending the AD. We are moving to ELECTION COMMISSION to complain.

— ashutosh (@ashutosh83B) February 2, 2015
Ad on Kejriwal was a figure of speech. The party has misconstrued a metaphor: #BJP addresses the media over 'anti-AAP' ad row

— Hindustan Times (@htTweets) February 2, 2015
AAP leader Yogendra Yadav said the BJP advertisements and an interview given by their chief ministerial candidate for Delhi, Kiran Bedi, will be enough to discredit the party.
"The truth is that if BJP gives such advertisements everyday and one television interview by Kiran Bedi, our work will reduce. Everyone will come to know what they are," said Yadav.
"I am surprised that the BJP got this advertisement approved. Using the word "baniya" for Arvind Kejriwal has created a huge controversy. Are they allowed to give such advertisements? People of Delhi will answer this on February 7," he added.
The BJP responded on Monday with another scathing attack on Kejriwal.
"This advertisement is about the dharna master. It's a "dharna master" party and Arvind Kejriwal is getting desperate to gain public support but politicizing it. The poster is against the practice of turning the government into anarchy, not about any particular caste," said BJP leader M J Akbar.
Earlier, the AAP demanded a public apology from the BJP for the advertisement. It said they would file a complaint with the Election Commission. The ad portrays a caricature of Kejriwal who swears on his children that he would never join hands with the Congress. The ad also reportedly refers to him belonging to a 'boisterous' gotra.
Political parties have criticized the BJP for the ad.
The Congress party came out in support of Kejriwal and accused BJP of dividing society on the basis of caste and community.
"From religious divide, communal statements, inflammatory, four to five children for Hindu ladies, from ministers making very bizarre statements, no action has been taken. You now have advertisements by BJP directly dividing society on the basis of caste and community. This is the true face and identity of BJP," said Congress leader Abhishek Manu Singhvi.
"At the national level, they do so with impunity. Prime Minister Narendra Modi practices eloquent silence. At the Delhi election level, they again do it with impunity, officially through advertisements. You may have political fights, elections, you may have MLA elections, but this kind of approach is unique to the BJP," he added.