Woman Journalist Called A Prostitute, Received 2000 Threat Calls After TV Debate On Mahishasura
A Malayalam television news anchor is facing a barrage of threatening calls and abuses, and being systematically targeted on social platforms after she hosted a show to discuss whether worshipping the mythological demon god Mahishasura amounted to treason.
The mobile number of Sindhu Sooryakumar, the Chief Coordinating Editor of Asianet News, was circulated on WhatsApp allegedly by activists of right wing groups offended by a TV programme where members of Congress, BJP and Left parties debated whether celebrating Mahishasura, a common custom among certain tribes in India, is enough to accuse students of Delhi's Jawaharlal Nehru University of "anti-national" activities.
Recently, Union Human Resource Development Minister (HRD), Smriti Irani, read out in Parliament a pamphlet found in JNU that allegedly mentioned a Mahishasura event to be held on the campus. The pamphlet also found a mention in a report submitted by the Delhi Police. Six students are facing sedition charges for attending an event to protest the hanging of terrorist Afzal Guru. The subject of JNU as a den of extreme Leftist and potentially seditious activities have split public opinion on social platforms with many accusing the government of suppressing civil rights of students who indulge in campus politics.
They said they won't let me live in peace and will destroy my family. The comments were sexist and abusive.
In an interview in Malayalam to Asianet news, translated by Kracktivist, Sooryakumar said she discussed the issue on her programme 'The News Hour' on Friday, with VV Rajesh representing the BJP side. The main accusation of the thousands who set up Facebook posts denigrating her, called her a prostitute, and circulated vicious WhatsApp messages threatening her, Sooryakumar said, was that she called Goddess Durga a sex worker.
She categorically denied having ever made that comment and asked people to watch the video of the debate. Meanwhile, Rajesh has promised his support to her in her fight against abusive trolls.
"They said they won't let me live in peace and will destroy my family. The comments were sexist and abusive. I filed a police complaint when I couldn't take it anymore. I gave them details of the calls I attended. For the past three days my mobile phone has been inundated with abusive calls, which is still continuing," she said.
"The messages circulated from pro-BJP, pro-Sangh Facebook profiles published my phone number and exhorted people to call me. The FB posts wrongly quoted me as saying " Sindhu Sooryakumar asks what's wrong if someone calls Goddess Durga a sex worker." "Sindhu Sooryakumar is a sex worker. This is her phone number. Call her to protest," she said.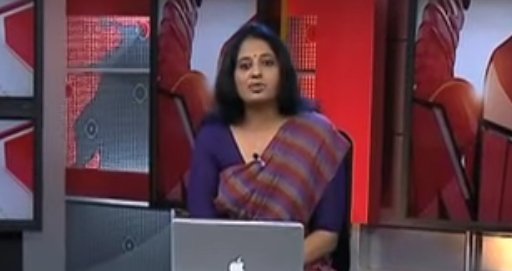 It's deliberate harassment and Sooryakumar said she believed activists of the Rashtriya Swayamsevak Sangh, a far right, non-governmental organisation, were behind it.
"There are no signs of the abusive calls stopping. When people call from their own mobile phones, it shows they have no fear of the law. The police have filed charges against a few of them. If the charges against them are not strong, I will move court with a private complaint. I stand by what I said. I will not allow anyone to challenge my freedom of speech and right to live," she said.
Sooryakumar said some of the callers admitted they were "either RSS or BJP activists".
"Most of them asked me three questions: Why do you dislike Narendra Modi. Why can't you acknowledge RSS. What is your problem with the BJP."
CPI(M) State secretary, Kodiyeri Balakrishnan, yesterday accused the Sangh Parivar of attempting to gag the media, reported The Hindu.
Most of them asked me three questions: Why do you dislike Narendra Modi. Why can't you acknowledge RSS. What is your problem with the BJP.
In a statement released to the press, Balakrishnan said Sooryakumar was being targeted for "dispassionately anchoring a discussion on the JNU issue."
"The Sangh Parivar had raised grave allegations and intimidated her and exhorted not to spare her through the social media platform," he said.
In an interview to The News Minute, Sindhu said most of the people who called her up and abused her "had actually not seen the discussion on television".
She said the abuse was being fuelled by rumours on social media sites. Meanwhile her phone number is up on public platforms for anyone to misuse. The calls haven't stopped even after a police complaint, even though the Kerala Police arrested five persons yesterday.
All of those arrested are connected to BJP, RSS and Hindu groups, including Sri Rama Sena.
G Sparjan Kumar, Commissioner of Police, Thiruvananthapuram city, told The Indian Express that "all of those arrested are connected to BJP, RSS and Hindu groups, including Sri Rama Sena."
One of the arrested said he got Sooryakumar's number from a WhatsApp group called Sanga Dhwani, reported the Express. A member on that group asked others to call and abuse her.
As hate campaigns go, most of the abusers were clueless about what the charge against her was, acting as a herd on calls from social media cells of right wing groups. "Most of the abusers called me a prostitute and abused me. Some threatened me while others didn't even know what the charge was. I got a call this morning from someone asking whether I was Durga. Another person called me sometime ago, saying I had posted something against Durga on Facebook, and that he wanted to abuse me for that," she told the Express.
Like Us On Facebook |

Follow Us On Twitter |

Contact HuffPost India

Also on HuffPost:
5 Indian Organic Foods You Cannot Miss
This golden fruit with its glossy, juicy insides deserves the title of 'King fruit' - and this type of mango is the 'King' of mangoes. "Alphonsos are extra-rich with aromatic compounds like mesifuran, (Z)-ocimene and octalactone, which are found in many other fruits like citrus, strawberries, and coconuts, but which come together in the Alphonso to give it a unique flavour," says Kapoor. "The Alphonso was developed by the Portuguese, who perfected mango tree crafting to create new varieties, hence the name."

Native to Assam and Darjeeling, Pekoe tea is as unique to its region as Champagne is to the Champagne region of France. "Light in colour but robust in flavour, Pekoe is considered a black tea but should really be classified as more oolong because of its incomplete oxidation," says Kapoor. He also adds that pekoe helps prevent cavities and is rich in antioxidants, which counter the free radicals in the body that can lead to cancer and premature ageing.

"A fact not many know is that bananas are native to India," says Kapoor. Interestingly, another little-known fact is that bananas don't grow on trees. "It's especially important to eat organic bananas because conventional bananas are often artificially ripened to a "natural" yellow colour with chemical ripening agents like calcium carbide, a known carcinogen," he adds.

These boast juicy seeds that are so soft, they appear almost seedless. "That wonderful texture is matched by a rich taste, and like other pomegranates they are a super fruit, filled with antioxidants, vitamins, and minerals," says Ashmeet Kapoor, founder of I Say Organic."Originally native to Maharashtra, organic farmers love them because they are naturally resistant to common pests and don't need chemical pesticides," he adds. Another advantage of these pomegranates are that they have tough skins that keep them from bruising, spoiling, or cracking for longer than other types of pomegranate.

A member of the ginger family, turmeric is widely recognised by it's rich orange-yellow hue and sharp taste. "Turmeric (or haldi) has been a staple of traditional Chinese medicine for centuries, and is widely used in Ayurveda as a cure for inflammation," says Kapoor. "Modern studies also show that turmeric has many potential health benefits as an anti-inflammatory, antioxidant, antibacterial, and more."