12 Seriously Cool Products From CES 2016
CES 2016 is over but it left the trail of numerous products launched in each sector. From cars to a smart home, from drones to Virtual Reality headsets, there were a lot of cool products at the floor in Las Vegas. We take a dip into exploring some of the amazing products on the show.
Razer Gaming Products: Razer had a blast at CES by showing a lot of products off, but their stars were the gaming laptop Razer Stealth and the gaming PC Razer core. Both of these high-end products won several applauds and awards from the whole tech world. Buoyant from the success they have announced a 24 hour 50 percent sale.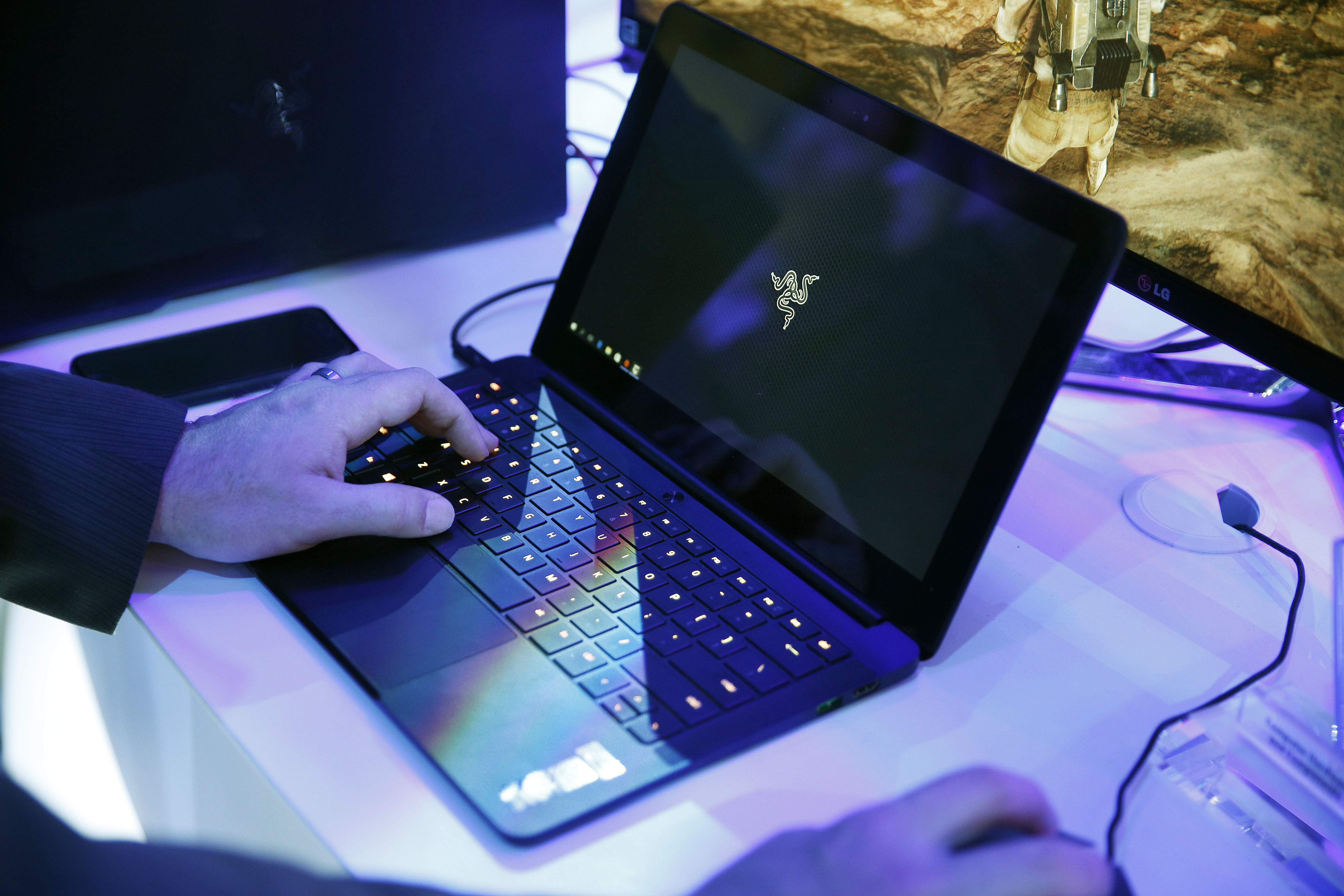 Lego WeDo 2.0 : Lego has been a favorite of millions from years. They had initiated a smart learning program of combining Lego bricks with software. So the second version of the WeDo program launched at CES brings more to the table. Now more platforms are supported apart from Windows and iOS. You can control your project with Bluetooth instead of USB wire. And there are more lego bricks too.
Sphero BB8 - Spehro has been a very popular robot not only amongst enthusiasts but also consumers. So on the event of star wars, they came out with a BB8 sphero that was controlled by an app. But what they showed at CES was that they have launched a band called 'Force band' which will control the movement of the bot. You can check out this cool video which shows the force band in action.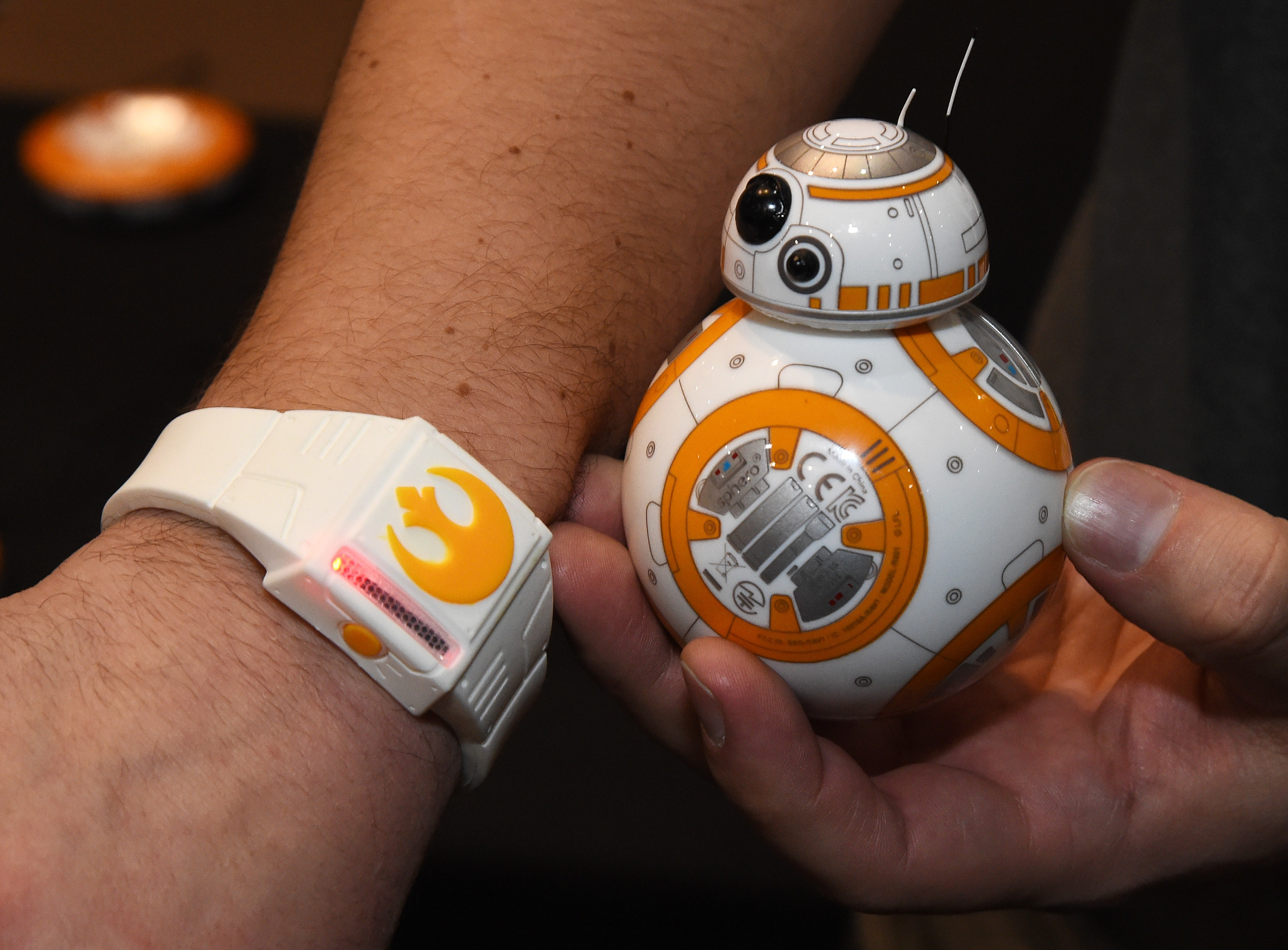 Mars: Speakers are always a great attraction at CES, and this year it was no different. But what stood out was the levitating speaker from Crazy baby. Mars base was an IndieGoGo campaign which was successfully funded last December. Some of the great features are 360-degree projection, strong woofer called Mars Base, high sensitivity microphone, and water-proofing.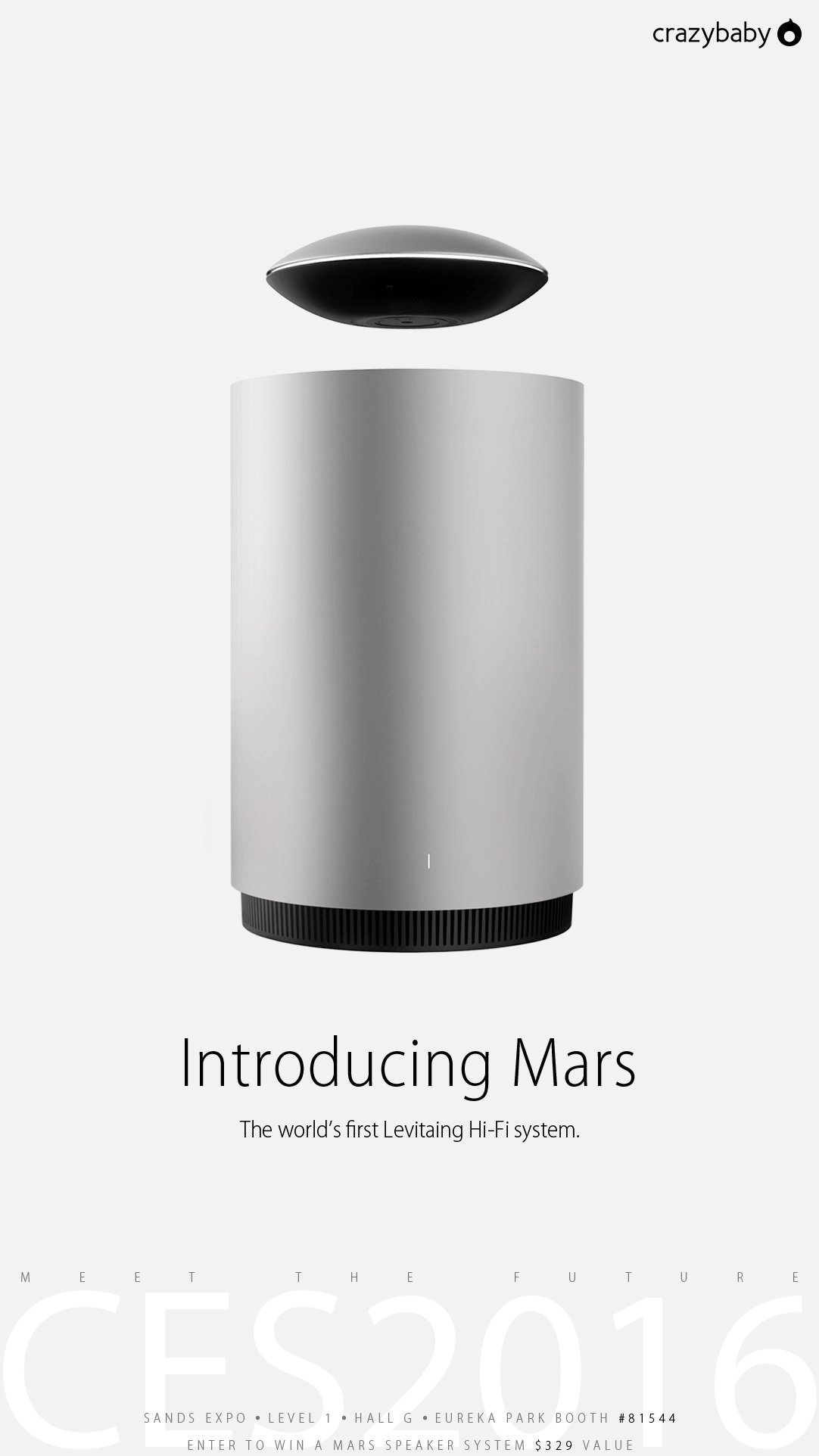 EHang 184 : While Google, Apple and a lot of other companies are working on autonomous cars, this Chinese company Ehang thought of making an autonomous drone which can fit a human. The passenger has to do nothing but entering the destination in an app and drone will fly out to that destination. The hover time is 23 minutes with the average speed of 100 km/h.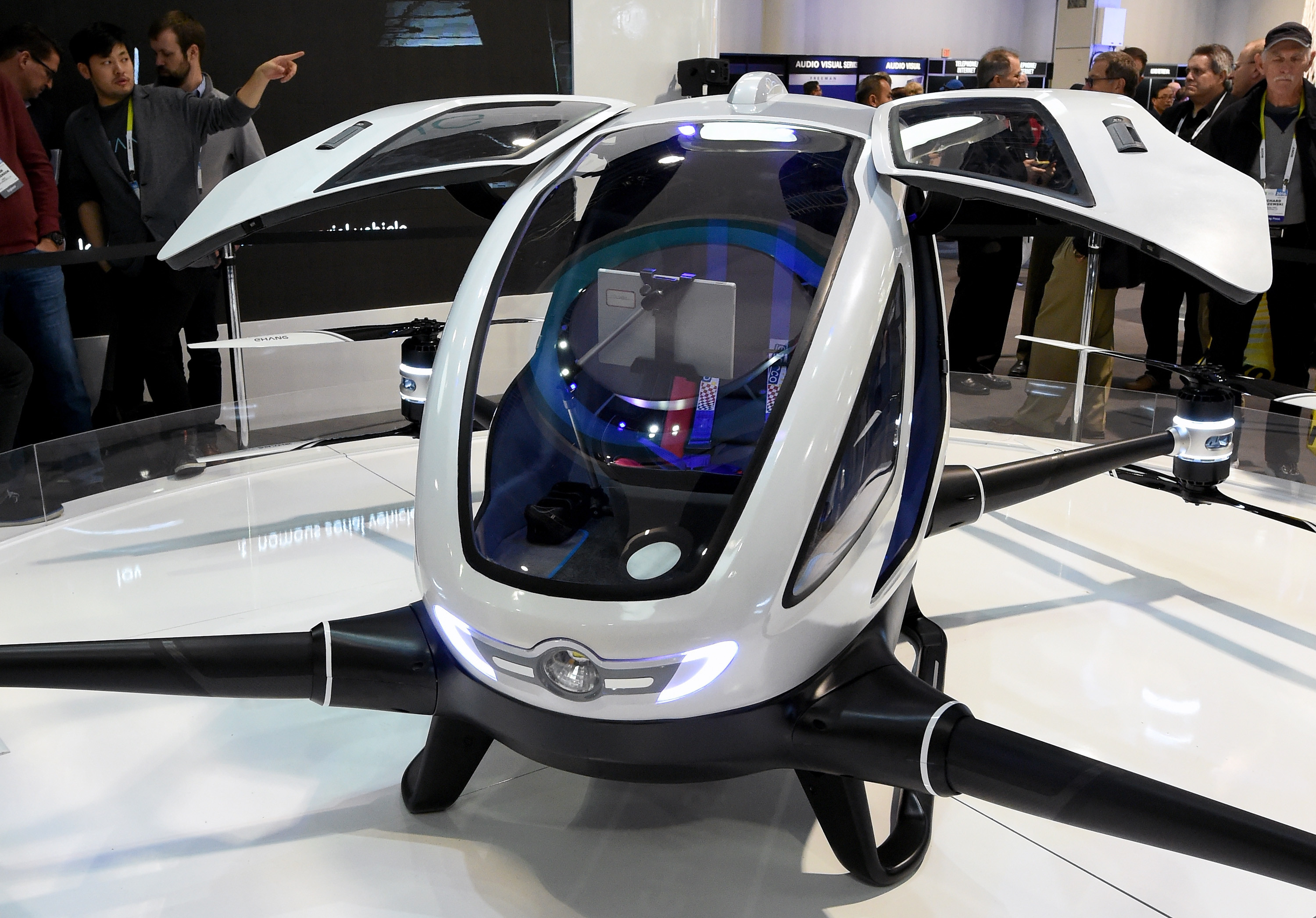 SevenHugs Remote - One of the major roadblocks IoT industry faces is to have a common protocol like HTTP for the web. Because of this, people who own smart products end up using too many apps and configuring things which is not very intuitive. So Sevenhugs came up with a smart contextual remote. The user can use the remote by just pointing towards the device. From Phillips hue to Nest a good number of systems are integrated with the platform to give the user a seamless experience.
Moff band with PacMan - Moff bands are popular kids wrist wearable devices which will allow you to play games with physical movements. So they teamed up with Namco-Bandai to create a great game of PacMan consumers can play with their moff bands.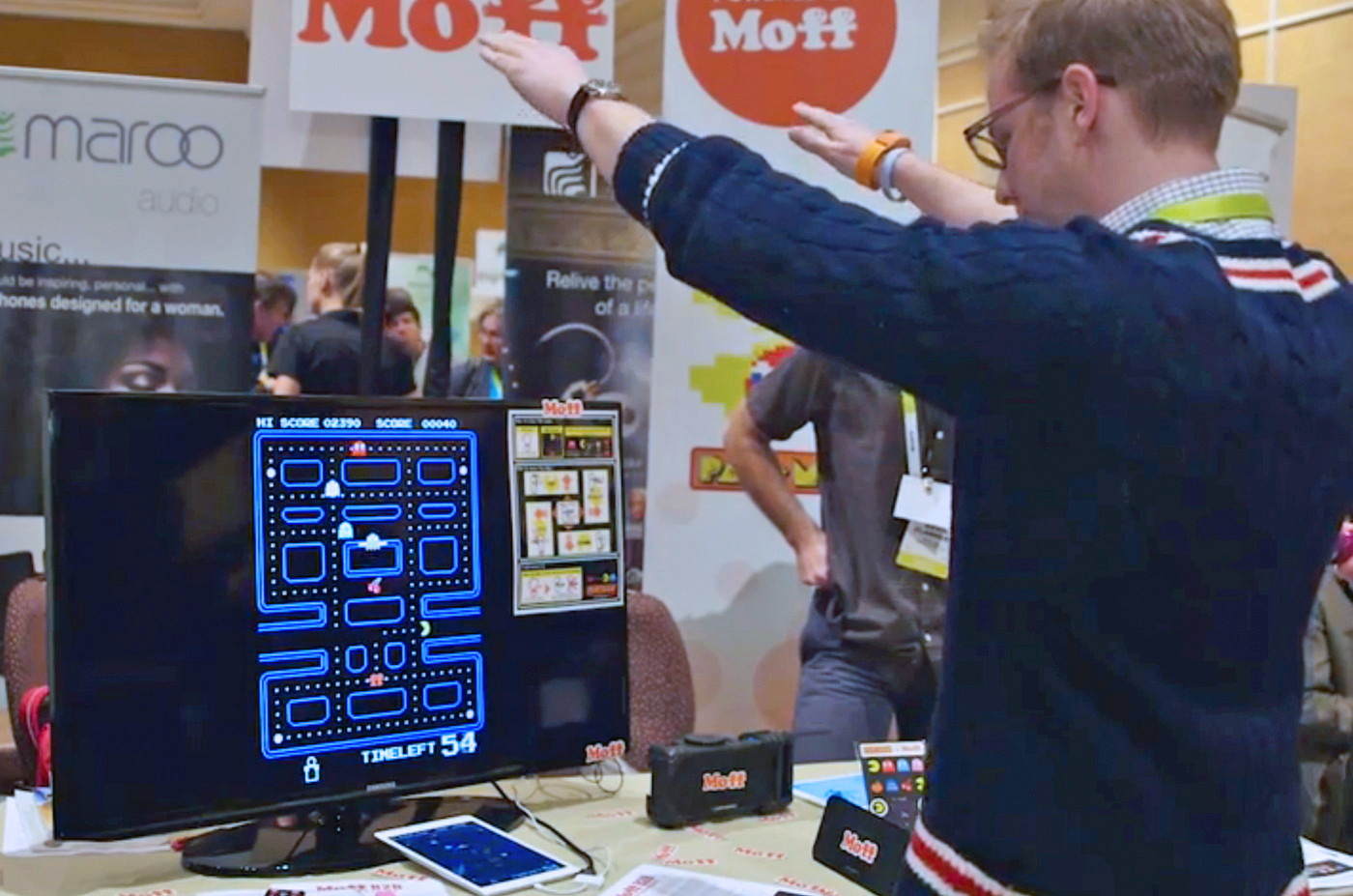 And then here are some honorable mentions which were at the show:
Smart Pet bowl - A bowl from PetNet that allows you to control the portions and timings of the food that you give to your pets.
Parrot Pot : A smart pot which feeds water to the plant based on its behavior. It also has sensors like light, air and soil temperature and fertilizer sensors to track the plant's progress.
Recon HUD This HUD will give paintballers the access to a virtual reality platform which will display stats, maps, and missions to give them the feel of Call of duty.
Quell pain relief : The quell pain relief band which gives therapy will now have advanced sleep tracking ability and extended battery life.
Buddy :Buddy is a family bot which helps in monitoring the house, remind you of tasks, play with children and communicate to your close ones via video.
Did you spot something cool at CES? Let us know.
Affordable 4G LTE Phones In India
Priced at Rs.9,999, the Redmi Note 4G has a 5.5-inch display, quad-core Qualcomm Snapdragon 400 SoC, 2GB of RAM, 8GB of internal memory, and a 3200 mAH battery. The Redmi Note 4G supports FDD-LTE and TDD-LTE band 40 networks, is fitted with a 13 megapixel camera that can take 1080p videos, and a 5-megapixel front facing camera. The smartphone runs MIUI V5, which is a modified version of Android 4.2 Jelly Bean.

Priced at Rs 6,999, the A6000 sports a 5-inch IPS capacitive screen, quad-core Snapdragon 410 chipset, 1GB of RAM, and 8GB of internal memory. It has an 8-megapixel camera and a 2-megapixel secondary camera. The phone runs on Android 4.4 KitKat and supports two Micro-SIM cards on dual stand-by mode. The phone has a 2300 mAh battery and two speakers with Dolby Digital Plus sound. The A6000 supports LTE FDD 1800MHz (Band 3) and TDD 2300MHz (Band 40).

Priced at 8,999, the Yu Yureka runs on Cyanogen OS 11 based on Android 4.4.4 Kit Kat, and is powered by a 64-bit Octa-Core Qualcomm Snapdragon 615 processor. The Yu Yureka is a dual SIM, with 2GB of RAM 16 GB of storage, supports 4G LTE networks, and incorporates a 5.5-inch IPS Display with Corning Gorilla Glass 3 protection. It has a 13 megapixel camera and a 5-megapixel front-facing camera, and a 2500 mAh battery. The Yu Yureka supports TDD-LTE Band 40 and FDD-LTE Band 3 networks.

Priced at Rs. 8,299, the Lumia 638 has a 4.5-inch display, 1GB of RAM, 8 GB of storage, and supports MicroSD cards unto 128 GB. Powered by a 1.2 GHz Snapdragon 400, it has a has a 5-megapixel camera and a 1830 mAh battery. The Lumia 638 supports LTE FDD networks in Band 3 (1800 MHz) and Band 7 (2600 MHz).

Priced at Rs. 9,900, this is a dual sim phone with a 4.3-inch WVGA TFT display, a 5 megapixel rear camera and a 2 megapixel front camera, 768 MB RAM, 4 GB storage with a microSD slot for cards up to 128 GB. Rounding the specs off is a 1.2 Ghz quad core processor and a 1850 mAh battery. The J1 will hit the shelves in March 2015 and is available in blue, white and black.

The successor to the Redmi 1S, the Xiaomi Redmi 2 is powered by a 64-bit Snapdragon 410 processor, 1 GB of RAM and 8 GB of flash storage, and supports 32 GB cards through an expansion slot. The phone supports 4G LTE networks on dual SIM, dual standby mode, and has an 8-megapixel f/2.2 rear camera and a 2 megapixel secondary camera.

Available on Flipkart for Rs. 8,999, the dual-SIM 4G LTE smartphone sports a 64-bit 1.5 GHz octa-core processor from Mediatek, 2GB DDR3 RAM, 8 GB of internal storage, and an MicroSD expansion slot that fits 32 GB cards. The phone features a 5.5-inch (1280x720) HD display, it's also the first smartphone to feature Dolby Atmos technology. Weighing in at 140 grams, the A7000 has a 2900mAh battery and is just 7.9 mm thick. The smartphone runs Android 5.0 Lollipop, and has a 8 megapixel rear camera (with a Sony IMX219 Sensor) and a 5 megapixel secondary camera. The A7000 supports USB OTG, and will be available in two colours - Onyx Black and Pearl White.

Priced at Rs 7,999, Moto E's 4G variant is powered by the Qualcomm Snapdragon 410, and sports a larger 4.5-inch qHD display, 8 GB of storage and a larger 2390 mAh battery. The camera has auto-focus and 720p video recording capabilities, in addition to a secondary VGA camera for selfies.