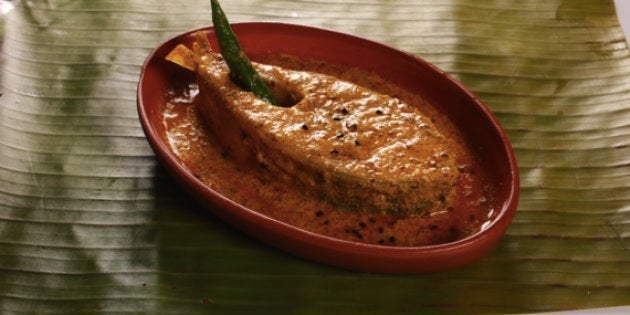 It's that time of the year when Kolkata welcomes the rains like no other city does. Of course, there are traffic jams and slushy streets to deal with but the people of this city know how to enjoy the season. While chai and pakora sound like the unmatchable pair in the rest of the country, Kolkata has a special corner for hilsa (also called ilish) during lunch/dinner. For the uninitiated, it's a popular fish and mostly available during the monsoon season. So loved is it that Bengalis, in fact, call hilsa "macher rani", or queen of fish! Try it when it's prepared right and you'll know why. If you don't want to fiddle around with recipes or cook, there are some fabulous restaurants that are serving special hilsa dishes this monsoon. Here are our favourites.
Where: The Peerless Inn Hotel, 12, Jawaharlal Nehru Road, Esplanade.
When: 12:30-3pm, 7:30-11pm.
Lowdown: Located in a heritage hotel in the bustling area of New Market, Aaheli serves authentic Bengali cuisine, with a good selection of vegetarian and non-vegetarian preparations. The place has a history of celebrating the monsoons with the finest hilsa preparations.
Where: 54/1/2A, Hazra Road, Ballygunge Phari, Near Hazra Law College, Ballygunge.
Lowdown: One of the well-known establishments in the city, Spice Kraft serves global cuisine. The chef is passionate about bringing new dishes to the table and is constantly innovating in his kitchen. Be prepared to greet hilsa in an innovative avatar here.
Where: 6, Ballygunge Place, Ballygunge.
When: Noon-3:30pm, 7-10:30pm.
Lowdown: Best known for Bengali cuisine, their Ilish Festival was held earlier this month, but the fish is still on offer. The restaurant is situated in a place of historic significance -- the old bungalow of a former Rai Bahadur has been transformed to serve traditional Bengali dishes.
Where: 4th Floor, Forum Mall, 10/3, Elgin Road, Elgin.
When: 12:30-3:30pm, 7:30-11pm.
Lowdown: The menu is packed with some of the finest hilsa preparations you'll experience in Kolkata, each one bursting with flavour. If you've got to try one dish in particular, go for the ilish bhapa (steamed hilsa). You won't be disappointed!
Where: The Park, 17, Park Street, Park Street Area
Lowdown: The coffee shop at The Park, located in the prime area of Park Street, is serving hilsa dishes this season.
Where: 5th Floor, Quest Mall, 33, Syed Ali Amir Avenue, Ballygunge.
When: Noon-3:30pm, 7-11:30pm.
Lowdown: One of the few international brands to have gained instant popularity in Kolkata, this place is a must-visit. With their name rooted in another coastal city, Bombay Brasserie's coast-to-coast menu takes you through a seafood journey where hilsa is the star. Did we mention that the ambience is as soothing as it can get?
Where: 49B, Purna Das Road, Hindustan Park.
Lowdown: Saptapadi serves fusion Bengali dishes, brilliantly combining traditional with modern. If you're looking for something to accompany your hilsa, go for the Kosha Mutton. For something different try the self-explanatory ilish macher steak sizzler. The restaurant is decorated with posters of classic Bengali movies, compelling patrons to turn nostalgic as they await their modernized hilsa.