Different restaurants have different approaches towards decor, according it various levels of importance. Today, however, more and more restaurant owners are beginning to realize that ambiance is almost as important to customers (and reviewers) as the food and service. In fact, almost every second review devotes some space to the restaurant's interiors. Standing out from the crowd is important and a theme goes a long way in making that happen. We find that Hyderabad, interestingly, has a particularly eclectic collection of restaurants that are focusing not just on flavour but on "feel" through their decor. Zomato lists out a few favourites.
The Grand Trunk Road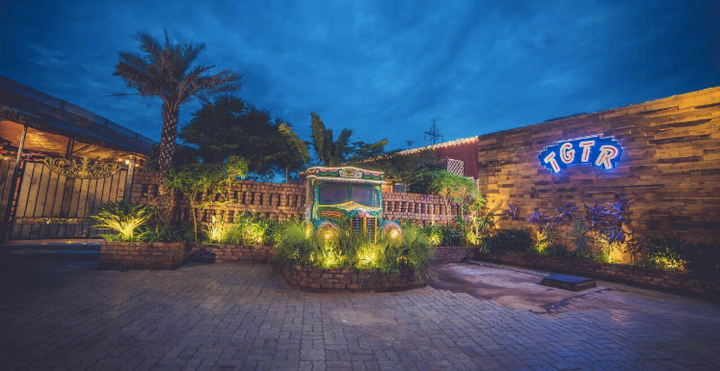 Where: Image Garden Road, Madhapur
When: Noon-3:15pm, 7-11:15pm
Lowdown: True to its name, the whole setup transports you to the north. With its truck masthead and uber-cool rustic feel, this place makes the most of the ample amount of space at its disposal (not many restaurants manage to do this, to be frank). There is vibrant colour everywhere, with equal measures of greens, and the Punjabi music in the background fits the bill.
Sahib Sindh Sultan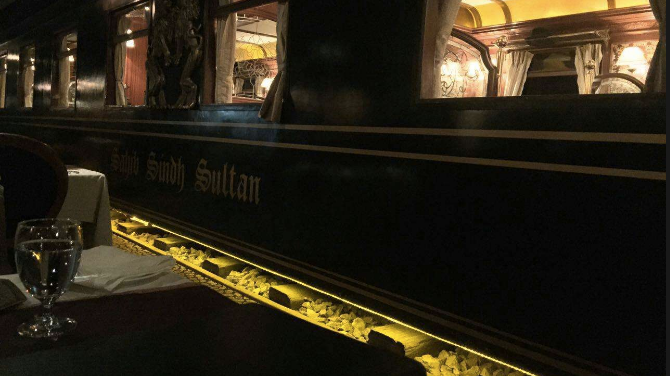 Where: 5th Floor, City Center Mall, Road 1, Banjara Hills
When: Noon-3:30pm, 7-11pm
Lowdown: If you like trains, you should visit this place. If you're not fond of trains, you should visit this place. Yup, this place located in Central Hyderabad is that delightful! It has a unique ambience thanks to its pre-independence era setup of a vintage train and regular seating. Sahib Sindh Sultan feels more monochrome and takes you back to the B&W days!
Ohri's Gufaa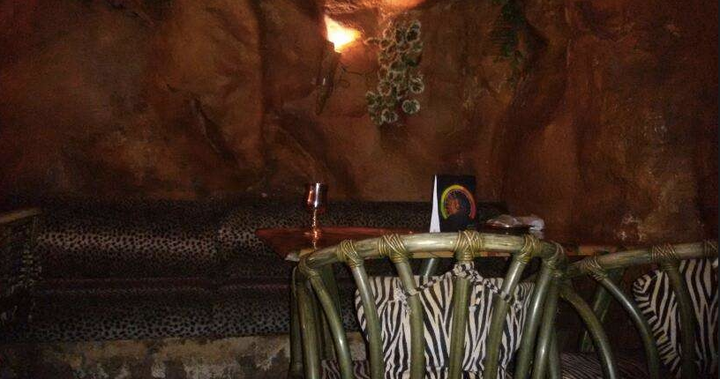 Where: 5-9-30/16-20, Ohri's Cuisine Court, Opposite Old Gandhi Medical College, Basheer Bagh
When: Noon-3:30pm, 7-11pm
Lowdown: How many restaurants have you been to so far that resemble a cave? Our lucky guess is zero. However, it's not too late to experience Ohri's Gufaa. The place is awesome and looks like a Wes Anderson movie set with its elaborate attention to detail. Waiters are dressed as dacoits and serve water in earthen pots.
Tiki Shack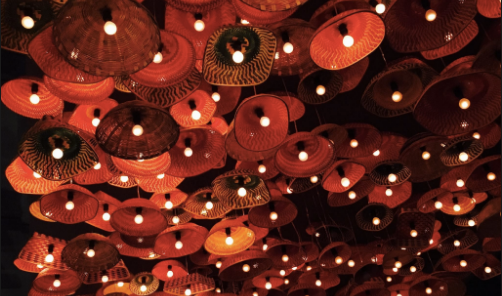 Where: 1259/A, 5th Floor, Beside Skoda Showroom, Road 36, Jubilee Hills
Lowdown: More than the Hawaii-inspired decor, it's the astonishing constellation of lights stacked up on the roof that will have you whipping out your camera. Needless to add, the place comes into its own in the evening. Also, you grab a good view of the city from the outdoor seating.
The Pirate Brew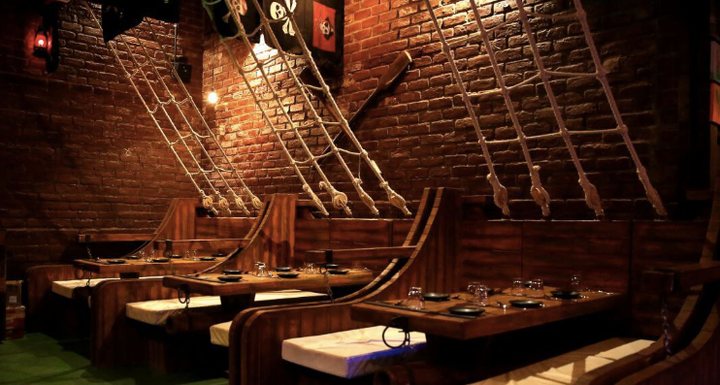 Where: 5th Floor, Empire Square Building, Road 36, Jubilee Hills
Lowdown: This is the closest you'll probably get to feeling like Jack Sparrow. Trussed up to look like a pirate ship with bunk-like seating, Pirate Brew also offers great food and top-notch service and we guarantee you'll be saying "ahoy matey" more than once to this restaurant.
Ohri's Silver Metro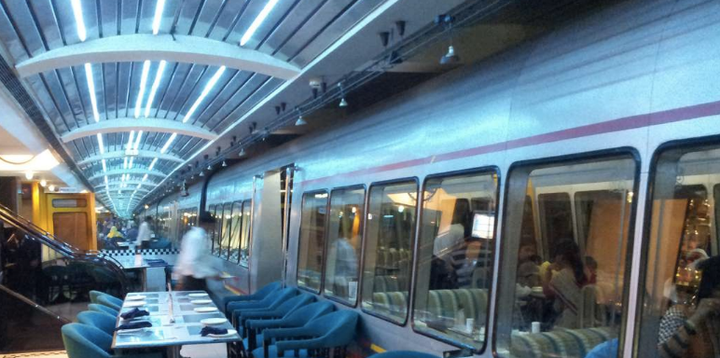 Where: 5-9-30/16-20, Ohri's Cuisine Court, Opposite Old Gandhi Medical College, Basheer Bagh
When: Noon-3:30pm, 7-11pm
Lowdown: You don't even have to be in Delhi to enjoy the feel of a massive locomotive! When it comes to ambiance, very few places come close to Silver Metro. The metro train theme is a hit with kids as well as adults; don't miss the fact that even the stairs have been designed to look like the escalators. Considering it is already underground, a little bit more lighting wouldn't have hurt though.
Filmy Tadka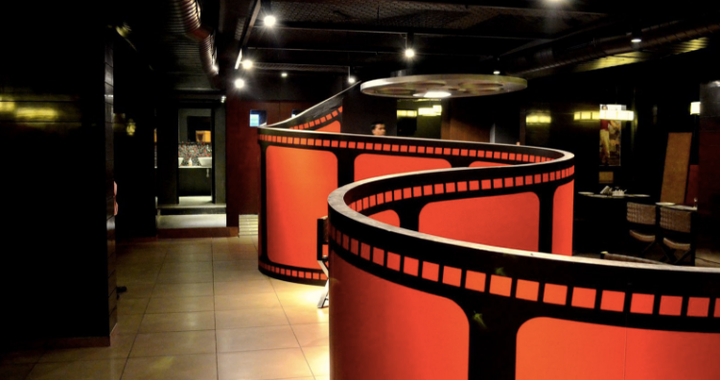 Where: Opposite to Reliance Fresh, Shivam Road, Amberpet
Lowdown: The moment you step in, you're in a cinematic world. With plenty of movie posters adorning the walls, a film roll-shaped partition is used to separate the tables. Similar roll-shaped lights hang just above each table. You may never direct a film in your life but the chairs resemble the ones filmmakers use, so you can playact!
The Moonshine Project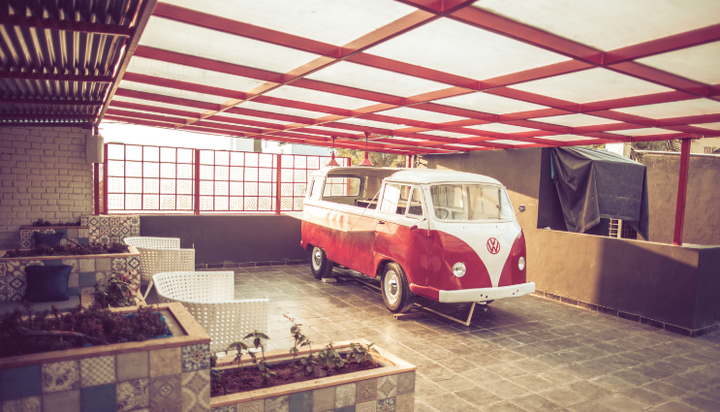 Where: Plot 385, Road 82, Jubilee Hills
Lowdown: Have you seen the film Little Miss Sunshine? If you have, you'll immediately like the place, what with the family-size van parked here. The decor manages to pull off a perfect blend of rough-hewn and modern, and there's always rock music playing in the background. There's a DJ on weekends.
Sociialdistrict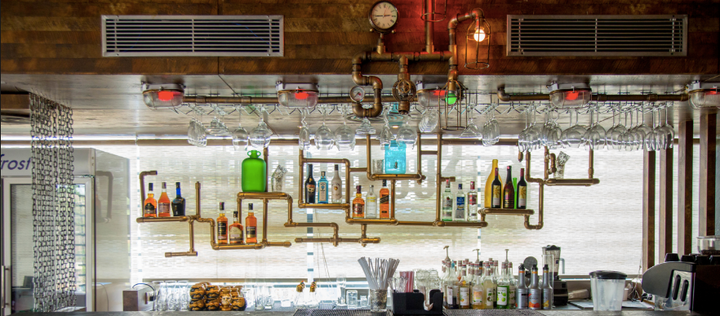 Where: 1st Floor, Shop 2, 1-140/2&3, Opposite Raheja Mind Space, Sector 3, Hitech City
Lowdown: Funky is the word that springs to your mind when you visit this marvellous place. Purely urban themed, with smooth tunes always playing, you'll feel like you're in a music video here.
Bakkyard Gastropub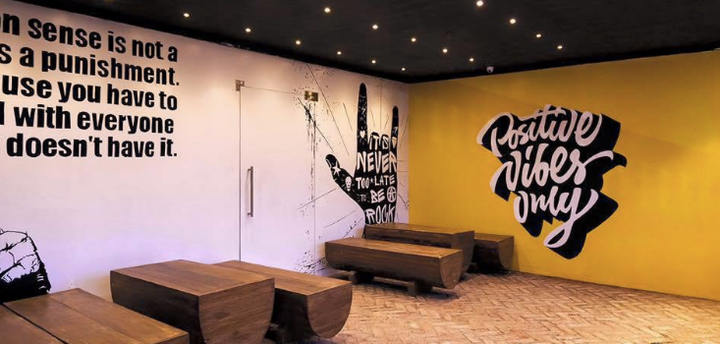 Where: 1st Floor, Opposite Raheja Mind Space, Sector 3, Hitech City
Lowdown: Bakkyard (yes, purposely spelt that way) is as retro as it can possibly get. The seating arrangements are vintage as well as laidback, with low sofa chairs, wooden benches and bar stools to pick from. Words of wisdom and rocker slogans are graffitied onto the walls to keep you in the right frame of mind.
Free Flow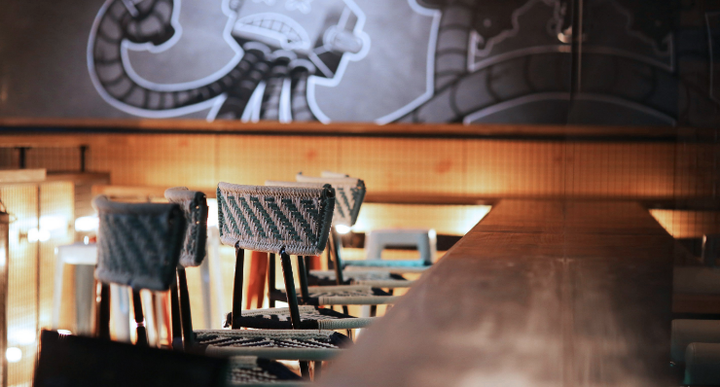 Where: 3rd Floor, Plot 566, Road 92, Jubilee Hills
When: 12 Noon to 12 Midnight
Lowdown: Rooftop. Perfect for a date. It's loosely themed on the concept of traffic, although it's more soothing than chaotic and you won't need a red light to stay parked here for a long time.
Lagoon--The Shack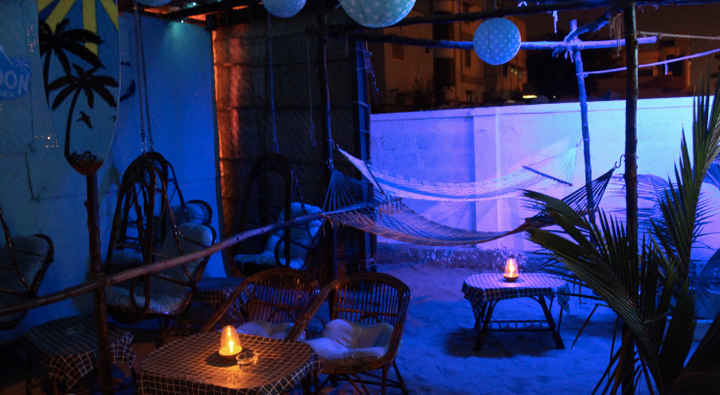 Where: Plot 30, Vijaypuri Colony, Sainikpuri, Secunderabad
Lowdown: As the name implies, this place is styled like a beach shack, with the colour blue dominating the decor. There's nothing watered down about it though!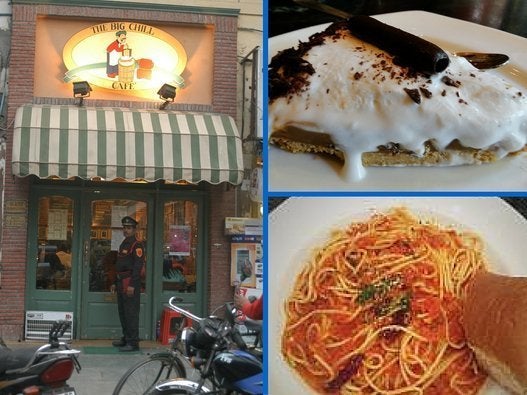 Best Restos In Delhi According To Zomato