SAEED KHAN via Getty Images
This article is from Wisden India.

By R Kaushik
The attractions of being an India international in cricket are several. For one thing, there is the money, though few are attracted to sport at the highest level only because the financial returns are staggering. For another, it helps you grow as a person as you share a dressing room with teammates from different backgrounds, both educational and socio-economic, and you get to travel the length and breadth of the world.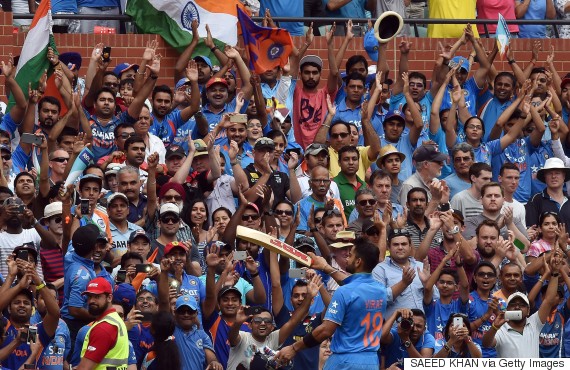 An Indian cricket player is bestowed the status of a demi-god in a nation where cricket has long transcended the limits of sport and been elevated to a higher plane. A reasonably successful cricketer can't step out of his house without being mobbed; in some ways, once the India cap has been earned and you have had a little bit of success, your life changes inalterably. No more visits to the movie hall or a shopping mall or a nibble at your favourite haunt during your formative years. For all the molly-coddling, it isn't easy being an Indian cricketer.
But there are rewards, and these rewards more than compensate for the lack of privacy and the constant probing and scrutiny that are an integral part of Indian cricket. As mentioned before, one of those rewards is monetary - central contracts, endorsement deals, prize money. But after a point - and I am only guessing here because I have never been, and will never be, in that situation - money can only hold that much meaning. What you crave as an international sportsperson is respect. Recognition. Adulation. And no amount of money can ever bring these.
The banner read 'Two host nations, three home teams.' Australia and New Zealand, the two host nations. India, the third home team.
India's cricketers are fortunate in that so vastly spread is the Indian diaspora across the cricketing globe that support from the spectators is never at a premium. There was an interesting banner the other at the MCG, when India played South Africa in front of almost 87,000 predominantly Indian fans. Pause, rewind, and yes, you will find that you read it right. Almost 87,000 predominantly Indian fans, at the MCG. As one credit card company would say, that is priceless. The banner read 'Two host nations, three home teams.' Australia and New Zealand, the two host nations. India, the third home team.
Back home in India, the average fan will settle for nothing less than victory. He perhaps has every right to. Starting from procuring tickets to taking his place in his allocated seat - and that doesn't always happen - it is a constant struggle against seemingly all the forces of the world ranged against you. Lathi charges when you are in a long queue in a constricted space, waiting unearthly hours for that one piece of paper that will allow you entry inside the ground. Innumerable restrictions on what you can and can't carry to the ground - even no cell phones, at one stage. Multiple security checks conducted by bored, rude personnel who have seemingly taken advanced courses in how to put off and infuriate people. All this is just to get into the venue, mind. Once there, no overhead protection at several grounds, insanely exorbitantly priced food and drink. And yes, avoid a visit to the loo if you can.
And yet, day after day, and most certainly night after night during the Indian Premier League which is almost if not quite international cricket, fans throng the stadiums. Driven by a mad passion that can't be described. Raucous and occasionally rowdy, as desperate to catch a glimpse of himself/herself on the giant screen as a Virat Kohli cover-drive, a Mahendra Singh Dhoni lash over long-on.
The Indian fan overseas doesn't have to encounter half the hardship that the Indian fan back home has to. Even at an event like the World Cup, which for now brings the 14 best sides in the cricket world on one single platform, the atmosphere is light and relaxed. No one is walking on egg shells, and while this is far from a 'come one, come all' situation, the fans are made to feel positively welcome. There are interactive fan zones, security checks are strict but friendly with a greeting and a quip thrown in; with family in tow, you can actually have a picnic. Cricket is primary, but not all-consuming. Have a fun day out, a few beers, a few shouts, a few giggles.
While the spectators in India want victory and nothing else, Indian fans in say Australia or Zimbabwe or the West Indies are a lot more forgiving.
A fair few of the Indian fans that were at the MCG last Sunday, or at the Adelaide Oval the previous Sunday during that electric, electrifying clash against Pakistan, might never have seen the inside of a cricket ground in India. Just as well, you might say.
The one thing Indian fans across the world seek, indeed demand as is their due, is a fight from their boys. While the spectators in India want victory and nothing else, Indian fans in say Australia or Zimbabwe or the West Indies are a lot more forgiving. It's almost as if they don't want the result to sour their party. Don't get me wrong, they are as desperate for their team to win as their counterparts back in India, it's just that they don't react as emotionally to either victory or defeat.
India's cricketers aren't unappreciative of the groundswell of support that drives them when they are playing away from home. In your own backyard, you take crowd backing almost for granted. Our nation, our team, so hey, there has to be support for us. Once you travel overseas, that's when you realise that while you can take an Indian out of India, you can't take cricket out of him.