ASSOCIATED PRESS
This article is from Wisden India.

Sachin Tendulkar, playing the role of ambassador for the ICC Cricket World Cup 2015, identified two reasons behind the number of high-scoring games seen in the first week of the tournament, saying the advent of Twenty20 cricket coupled with recent rule changes had led to the boom in runs.
Seven of the 12 completed matches held so far have resulted in at least one team scoring above 300, while in two others, teams crossed 250.
"How many times in the '80s or '90s did you see someone playing a reverse sweep off a fast bowler, which happens in today's cricket? "
"We've been witnessing high‑scoring games because of two reasons. One is because the rule has changed. There is one less fielder outside the circle. So, that makes a huge difference," said Tendulkar, who was in the stands to watch India beat South Africa by 130 runs on Sunday (February 22), speaking to the ICC. "The game opens up completely and that becomes difficult for bowlers to consistently find those areas to work because there is one less fielder which forces you to bowl different lengths and different lines.
"The second point is also the introduction of Twenty20 format, which has allowed the batters to play more risky shots, play innovative shots, and the guys regularly practice these shots in the nets.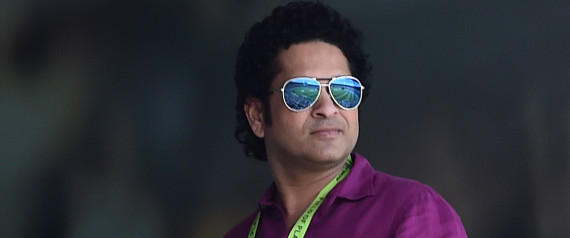 "How many times in the '80s or '90s did you see someone playing a reverse sweep off a fast bowler, which happens in today's cricket? If batsmen have to chase at eight runs an over, it's not something beyond their reach, because in T20 you play 20 overs with asking run-rate sometimes of nine or even more than that. So it's just the mental set‑up and the belief that even if it goes to nine runs and over, we can still hit that target."
Tendulkar, who was part of India's World Cup-winning side in 2011, also emphasised the importance of teams maintaining the right balance, and felt the current tournament would get more competitive as it progressed. "It's been exciting. You've already seen a couple of surprises. The teams have played competitive cricket," said Tendulkar. "The standard has been good, and that is what people want to witness. I feel as the tournament progresses it's going to produce some fantastic cricket and we're looking forward to it.
"I think to have the same successful combination going all the way is going to be the key and to find that balance between staying fresh and not overburdening yourself with additional practice sessions. You just need to find that right balance.
"If somebody's not playing well, then obviously that guy needs to go out and hit as many balls as possible in the nets or bowl as many balls as possible. But if everything is going well, then it's important to have that energy and peak at the right time."
Tendulkar, the Player of the Tournament in the 2003 World Cup when India reached the final, has been part of six editions of the World Cup as a player - a record he shares with Javed Miandad - taking part in each tournament from 1992 to 2011.
However, his World Cup journey began with the 1987 event, when he was a ball boy during one of the matches for the tournament that was held in India and Pakistan. From that to being the ambassador for the 2015 event and watching his first World Cup game from the stands has been quite a journey.
"First of all, I'd like to thank ICC for nominating my name as ambassador of the ICC Cricket World Cup 2011 and 2015. I remember I was a 14‑year‑old boy and I was sitting outside the dressing room as a ball boy in the ICC Cricket World Cup 1987. So, from there to become the ambassador of the ICC Cricket World Cup is a special journey and I'm excited," he said.
"This is a new experience to me where I'm watching an ICC Cricket World Cup match from the stands. The atmosphere is fantastic. Absolutely, it is something that I have experienced but not sitting in the stands. I was always on the other side of the fence. To be sitting in the stands and to feel this atmosphere is incredible.
"Being a World Cup ambassador, I'm supposed to be neutral, but my heart says something and my brain says something. So, I've got to stick to my heart and support India."