ASSOCIATED PRESS
This article is from Wisden India.

As captain of Royal Challengers Bangalore, Virat Kohli didn't have to wear his thinking cap, trying to set fields and working out plans to get rid of AB de Villiers for the last three years. Now, as a key member of the Indian management group, he must put his knowledge of de Villiers to good use as India go into their second World Cup Group B game, against South Africa at the MCG on Sunday (February 21).
De Villiers is among the most destructive batsmen in world cricket, unorthodox and totally unpredictable, capable of sending the best laid plans out the window. As he did recently at the Wanderers, when he stormed to a century off just 31 deliveries, the fastest in One-Day International cricket, against West Indies.
"Obviously you will have plans for every player. All top players in the world, you can plan for everyone, but they have that much ability that they can sort of play opposite what you have planned for them," said Kohli, India's vice-captain, with a smile on Saturday. "It will be very challenging for our bowlers to make him play to our plans. He plays some freakish shots and I have witnessed it a lot of times. Everyone in the world has seen it. AB de Villiers is a world-class player, we all know that. You have to bowl well to him, you have to [throw him off] mentally with your skill as well to be on top of him, so I am sure our bowlers will be ready for the challenge. Hopefully, it is one of those days where he won't be able to score runs against us."
Having got Pakistan out of the way, India face another high intensity match right at the start of their campaign to defend the title. "From the point of view that it will give us immense self‑belief that we can beat big sides come the knockout stages, as well, it will play a big factor in the game tomorrow," said Kohli. "South Africa are one of the top sides in the world, they have a good balance of batting and bowling, and their fielding obviously sets rare standards in international cricket. To get over that hurdle tomorrow will be an immense self‑belief booster for us in many ways.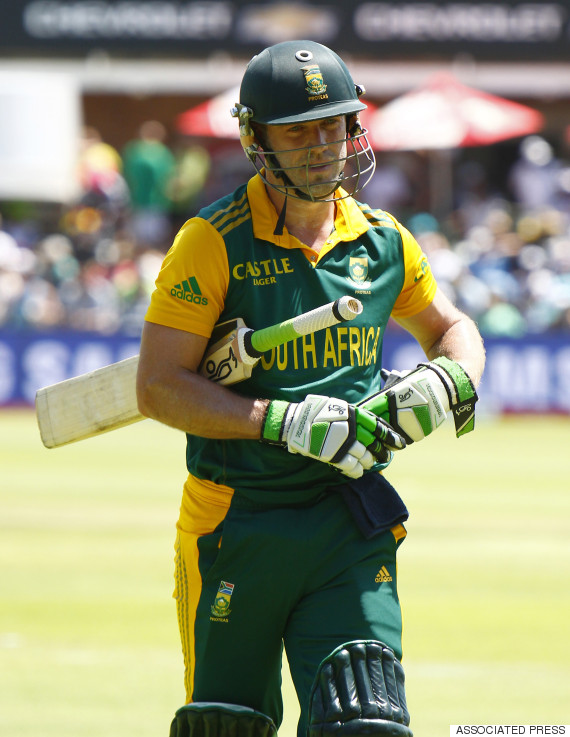 "South Africa have got a world-class bowling attack, and we have a really strong batting line-up as well. These are the sort of games you [live] for as a cricketer and look forward to them, so I am personally very excited by the challenge. It's very important to hold momentum in a tournament like the World Cup. That's something we started off on a good note and something we'll be looking to build on over the next few games."
Kohli played with a straight bat when he was asked if Sunday's game would be a true reflection if India's strength, both in terms of their batting and their bowling. "Which game is not?" he countered. "For us, every game is apparently a test. Even the more weaker sides against us, we always talk about what if they upset us. I'm not really thinking about all that. It's a game of cricket. I always maintain that you play a game of cricket with bat in hand and ball in hand, and that's all there is to it. You're wearing different coloured clothes, and that's about it. It's how you feel mentally on that particular day. There's no urge or no need to prove anything to anyone. We want to play well as a unit, and that's what we're looking to do in this World Cup."
Kohli's match-winning hundred against Pakistan wasn't a typically flamboyant one, but made carefully with great tact and acumen. "I've been in good form, so more or less it was a case of me making the most of that and helping the team in doing so," he explained. "It doesn't necessarily mean that I won't get a hundred that would have a strike rate of over a hundred. You never know in cricket. I might go out there tomorrow and I might get six boundaries in the first ten balls. It's just a matter of giving yourself the best chance.
"You can't keep batting in one way, you have to bat in different ways. People will have plans for you. It's all about how you counter them and stay a step ahead. The last game, more than anything, was a learning curve for me personally, how to play in different gears and how to mould my game according to what the bowlers are bowling at me. Sometimes you will have a single‑minded approach that might pay off, but it doesn't happen every time in international cricket. To be consistent, you need to switch, which I think I was able to do in the last game. It was something that gave me more confidence in moulding my game according to the situation and the bowlers."
Like de Villiers, Kohli also spoke at length on playing in front of a packed gathering, with plenty of support. "I love playing in full stadiums. It's a great opportunity to go out there and do something special, make your people happy and make your team proud," he enthused. "I think that's one of the celebrated moments for a cricketer, when you have the full stadium. As a child, you see World Cup games and you feel like 'oh, that's a packed stadium', and you want to be part of that. When you get an opportunity to do that, I can't explain that feeling. It might make some people nervous, but it excites me to a limit which I can't explain, because I had the opportunity to give the people some joy, but at the same time they might get disappointed if I get out. That's a gamble but I take that confidence that I will give more joy than sorrow... It's a very exciting game for us again, as was the last game. Playing in front of so many people, and especially when a majority of them are Indians, the support was fantastic. In the last game, when the national anthem was sung by everyone, it was thrilling, and I am sure it's going to be the same tomorrow."