ASSOCIATED PRESS
This article is from Wisden India.

By R Kaushik
Never before have India started a World Cup in such rip-roaring fashion. Not when they crashed into the final in South Africa in 2003. Not even when they conquered the world on their way to title triumphs in England in 1983 and in their own backyard four years ago.
For the first time in 11 editions, India have begun the tournament with three consecutive victories. It's a far cry from their initiation into World Cup cricket. In their first ever game, India batted out 60 overs to make 132 for 3 when they were chasing nearly 200 more for victory, Sunil Gavaskar carrying his bat to finish on 36. Their ten-wicket win over East Africa in 1975 was their only victory in the first two editions; indeed, in 1979, they lost all three league fixtures including, embarrassingly, to Sri Lanka, then an associate nation even if they had a strong side.
It isn't so much that India have won three on the bounce this time, as the manner in which they have done so, the opponents against whom they have achieved this feat, and the circumstances around which these victories have been accomplished, that is most impressive. Few would have bargained for India sitting this far above the chasing pack in the Pool B table at the halfway stage of league action. In some ways, it is almost inexplicable; in other ways, the explanations are so straightforward as to be dismissed as too simplistic, and ludicrously so.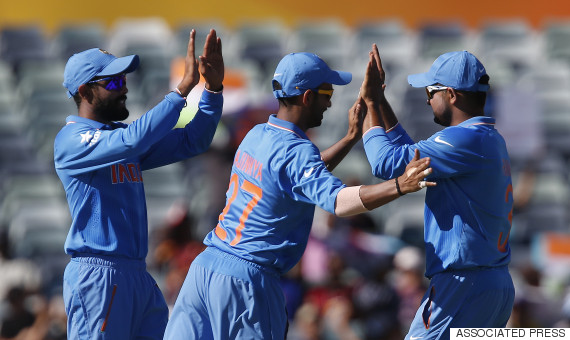 First, the circumstances. India had been in Australia for close to three months by the time the World Cup came around. In that period, they had been winless in seven completed internationals - four Test matches, three games in the triangular series with England as the third peg in the triangle. They had been more than reasonably competitive in the Test matches against the host nation even if the series was lost 0-2; in the tri-series, though, India resembled a sleepwalker, doddering along directionless, their campaign doomed even before it began.
Loss of form of key personnel, absence through injuries of several influential forces, the desire to give as much match time as possible to a few either returning from injury or on their first tours to Australia, tinkering with the batting combination as well as the batting order - from afar, all these were suggestive of a team in disarray.
All along, though, India - Mahendra Singh Dhoni's India - knew exactly what they were doing, precisely what they were looking for. By the end of the tri-series in which India had been beaten twice by England, who opened them up through pace and bounce at the Gabba and the WACA, they knew where they stood, what their best options were, what tacks to adopt against which team.
South Africa crushed - yes, crushed, which doesn't happen often - by 130 runs. Where did this Indian team come from?
Now, on to the opponents. First up for India were Pakistan, historical rivals, close friends but bitter foes on the field. Electric, mercurial, dynamic but also combustible and self-destructive. In five tilts against India at the World Cup, Pakistan hadn't even spotted the finish line. History, much as it counts for little, was stacked against them; India rode on solid cricket, boosted by a timely return to run-scoring ways of Virat Kohli, their talisman, to stack up the runs and then squeeze Pakistan into submission on the back of scoreboard pressure.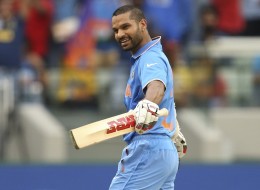 Associated Press
Then came South Africa. Powerful. All-conquering. With inarguably the world's best ODI batsman, and arguably the best bowler. Again, India batted first. Shikhar Dhawan, unsure even of perhaps which day of the week it was during the tri-series, was exceptional, Ajinkya Rahane a revelation - 300-plus on the board, again. The bowling - pacy, accurate, electrifying. And the fielding - sensational. De Villiers run out, Miller run out. South Africa crushed - yes, crushed, which doesn't happen often - by 130 runs. Where did this Indian team come from?
UAE on Saturday (February 28) weren't expected to pose much of a threat, and they didn't. Displaying a rare ruthlessness without fusing it with arrogance, India blew them off the park, completing a nine-wicket victory with 181 deliveries to spare.
Saturday's victory means India are now sitting on a seven-match winning streak in World Cups, dating back to the league phase win over West Indies in Chennai in 2011. Coincidentally, India's next opponents are blow-hot-blow-cold West Indies, also at the WACA on March 6, when Dhoni's lads will attempt to equal India's longest string of victories in World Cup action, achieved at the 2003 edition in South Africa between losses to Australia in the group stage and then in the final.
Amidst the euphoria of this unprecedented start, Dhoni and the support group wouldn't have lost sight of the fact that this tournament is still four weeks from finished. That India still have three games to play in the group, and that the knockouts don't start until March 18. That, come the quarterfinals, while form and confidence and momentum are useful allies to have in the back pocket, they wouldn' guarantee victories in must-win situations. That the last match is history, it is the present that is important.
In 2011, India made a blazing beginning against Bangladesh, then stuttered a little. They did just enough to get past Ireland and the Netherlands, had to settle for a tie against England and then imploded against South Africa to go down from a commanding position. It was after this game that the tide turned; after sweeping past West Indies, they grew fangs, quelling Australia, overwhelming Pakistan and then conquering Sri Lanka and the world. This time around, having made such an explosive opening statement, their challenge lies in being able to sustain the intensity for another six potential encounters, in making sure they are not physically spent and mentally drained by the time the point of no return materialises.
This time around, having made such an explosive opening statement, their challenge lies in being able to sustain the intensity for another six potential encounters,
"The attempt will be to do the same thing as in 2011, to pace ourselves and to keep energy levels up all the way through," said Dhoni. "Not everything goes according to plan. When new challenges crop up, you need to be ready for them. All our plans, our practice sessions, maintaining fitness - everything has so far gone well for us. As we enter the knockout stages, we'll need to improve our performance and maintain it. A lot of people have different opinions, but it's better if we don't pay heed to others' opinions and do what we within the team feel is right. Because, at the end of the day, we know what we need to do, what is the best available solution for the problem we are faced with."
One of the keys to pacing themselves has been their approach to training. India have worked out a way that they are most comfortable with and that gives them the best chance to stay fit and hungry and enthusiastic. Not every day between games has been spent at nets; players have been encouraged to take their minds off cricket. "When you're constantly playing cricket, what matters more than net sessions is rest, especially when you're playing a long series," Dhoni again. "If you extend the Australia series, it's a four-five month tour on the whole. We know everything about the conditions here, we've played at almost all the venues. Being mentally fresh is very important. What we're doing is dividing the workload, trying to practise on alternate days. Three days of high-intensity practice is better than six days of mediocre practice because we will get better results. We're mixing it up. Even a day off is only a day off the field. We do gym or pool sessions, try and play other sports - like tennis here because we have tennis courts - to keep ourselves fresh."
After the West Indies game, India travel to New Zealand to take on Ireland and Zimbabwe. And, then, depending on how things pan out, prepare most likely for Sri Lanka or England in the quarters. That's when the real deal kicks off, but don't discount the value of the undercard.