ASSOCIATED PRESS
This article is from Wisden India.

By R Kaushik
It's that block of five overs which either heralds the beginning of a decisive onslaught, or brings the fielding team right back in the game. It's that block of five overs that causes even the most composed batsmen to lose their heads and wickets. It's that block of five overs that often has been the difference between victory and defeat.
We are talking, of course, about the five overs of the Batting Power Play, the phase when only three fielders are allowed outside the 30-yard circle. The Batting Power Play must be dispensed with by the end of the 40th over. A majority of the teams, unless they are really on a roll with two set batsmen having a ball in the middle overs, wait till as long as they are allowed to before taking it, from the 36th to the 40th overs, using that as the beginning of a final 15-over period of mayhem and carnage.
From having been the potential launch pad, it becomes the pit of despair and disaster. This Batting Power Play, it is a fickle, fickle thing.
There's something about the sight of six men inside the circle that triggers an adrenaline rush in the batting side. It is almost as if you are programmed to go over the top, with only three men riding the boundaries and vast gaps looming invitingly. Invariably, when batsmen start to tee off right from the beginning of the Power Play, chances are that a wicket will fall through a mishit skier. One wicket leads to another leads to another. From having been the potential launch pad, it becomes the pit of despair and disaster. This Batting Power Play, it is a fickle, fickle thing.
But not if you use it with commonsense and a level head. Like India have done all World Cup long.
India have been as guilty as - perhaps more than - any other team in the manner in which they have approached the Power Play in the past. Batsmen have got carried away, trying to overreach and in the process shooting themselves in the foot. They have aimed for 40 and ended up with 25, say, for the loss of a couple of wickets, the momentum having completely disappeared and the last 10 overs having to be negotiated with circumspection rather than all out aggression.
In the World Cup, though, India seem to have cracked the formula. They are the only team not to have lost a wicket during the Batting Power Play, taken five times out of six between overs 36 and 40. Only against Ireland, when they were chasing 260 and the openers had set them on an inevitable path to victory, did Virat Kohli and Ajinkya Rahane requisition the Power Play ahead of the last possible opportunity, between the 34th and 38th overs in a bid to hasten the end. India were home and dry in 36.5 overs.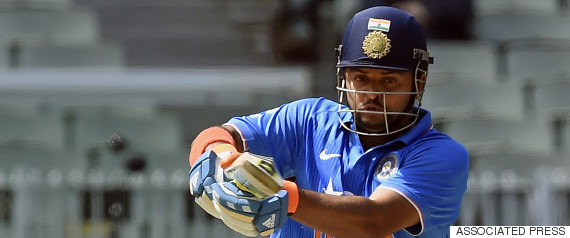 There has been no great pattern to India's scoring rate in the Power Play overs. Against Pakistan in their opening game, they made 25. In the next game against South Africa, it was a handsome 44. During the tricky chase against West Indies in Perth, it yielded 21 with five deliveries left unutilised. Against Ireland, Kohli and Rahane added 32 in 23 deliveries, and Mahendra Singh Dhoni and Suresh Raina put on 39 against Zimbabwe in India's toughest chase to date. At the MCG against Bangladesh in the quarterfinal, Rohit Sharma and Raina milked 50, the most runs India have scored in the five-over slugfest.
India have played it smart. They haven't approached the Power Play thinking they have to get 50 every time, though they have also almost always done enough in the preceding 35 overs not to have to go berserk. They have worked the singles, taken minimum risk in going through the infield for twos, but haven't been chary of going aerial if the ball has so deserved that treatment. Only Raina has adopted a slightly risk-prone approach, stepping down to try and cart the first ball of nearly every Power Play over in his favoured arc between long-on and deep mid-wicket. Pre-meditated, but a risk Raina feels is justified by the reward. That he has been in three Power Play situations and survived all of them would suggest that his approach is more method than madness.
"What we are doing well over here is we are playing proper strokes. But at the same time, what's important is not to consider the Power Play as a lottery system where you're like, okay, five overs, we want to get 55, 60 runs," Dhoni pointed out. "I think during those five overs, if you look for 35 to 40 and if you bat well, you will end up getting 45 runs. Not only that, it actually gives you a bit of momentum going into the slog overs, and with two set batsmen and the bowler slightly on the back foot, you can accumulate more runs. I feel in the last few games, that's what we have done, not aimed too high, but at the same time played quite a few proper cricketing shots, and that has really helped."
Different teams have different strategies to take into the Batting Power Play. There is no set pattern; just because it works for India doesn't mean it will work for others, and just because India have modest ambitions doesn't mean others can't have loftier targets. It's just that the percentages tend to favour the team that keeps risks to a minimum, or that takes calculated risks, however much of an oxymoron that might be.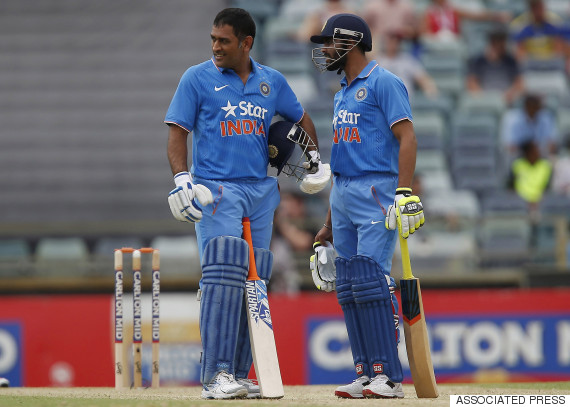 Of course, in a lot of instances, it is the game situation that dictates how you attack the Power Play. You can't afford to be conservative if, going into the last 15 overs, you need 170 for victory, say. If two batsmen are in and on top of the bowling, who is to say that they should hold back a little during the Power Play. But the one thing teams look to avoid is losing a wicket early in the Power Play. It drains the initiative out of you, and it lifts the morale of the fielding side. It means the new batsman takes a few deliveries to get his eye in and before you realise, 30 Power Play balls have dwindled to 12. And then panic sets in.
As has happened with India far too often in the past. In the tri-series preceding the World Cup, India's Power Play numbers were 19/1 (against Australia) and 15/3 and 23/2 against England. In the first and third of those games, India lost a wicket in the first Power Play over and in the second Power Play over in the other game. And in the last of those matches, against England, Ambati Rayudu was dismissed in the over before the Batting Power Play had to perforce come into play.
"I don't think we have consistently done well in the Power Plays, we have done well on and off," Dhoni conceded. "What actually went wrong quite a few times was the fact that we lost a wicket just before the start of the Power Play, and then you go into the first over... The second over you lose one wicket, and from that point you can't really cash in during the Power Play."
India have lifted their game enormously during the World Cup, as evidenced by their seven-match winning streak. Their bowling has been sharp and incisive, their fielding electric. Their batting has been exceptionally delightful, but it has also been thoughtful and intelligent, the Power Play tactics a perfect example of how much thought has gone into their strategising, of the happy marriage between backroom planning and on-field implementation.
Like Us On Facebook |

Follow Us On Twitter |

Contact HuffPost India