ASSOCIATED PRESS
This article is from Wisden India.

By R Kaushik
It's been just over 28 months since the One-Day International rules were tweaked, again. One new ball per end, no more than four fielders outside the 30-yard circle at any stage of the innings, only a five-over Batting Power Play block after the mandatory Power Play in the first 10 overs, two bouncers an over - all these came into existence on November 1, 2012.
Like any change is, these alterations too were met with scepticism, if not cynicism. The International Cricket Council insisted that the changes had been effected to keep the 50-over game, and especially the middle overs, interesting. Teams viewed them differently. In countries where there is help for the quicker bowlers, two balls in an innings was welcomed with open arms, while the subcontinental teams with a pronounced slant towards spin believed this would take their bowling kingpins out of the equation.
There is enough evidence to indicate that both of them are justified in their views. Wickets have fallen in heaps at the top of the innings in places like Australia and England and New Zealand, while there has been a run-fest in the subcontinent in general, and in India in particular, where top-class attacks have failed to defend even scores of 350. Two new balls in the subcontinent means not only is the spinner looking to dart it in, there is little scope for reverse swing either despite the abrasive nature of some of the pitches.
When the ICC's Cricket Committee sits down later this year to review the rules, it is possible that they may revisit their approach to one ball at each end. They will also deliberate at length on the pros and cons of having at least five men inside the circle during the entire course of the 50 overs.
It took teams a long while to come to terms to having only a maximum of four fielders riding the boundary. The last 10 overs especially seemed an extension of the Batting Power Play; wickets in hand invariably meant 100 runs in the last 10, never mind whether you were playing on the flat decks in India or the more juicy ones in New Zealand which are somewhat offset by smaller boundaries and odd-shaped grounds.
Eventually, as teams and captains decided to make the best of what they largely believed to be a bad thing, they realised that the five-fielder in rule dictated the presence in the playing XI of five specialist bowlers. The era of the part-timer that could slip in six or seven overs had passed. And when it is the age of the specialist, why not use him in that role - to look for wickets rather than merely try to control the runs?
India are a classic example of turning adversity into opportunity. Or, to paraphrase Sachin Tendulkar, turning stones thrown at them into milestones.
That's why you see a slip, or a leg-slip, maybe even a gully or a short-leg, in position in the middle stages of an innings these days. Captains have been almost forced into adopting a more aggressive, attacking approach. The best dot ball, of course, is the one that comes with a W attached to it; teams are increasingly looking to pick up wickets in the middle stages as opposed to just waiting for the innings to unravel.
India are a classic example of turning adversity into opportunity. Or, to paraphrase Sachin Tendulkar, turning stones thrown at them into milestones. Of all the major Test-playing nations at the World Cup, they are the only ones who have dared to use two specialist spinners on a regular basis - on a decent batting strip in Adelaide, on a slowish deck that livened up under lights in Melbourne, and on the rock-hard, bounce-laden 22-yard surface at the WACA ground in Perth. Australia have almost forgotten that Xavier Doherty is in their 15, South Africa are content with Imran Tahir spinning webs around crease-tied batsmen, New Zealand have relied solely on Daniel Vettori and Sri Lanka have looked for slightly more than part-time support for Rangana Herath. Pakistan, handicapped by the unavailability of Saeed Ajmal and Mohammad Hafeez, have placed all their spinning eggs in the Shahid Afridi basket after having jettisoned fellow leggie Yasir Shah, while Suliemann Benn has carried the West Indian spin flag.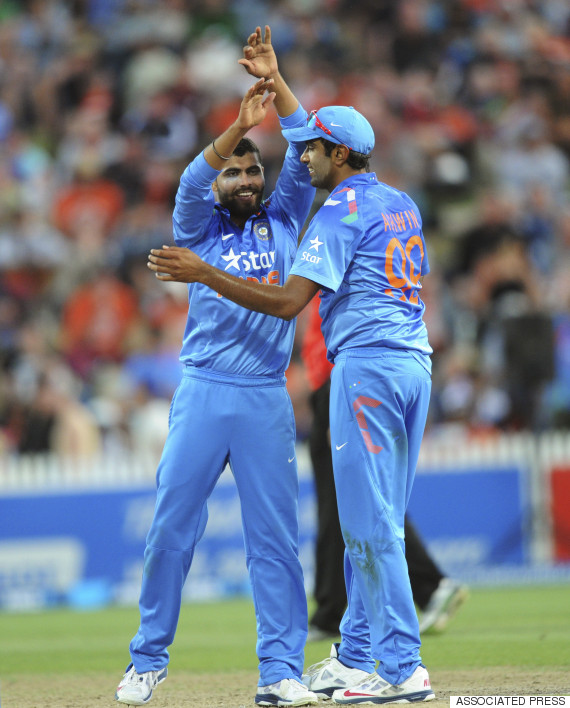 India have stuck with R Ashwin and Ravindra Jadeja, both of whom are also competent batsmen down the order, to winkle out wickets in the middle overs. Ashwin is India's leading wicket-taker in the competition with 8 sticks from 28 overs, having gone for well below 4 runs an over. Jadeja has bowled 23.2 overs, picking up 4 for 106; between them, they have combined figures of 51.2-4-213-8. With 36.2 overs having come against Pakistan and South Africa. Truly commendable.
Ashwin is clearly the lead spinner, relishing the responsibility and the onus of looking for wickets. By his own admission, he has worked very hard at stabilising his core, which allows him to be strong at the crease.
Ashwin is clearly the lead spinner, relishing the responsibility and the onus of looking for wickets. By his own admission, he has worked very hard at stabilising his core, which allows him to be strong at the crease. He is a great believer that everything is in the crease, and that once things are taken care at the crease, the results will follow. He hasn't yet talked at length about wrist and revs on the ball, about varying his pace and using the angles and altering the trajectory, about creating doubts in the minds of the batsmen with varying degrees of turn or about the arm ball - the one that almost swings away from the right-hand batsman, seam proud and upright, the one that accounted for a shell-shocked Swapnil Patil at the WACA the other afternoon.
Jadeja has been an able understudy. It's worth recalling that the left-arm spinner hasn't had much bowling in a match situation in recent times. The shoulder injury that kept him out of the entire Test series in Australia also limited him to just one bowl in the triangular series that followed, in the final league game against England. The rust showed then, but with each over bowled since, he has gradually rediscovered the accuracy and the bite that make him more than just a dart-firing, run-denying proposition.
"First and foremost, your mindset should be to take wickets. Ashwin has had that mindset," Virat Kohli had said ahead of the South Africa game as he focussed on India's spin twins. "Jadeja is always an attacking bowler and if gets a bit of assistance, he becomes even more dangerous bowler. They were our two main bowlers in the Champions Trophy in England and no one expected our spinners would become our main bowlers. They proved everyone wrong. In Australia, you have long boundaries, square boundaries. If you bowl intelligently, you will be rewarded. Their bowling partnership is very important for us. They are wise and know when to play what role and obviously MS is there to help; their partnership will be crucial for us."
It is a partnership that has delivered thus far, but bigger tests lie ahead - against Chris Gayle and his marauding band at the WACA on Friday, in New Zealand, admittedly against slightly weaker opponents in Zimbabwe and Ireland, and then during the knockout stages. Thus far, they have had the luxury of coming on to bowl when the new-ball bowlers have made early inroads. How they cope when the heat is on and the bat is dominating the ball remains to be seen, though all indications point to them being able to hold their own more often than not.