ASSOCIATED PRESS
This article is from Wisden India.

By R Kaushik
In his first interaction with the media as an Indian Test player, one of his first acts was to clarify his name - 'They call me Mohammed Shami Ahmed, sometimes Shami Ahmed, but my name actually is Mohammed Shami', the young man had said, haltingly, in November 2013. Today, Mohammed Shami has established himself as a household name in India, no confusion any more about the name or the spelling.
Shami's Test debut was electrifying. On his adopted home ground at the Eden Gardens - Shami was born in Sahaspur, Uttar Pradesh and only moved to Kolkata in his mid-teens, making his first-class debut for Bengal when just 20 - he winkled West Indies out in no time in Sachin Tendulkar's farewell series. Match figures of 9 for 118 are the best to date by an Indian pacer on Test debut, and while the Man of the Match award went to another debutant - Rohit Sharma - the man of the moment most certainly was the slight, unassuming Shami.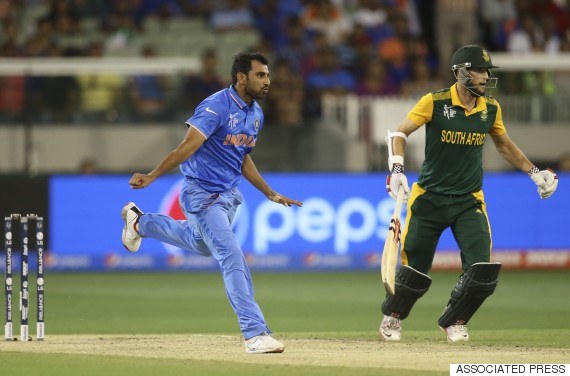 One of the great fears then was that Shami would go the way of several other Indian pacers who promised much initially but quickly faded into oblivion - RP Singh, Munaf Patel, S Sreesanth and A Mithun prominent among them. Some 16 months on, he has comprehensively laid those fears to rest, establishing himself as the leader of a young bowling group and assuming the responsibility of spearheading an attack that in no way is inferior to many of the more celebrated attacks in this World Cup.
Zaheer Khan, the maestro himself, told this correspondent, 'Shami is now ready - an all-conditions, all-ball bowler'. The apprentice hasn't let the master down.
A majority of Shami's nine wickets on Test debut had come through reverse seam, as opposed to reverse swing. He didn't so much pitch the ball up and thrive on late movement as bang it in just slightly short of a good length and get it to come back in sharply on the reverse, hustling the Caribbean batsmen with pace and cut.
Shami has come a long way since that. He struggled initially to adapt to the red Kookaburra but by the end of the tour of New Zealand in February last year, Zaheer Khan, the maestro himself, told this correspondent, 'Shami is now ready - an all-conditions, all-ball bowler'. The apprentice hasn't let the master down.
Shami's numbers are pretty impressive for an Indian fast bowler - 47 sticks from 12 Tests, though both the average (36.14) and the economy (3.80) need a great deal of improvement. In One-Day International cricket, even more unforgiving of bowlers in this era of not more four men outside the circle at any stage of the game, he has an extraordinary 76 scalps from 42 games at an impressive 25.48 and an economy of 5.58 that is perfectly acceptable considering that he is an attacking bowler on the lookout for wickets, and therefore will go for a few. His strike rate, 27.3 balls per wicket, is up there with the best, and since the start of 2014, no man across the globe has taken more ODI wickets than Shami (46).
But as admirable as the numbers are, there is more to Shami than just mere stats. He is open to learning, is happy to accept responsibility and, in Ishant Sharma's absence, more than willing to embrace the challenge of carrying a young but express pace attack with him, using the new ball to good effect, coming back in the Batting Power Play with more than the odd trick, and bowling as well at the death as is possible when batsmen are teeing off and no boundary is long enough.
Already in this World Cup, Shami has shown what different skills he brings with him. Against Pakistan, he hurried Younis Khan for pace and had him awkwardly fending a lifter to Mahendra Singh Dhoni behind the sticks early in the chase on his way to figures of 4 for 35. Against South Africa in Melbourne last Sunday, he again beat Quinton de Kock for pace, his intended swat over the infield nestling in mid-off's hands as the ball hit the bat pretty high and defeated intent. In two games, he has 6 for 65 from 17 overs. Incisive and accurate - with new ball and not such a new ball.
In two games, he has 6 for 65 from 17 overs. Incisive and accurate - with new ball and not such a new ball.
The results don't indicate the turmoil in Shami's mind in the lead-up to the World Cup. A confidence bowler if there was one, Shami often began a spell conceding a boundary off the first ball. That sort of dictated the tempo of his spell; careful analysis revealed that over a period of time, Shami had conceded a boundary off the first delivery of a new spell nearly 80% of the time because that first ball was invariably a loosener, in the batsman's hitting zone.
Shami worked with the coaching staff to determine what would be the ideal length for him. After much toing and froing, he accepted that the six-metre mark from the batsman wouldn't be a bad place to start. That was the length Umesh Yadav had bowled during the practice game against Australia when he alone of the quicks escaped serious clatter from Glenn Maxwell - though he did go for 25 in one over on his way to 49 from 10 - and that is the length Josh Hazlewood often slips into. Shami needed some convincing, but after much work in the nets, he was comfortable with the inputs from the coaching staff, and worked hard to hit that length time after time.
One of the other things that accelerated his growth as the leader of the bowling unit was the sense of empowerment. Instead of asking him to bowl in a particular manner in a match to a particular field, Shami was asked to do his own bidding at team and bowlers' meetings. Essentially shy and soft-spoken, he took to that onus with great relish. Comfortable in his own skin and feeling several inches taller post empowerment, he has grown tremendously through the World Cup, which is of course still in its early stages.
Change, however, can sometimes be daunting, and under pressure, people tend to slip back into their comfort zone, which in Shami's case can be forgetting the 'new basics'. On more than one instance during the competition, we have seen Virat Kohli or R Ashwin having a quick word in his ear, perhaps reminding him of the go-to ball, because in the heat of battle, with so much riding on every delivery, it is sometimes easy for the mind to go wandering.
Yadav made his international debut some two and a half years before Shami, and Mohit Sharma nearly six months after. The middle rung of this bowling group that collectively repeatedly clocks 140 kph is the cog around which India's pace attack revolves. Yadav can be erratic and Mohit, him of 14 ODIs under his belt, is still very much work in progress. As is Shami, for that matter. But he has shown that even while progressing, it is possible to take over the leadership role. If India's bowling is being accorded the same respect today as their batting always has and their fielding has over the last two and a half years, then Shami's contribution towards that end is not inconsiderable.