ASSOCIATED PRESS
This article is from Wisden India.

By Dileep Premachandran
Less than nine years ago, Mohammad Nabi hit a century as Afghanistan thrashed a Marylebone Cricket Club XI at the Police Gymkhana in Mumbai. Several of his booming cross-batted strokes landed on the Western Railway tracks, and the 48-year-old Mike Gatting, who led the MCC XI, made a duck. Hasti Gul Abid, who had him caught behind that afternoon, hasn't played for his country since 2009. Karim Sadiq, who took the catch, hasn't donned his nation's colours since March 2014.
In June, it will be five years since Tim Albone, Lucy Martens and Leslie Knott released 'Out of the Ashes', the documentary that traced Afghanistan's first steps in international cricket. The movie is relevant because it's a reminder that some of these players were playing World Cricket League's Division Five not that long ago. Their progress since has made the average meteor look tardy.
"His knowledge of cricket is so scant that he doesn't even know that India are the defending champions in the 2015 World Cup."
Reza, who drove me to the Manuka Oval on Tuesday (February 17), hails from Ghazni, halfway between Kabul and Kandahar. His knowledge of cricket is so scant that he doesn't even know that India are the defending champions in the 2015 World Cup. All he knows is that he has a ticket for the Bangladesh game, and that he wouldn't miss it for the world. For some, these opening-round matches are a yawn-inducing chore. For others, it's a cherished rite of passage.
"It's been well documented the hardships that the players and the general public have at home," said Andy Moles, their coach. "It's a unifying sport among the population in Afghanistan, and the players know that good performances will have an uplifting effect on the country."
With the exception of Zimbabwe in 1983, no Associate nation has won its first World Cup game, but the Afghans, who beat Bangladesh by 32 runs in their Asia Cup meeting last year, certainly don't lack for confidence going into their opening match.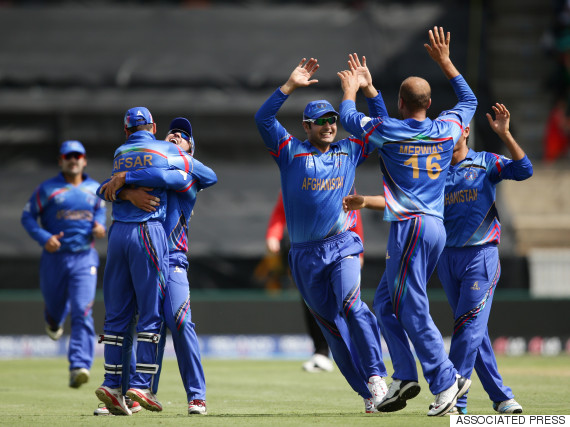 "We've played before against big teams like Australia, Pakistan, Sri Lanka, Bangladesh and India as well," said Nabi. "Also, we played a warm-up game against India as well. Hopefully, everyone controls their nerves, and controls the pressure as well. If we control the pressure, then we'll perform well."
At an open media session before the start of the tournament, Nawroz Mangal, Shapoor Zadran and Hamid Hassan had spoken about their expectations. They weren't just targetting Bangladesh, said Mangal. "We can beat Scotland, and even England. Why not?"
Against Bangladesh, familiarity will be a factor. Including Nabi, players have been part of the Dhaka Premier League and the Bangladesh Premier League. When they beat Bangladesh in the Asia Cup, Shakib Al Hasan was suspended and Tamim Iqbal injured. Those two cornerstones of the Bangladesh side will be present at the Manuka Oval, but Nabi was certain that it was the more experienced side that would feel the pressure.
"The pressure is totally on Bangladesh because we've already beaten them," he said. "We respect the Bangladesh team. They are a Test nation, but we hope that we perform well against them."
Bangladesh have yet to play an ODI in 2015, while Afghanistan prepared for this tournament with a triangular series against Scotland and Ireland in the United Arab Emirates. They won two and lost two, but the manner in which they stumbled to 63 all out in one game against Scotland revealed how fragile they can be in certain situations.
Shapoor jokingly told this correspondent that Afghanistan would be happy to teach India how to bowl, if only the Indians could pass on some batting tips. There was a kernel of truth in that wisecrack though. The Afghans still struggle with the art of constructing an innings. The bang-bang approach may work in Twenty20, but in the 50-over game there will often be situations where you have to consolidate for ten or 15 overs before indulging your repertoire of strokes. For most of the associate nations, except Ireland - several of whose players have experience of county cricket - that continues to be the biggest challenge.
Moles, who has coached Kenya, Scotland and New Zealand in the past, has been impressed by the confidence of his charges, but he accepted that staying calm in certain situations still presented a challenge. "When we don't play our best cricket, we get a bit excited," he said. "We want to hit fours and sixes. An educator will tell you it's a learning process, whatever it may be - cricket, maths, English, whatever you do.
"As in any classroom, you don't always get your right answers when you challenge the learners, and we'll have days when we don't quite get it right. The World Cup is a magnificent opportunity, but it's also primarily a great learning curve. We're here to compete in every fixture. We believe if we play good cricket, we'll challenge every side that we play against."
For Nabi, leading his team out on to the Manuka Oval and a first World Cup game will mark the culmination of a journey that began in a refugee camp in Peshawar. There will be joy, and there will be considerable pride. But there will also be nervousness, no much how much the Afghans talk of the pressure being on Bangladesh.
"They're expected to win," said Moles of Bangladesh. "I heard someone say we're favorites. I don't see that at all. Bangladesh have played in five World Cups. Five World Cups ago, we weren't even in the ICC, so we're very much in our infancy. But if we play well, we do the right things and stay calm, we are capable of playing some serious cricket."
Win or lose, Wednesday will be a red-letter day for Afghan cricket. There's nothing quite like the first time.
Dileep Premachandran is Editor-in-chief at Wisden India. You can follow him on Twitter @SpiceBoxofEarth