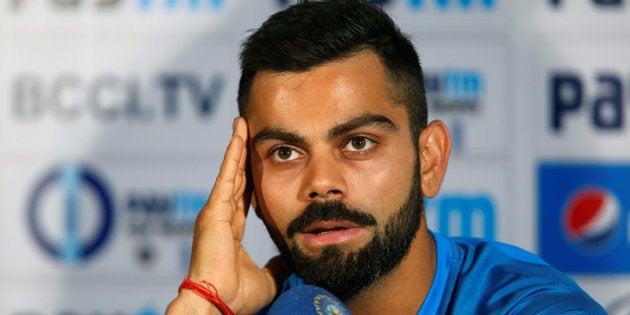 When Virat Kohli made four double centuries in four consecutive test series, little did he realise that the records he is breaking might get him in trouble—there just may be no records left to break! Sure, everyone says that a win for the team is important and I agree that it is, but what keeps a player motivated is when there is a record to break. And especially if the player is an aggressive Delhiite who doesn't settle for mediocrity. Be it four consecutive double centuries, or a whitewash against England, or being the youngest player to score xyz runs, the superman from Delhi has broken all the records. But what now? How many more records are left for him to break? I am sure there aren't many.
When top officials of BCCI came to this realisation, they knew something had to be done. So, in keeping with their tradition, they went straight to the Supreme Court and asked if they could do something about it. They have made this a practice now—the officials ask every little thing from Supreme Court, whether it's putting ketchup on their fries or paying the U-19 team. The SC decides everything and then it politely orders the impeccable panel of historians and economists heading the top cricket governing body in India to make the decision they have been asked to make. The word decision here has lost all the meaning.
We have advised Virat to change his name to Kirat. Now what this would ensure is that there will be enough motivation for Kirat to break records made by Virat...
Anyway, when Ramachandra Guha, one of the top officials of BCCI, came back to the room where the BCCI committee play Ludo, he had a solution in mind. His knowledge of India's independence struggle and other historical facts around that era came in handy. He suggested that Virat Kohli should change his name to Kirat Vohli. Like every other historian, his reasoning was bolstered by assumptions and more assumptions. In a press conference that happened later, he said, "Since Virat has been breaking all the batting records, and there might be nothing to inspire him to achieve more in the near future, we had to do something about it; but asking him to concentrate on his bowling didn't turn out well as we received a handwritten letter by him this morning with only one word written a thousand times, which we cannot say but it had something to do with all our sisters. So, we have advised Virat to change his name to Kirat. Now what this would ensure is that there will be enough motivation for Kirat to break records made by Virat and the top two names on any record will be from India."
On his controversial Twitter account, he further justified his advice by saying that this procedure can be done several times if records keep getting broken; in fact, the name can be changed in the middle of the match too, to something like 'Sairat'. That way we will have three Indians on the top of the table. He also tagged R Ashwin and Kedar Jadhav to apply this in their lives and see the results.
Now, as much as this advice sounds reasonable to all of us, it supposedly didn't go down too well with Virat Kohli. After getting up, having poha and scoring a century (which is his daily routine), when he went for the press conference, he knocked down all the BCCI officials for this advice and while doing that, also broke the record of knocking down the greatest number of officials in a press conference, a record which was set by the previous legend Sunil Gavaskar. Virat further stated that he only plays for the country and not for records and if anyone thinks otherwise, they can take a hike. Guha, who had reportedly started writing India after Kohli stopped his book midway and went for a long holiday and nothing has been heard from him so far.
While we admire Kohli for keeping team above everything else, we are also a bit worried that he may lack inspiration once he breaks all the records. But till then, keep those double centuries coming, Virat.