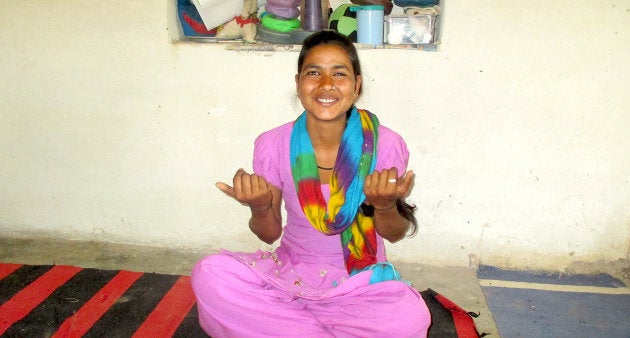 By Tarun Kanti Bose*, Bikaner, Rajasthan
Suman was just six years old when her father died in 2006. Brought up by her mother, she grew up in a desert village in Bikaner, where child marriage was the norm rather than the exception. But the winds of change were blowing through Jaisalsar village and a different future unfolded for Suman.
"My mother stood behind me," says Suman, now 17 years old. "The doors could have closed otherwise," she said, pointing to the end of education, ill health and thwarted potential she would have suffered had she been given away as a child bride. "I want to study, which wouldn't have happened if I married at the age of 6 or 14 years," she told VillageSquare.in. Suman secured a first division in her 10th class examination. This year, she has appeared for the 12th boards.
In Rajasthan, the rate of child marriage remains a horrendous 65%, way above the national average.
Although India enacted the stringent Prohibition of Child Marriage Act in 2006, the practice has continued in many parts of India. In Rajasthan, the rate of child marriage remains a horrendous 65%, way above the national average. The National Family Health Survey (NFHS, 2015-16) shows 33.4% of women in Bikaner district between 20- 24 years were married before they were 18. Maternal death in women between the ages of 15-19 years is as high as 16.7%. In the rough terrain of Rajasthan's desert districts of Bikaner, Jaisalmer, Jodhpur and Barmer, child marriages have been part of the lifestyle for centuries.
Shifting sands
Although the overall scenario in the state needs much improvement, some interventions on the ground have now helped in a social transformation in parts of rural Rajasthan society. The people of Jaisalsar village, in Sridungargarh administrative block of Bikaner district, resolved they would not allow the marriage of any underage girl. The last child marriage took place here in 2014. The results are already visible. Girls' enrollment in secondary classes and colleges has increased. A majority of the villagers are involved in farming and very few migrate to cities of Rajasthan, Delhi, Mumbai, Kolkata or other parts of the country for better options of livelihood.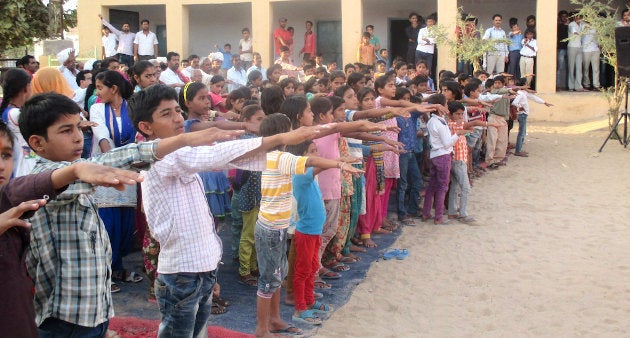 At the village's anganwadi (day care) centre, girls and mothers gathered around Santosh Kanwar, who is doing her Master's in Political Science and is leading the girls' groups. "Those girls who were married at an early age were denied the opportunity to grow. I think child marriage challenges the basic right of girls to education, health, protection and development," Kanwar told VillageSquare.in. "The girls are forced into it a lot more in comparison to their male counterparts and it impacts them much more intensely. In Rajasthan's desert districts girls belonging to the poor strata are more likely to be married early than the girls whose parents are from a financially stronger background."
The movement to end child marriages is spreading through desert areas, with a campaign running successfully in 177 villages of Bikaner, Jodhpur, Barmer and Jaisalmer districts.
Sitting close to Santosh, ebullient Babita pointed out, "I have seen girls, even many of my cousins, who were married before the age of 18, had little say about whether or when they should be pregnant. These girls had no access to family planning methods. Child brides are not fully mature to be mothers and they have a high chance of being abused."
Girls take a lead
In her efforts to oppose child marriage, Suman was joined by Renu, a final year student of B.A. Arts. "Girls groups like Ekta (Unity) and Jagriti (Awakening) were formed in the village to build up awareness and drum up support for stopping child marriage. The meetings of our groups are held once in a month to orient the girls on the issues of health, nutrition, education and child marriage. Parents were persuaded to enroll their daughters in schools. But still, a few among them still tried to get their daughters married as young as 8-10 years—we then adopted non-violent protests to stop the parents. On the face of continuous protests, the parents had to relent."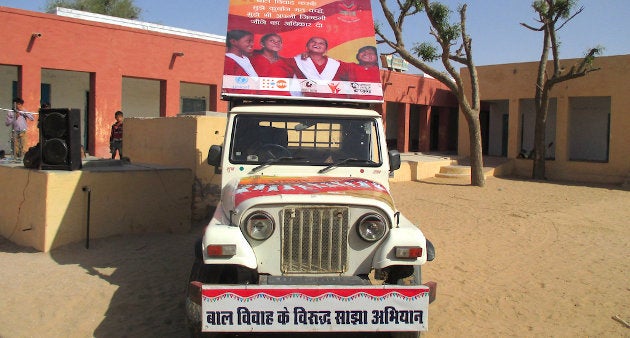 In Jaisalsar, villagers were sensitised with the help of respected elders and opinion leaders. URMUL Trust, an NGO based in Bikaner, helped encourage girls to not drop out of school. The girls' groups and gram panchayat functionaries worked with school management committees to ensure dropout rates for girls fell. Girls came together at the Balika Manch (Young Girls' Association) to work as pressure groups.
"Each day our motivation level increased. I persuaded 22 girls to get readmission in the school," says Suman. "In our village, whenever a girl child is born, our girls groups celebrate it by playing on a plate with a spoon (thali bajana)."
Support of the village council
"After taking a pledge publically (in 2014), panchayat officials were involved in eliminating the malaise from the village and there has been no child marriage since 2014," Surinder Sharma, a retired government schoolteacher, told VillageSquare.in. "Their support to the girls groups and total involvement has increased their accountability."
Confirming the panchayat's role, Shobhita Rajagopal, a Jaipur-based sociologist and associate professor, Institute of Development Studies, told VillageSquare.in: "Ownership by a panchayat is a sustainable model since panchayats are constitutional bodies. The panchayat model [of addressing child marriage] essentially works on public recognition as a positive incentive."
Continuous process
The campaign to make a village child marriage-free is a continuous process. The panchayat has a campaign van, with boards displaying slogans calling for an end to child marriage, that travels through rural areas with a troupe of musicians, singers, singers and puppeteers. The movement to end child marriages is spreading through desert areas, with a campaign running successfully in 177 villages of Bikaner, Jodhpur, Barmer and Jaisalmer districts. Some 49 villages have already got rid of the practice, and more will surely follow.
Tarun Kanti Bose is a New Delhi-based journalist.
This article was first published on VillageSquare.in, a public-interest communications platform focused on rural India.