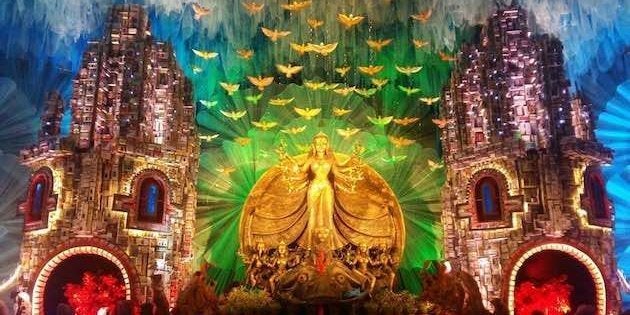 By Rajeshwari Sharma*, Purba Medinipur, West Bengal
In the run up to Durga Puja, many farmers of Bengal swap their sickles with bamboos and ropes. The hands of the people who till land and sow crops turn into the hands of craftspeople, giving shape to some of the most stunning puja pandals of the state's biggest festival.
Starting August, the sight of men at work on structures of bamboo and cloth is commonplace. These pandal makers come in hordes to the city from various parts of Bengal, mainly from Paschim and Purba Medinipur, the hub of handicraft and cottage industry, and other districts including Nadia and North and South 24 Parganas, among others. In Medinipur alone, there are an estimated 100 pandal-making groups that have made a name for themselves, according to leading pandal artist Gouranga Kuila.
Designing and building pandals remain the preserve of rural artisans — chiefly farmers and folk artists — despite an increasing presence of professionals from creative arts in this field.
Work on the pandal usually starts six to eight months ahead of Durga Puja, right after the contracts are signed in January-February. However, most of the action takes place one to two months before the puja. That's when the pandal is put up at the site, often with people working three shifts a day.
The pandals are temporary pavilions that house the deity. A large number of such pavilions are built across neighbourhoods in West Bengal during the week when Durga Puja is celebrated.
Most pandal artists have their own teams comprising farmers, masons, carpenters, electricians, painters, etc., who take care of various parts of pandal making such as building the structure, cladding it in cloth and other materials, artwork, painting, and lighting. However, some work with outsourced teams.
Rural artisans
Usually pandal artists and makers have no formal training. They are self-taught or learn the ropes from a guru. "Like all traditional forms of folk art that are handed down from one generation to another, most pandal makers have gained their knowledge as children working with their fathers or someone who is adept at the craft," Prasanta Ray, sociologist and Professor Emeritus, Presidency University, told VillageSquare.in.
Kuila, a leading name in pandal art and a native of Purba Medinipur Birinchibasan village, is one such artist. Born in a poor, agricultural family, Kuila was expected to carry on with the tradition and take on his family profession. "I spent several years working with my father, uncles and brothers on the farm before I chose to devote all my time to art," says Kuila. "My heart was never into farming and I spent most of my time drawing and creating little artworks ever since I can remember."
Kuila embarked on this journey 25 years ago. But it was in 2002 that he rose to prominence after winning the National Award for handicrafts. There was no looking back since then for the self-taught artist. This year, Kuila and his 150-member team have worked on four Durga Puja pandals commissioned by some of the oldest and biggest puja organisers — Barisha Club, 41 Pally Club, Mudiali Club and Tridhara Sammillani.
A rewarding occupation
Back in his Birinchibasan village, Kuila's staggering success has inspired many others to follow suit. Some 200-odd farmers living in and around his village are now doubling up as pandal makers during the puja season. Among them are 26-year-old Karthik Kuila and 45-year-old Tapan Bera of Birinchibasan and Bet Kalla villages, respectively. Both of them are now proficient in different aspects of pandal making including jute handicraft. "We owe our new lives to Gouranga, who took us under his wings. It's because of him that we are not looked upon as ordinary tillers but artists," Bera told VillageSquare.in.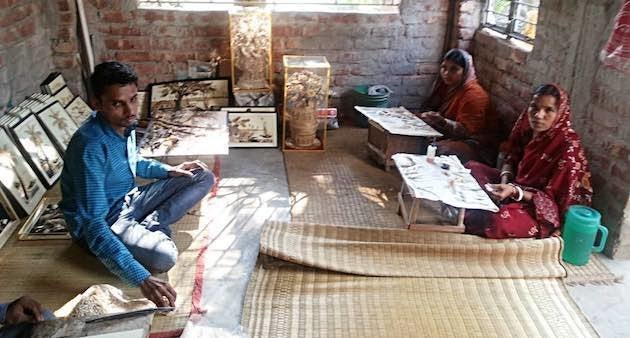 Other pandal decorators from rural Bengal echo this sentiment. Biswajit Mahato, who hails from Nawadweep in Nadia district, decided to enter this field primarily because of the maan-shomman (respectability). "As a farm labourer, you neither have respectability nor money," says Mahato, who learnt pandal and idol making mainly from his father. Like every year, he has been stationed in Kolkata with his team of nine artisans from his village for the last two months to complete the five puja pandals that he has signed up for.
For poor artisans, Durga Puja art is more than just a creative outlet. It is an opportunity to improve their lives and social status.
"We live for the pujas," Nayan Metia of Purba Medinipur's Kamarda village told VillageSquare.in. "Durga Puja is the time for us to showcase our artistry and improve our standing as artists," says Metia, who is snowed under with last-minute touches at the four pandals that he has been commissioned with.
More than art
For poor artisans, Durga Puja art is more than just a creative outlet. It is an opportunity to improve their lives and social status. Kuila says what pandal makers earn during the two-three months of Pujas far outstrips the annual income made from farming. Typically, a pair of hands working three shifts earns up to Rs 1500 a day with the pandal artist's fees ranging from ₹200,000 to ₹10 lakh per pandal. An artist of good repute can expect anywhere between ₹10-20 lakh per pandal. For the top of the heap, the fees are even higher.
In contrast, the annual income from multiple cropping (in this case two crops of paddy, betel leaf and vegetables in between) a farmland of one bigha (a fourth of one acre) would yield a profit of not more than ₹5000-Rs 7000 every four months. A farm labourer makes ₹120 after toiling hard for a day.
"For years, our main source of sustenance was agriculture but now gives us supplementary income," says Bera. He recently moved from pandal making to creating jute gift items. These handicrafts earn him ₹15,000-20,000 per month, with his monthly income going up to ₹30,000-40,000 during mela season (November-January).
Formally trained artists may have an edge over their rural peers in terms of techniques, use of technology and new materials but they often lack the deep, innate understanding of the fundamental and manual aspects of the craft... Prasanta Ray, sociologist and Professor Emeritus, Presidency University
Apart from decent earnings, creative satisfaction and adulation give these artisans the desire to strive towards improving their artistry and workmanship. "The joy of seeing several thousand people standing in long queues to see and appreciate our labour of love is something else," is a common refrain.
Things are slowly changing for the better. While most pandal makers still go back to agriculture or odd jobs after completing pandal work, a few continue to work at different places until Jagadhatri Puja, and even extending up to Saraswati puja in late winter. Also, an increasing number of pandal makers are able to entirely live off this field of work, thanks to a growing demand for well-designed pandals for weddings, parties and corporate events, reveals Kuila.
Professional strokes
The past several years have seen an increasing number of professionally trained artists join the pandal-making fray. Puja organisers are now roping in arts and film personalities, as well as architects, interior designers and even movie set designers in a bid to win awards and attract big sponsors and advertisers.
Associating with big names in the arts and entertainment industry does not necessarily lead to great work but it surely helps create bigger buzz, draw big sponsors and footfalls at the pandals, say observers. "Most often than not, their role does not go beyond ideation and conceptualisation of the theme and pandal design but the tie-ups lead to more eyeballs as they occupy prominent position in the perceptual space," Ray told VillageSquare.in.
We have observed that rural artists and artisans have exceptional abilities to execute on the ground compared to trained artists. Dipankar Chatterjee, head puja coordinator, 41 Pally Club
Ray explains why the influx of urban, formally trained professionals cannot overthrow the stronghold of rural artisans. "The urban, formally trained artists may have an edge over rural peers in terms of experimentation, techniques, use of technology and new materials but more often than not they lack the deep, innate understanding of the fundamental and manual aspects of the craft, intimate experience of nature and an ingenious imagination in the absence of references by way of books, famous artworks and internet."
Dipankar Chatterjee, head puja coordinator of 41 Pally Club, Haridevpur, concurs. "We have roped in many leading professional as well as rural artists for our past pujas. We have observed that rural artists and artisans have exceptional abilities to execute on the ground compared to trained artists."
"There is a lot of difference between theory and practice. Not all are able to successfully translate that into reality," he told VillageSquare.in.
Collaboration, not competition
Currently, the pandal art space is seeing competition heating up as urban, professionally trained artists, including Bhabotosh Sutar, Susanta Paul, Shibsankar Das, Purnendu Dey and Sanatan Dinda, are pulling out all the stops. Notwithstanding various divides—urban vs. rural, trained vs. untrained—one can expect to see interesting collaborations between these two groups in the future, engaging audiences to a degree rarely encountered in the art world.
Rajeshwari Sharma is a Kolkata-based journalist.
This article was first published on VillageSquare.in, a public-interest communications platform focused on rural India.
The opinions expressed in this post are the personal views of the author. They do not necessarily reflect the views of HuffPost India. Any omissions or errors are the author's and HuffPost India does not assume any liability or responsibility for them.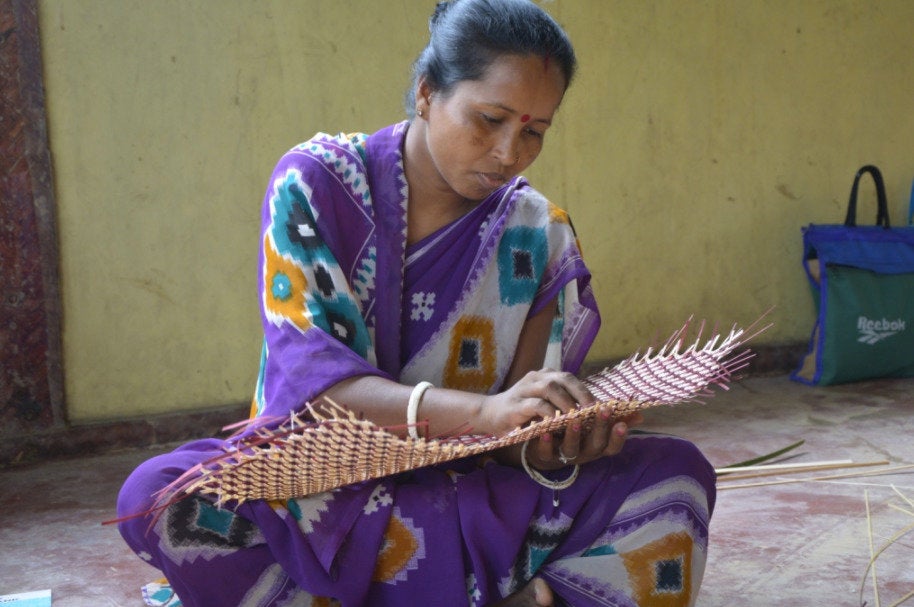 Locally-Grown Bamboo Is Empowering Tripura Women By Turning Them Into Entrepreneurs