Growing profusely in Kerala, jackfruit is no longer a neglected crop because it is fetching high returns for farmers and there's increasing awareness and acceptance of its many uses.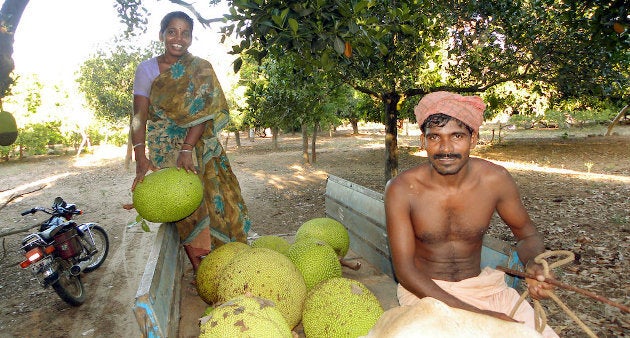 By Hiren Kumar Bose*, Kannur, Kerala
Travelling by road from Kannur, meandering past the snake bends of Western Ghats to reach Wayanad, haggling with shopkeepers for coffee beans and lemongrass oil at Kozhikode and ultimately reaching Thrissur, home of Guruvayur and Our Lady of Lourdes Syro-Malabar church, a newfound love and enthusiasm for jackfruit (Artocarpus heterophyllus) is quite evident.
Till very recently, every Kerala household with a courtyard, in the villages or small towns, had a jackfruit (which the Malayalis fondly call chakka) tree because, its fruit — tender or ripe — was an inalienable part of the Malayali diet with mouth-watering dishes like chakka erissery, chakka puzhukku, idichakka thoran, chakka pulukk and several others. Indeed, the state is home to 100-plus varieties of the fruit, one of which apparently secretes sweetness akin to honey.
Earlier a fruit would fetch around ₹30 but now a grower can easily demand between ₹100 to ₹150 for a jackfruit.
The world's largest fruit is called by a variety of names — kathal, panasa, phanas, jaca, nangka, kanoon, mit, etc. Largely due to the odour of the ripe fruit and traditional preference for tapioca, jackfruit never gained popularity in the country unlike in the Far Eastern nations.
Potential of jackfruit
It's only recently that agro-scientists have woken up to the potential of jackfruit. In 2012, the Department of Biotechnology, Government of India, initiated a five-year long study with University of Agriculture Sciences, Bengaluru, which has led to the identifying of 105 genotypes of jackfruit nationwide. "We have identified 25 varieties from which we nurture saplings and sell it through Krishi Vigyan Kendras and agriculture colleges and have been unable to cope with the demand," says Shyamala Reddy, a biotechnology researcher with Bengaluru-based University of Agricultural Sciences.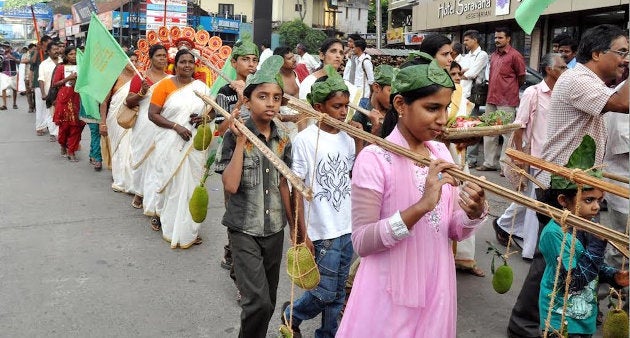 Grown in homesteads mostly without any management practices, jackfruit can be identified as one of the promising fruits grown organically by default. Researchers believe that jackfruit could be a replacement for wheat, corn and other staple crops under threat from climate change. According to Narayan Gowda, ex-vice chancellor, University Agriculture Sciences, Bengaluru, jackfruit is easy to grow, survives pests and diseases and is drought and high temperature-resistant. "It achieves what farmers need in food production when facing a lot of challenges due to climate change," he says.
In 2011, Thiruvananthapuram witnessed the state's first Jackfruit Fest—led by Santhigram, a Gandhian non-profit engaged in issues related to ecology, safe food, and alternative health care—to promote jackfruit as a staple food, vegetable and medicine. Its partners included NABARD (National Bank for Agriculture and Rural Development), Small Farmers Agribusiness Consortium, State Horticulture Mission, Kerala Agricultural University, Kerala State Biodiversity Board and several others.
"The fest served to not only re-kindle the love of Malayalis for the wonder fruit but also opened the eyes of the civil society as well, leading to policy revision and practical steps towards promoting jackfruit and its numerous value-added products," L. Pankajsashan, general secretary, Jackfruit Promotion Council (JPC), told VillageSquare.in.
Following the success of the fest, the JPC was formed and the Jackfruit Fest was organised in major districts of the state. The latest Kerala Chakka Vilambara Yatra was flagged off by Chief Minister Pinarayi Vijayan in July last from Thiruvananthapuram. After touring through all the 14 districts of the state, it concluded at Kasargod in December.
Jackfruit everywhere
A fruit which till now was meant for squirrels, birds and cattle, and left to rot during the monsoon months, has got a new slogan in Panasam Sarvothamam Tatphalam Sarvaguna dayakam (Jackfruit fruits everywhere and possesses myriad qualities).
Last year, jackfruit growers in the villages of Cherupuzha, Peringome, and East Eleri realized that there is money in jackfruit after having sold jackfruit worth ₹300,000 to Artocarpus Foods Private Ltd through Thejaswini Coconut Farmers Producer Company (TCFP), a collective of small and medium-holding farmers belonging to Kannur and Kasaragod districts. "Till now, marketing jackfruit was an unheard of concept and most of it was left to waste, but things are changing and now a farmer can get ₹4 per kg," Shebi Zacharias, CEO of TCFC, told VillageSquare.in.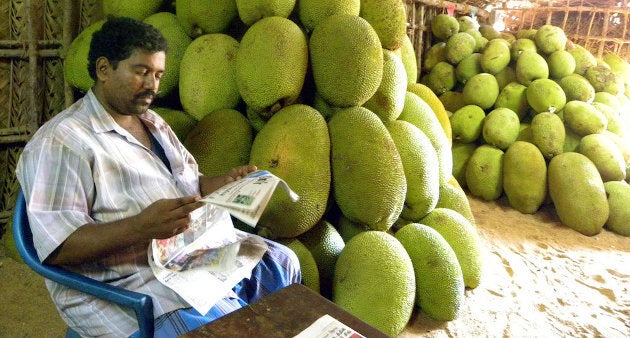 TCFC, till recently, concentrated only on coconut and coconut-based products, but now deals with jackfruit as well. "As processed fruit gets a better price we are planning a processing unit which will benefit the growers immensely," Zacharias said.
The story is similar for People's Service Society Palakkad (PSSP), an NGO working among farmers, has been involved in processing, packaging and branding of jackfruit value-added products since 2013. Its 20-plus ready-to-cook and ready-to-eat products (sold under the brand name Jaxo 100) include jack wonder nut cake, jack seed flour, dehydrated ripe jackfruit and others.
"Considered a poor man's food, I put in my efforts to make it the rich man's vegetable." James Joseph, CEO, Jackfruit 365.com
According to the Department of Economic and Statistics of Kerala, in 2011-2102 jackfruit was grown in 90,333 hectares, leaving fruits like mango, banana, plantain and pineapple far behind. More ignored than relished, jackfruit till recently was the most wasted fruit in the state. As the fruit is not taken seriously, it's difficult to pinpoint the volume of wastage.
Second spring
Sourcing jackfruits from farms and neighbouring villages, the Society processes it to make products, such as jam, pickle, squash, jelly, halva, juice, flour, etc., and markets it under the brand name Jacus Organica. "We are witnessing a second spring of jackfruit as more and more people are taking to it, leading to the revival of the rural economy," Joy Pallaty, secretary, Ex-Service Men's Co-operative Society, told VillageSquare.in. "Earlier a fruit would fetch around ₹30 but now a grower can easily demand between ₹100 to ₹150 for a jackfruit."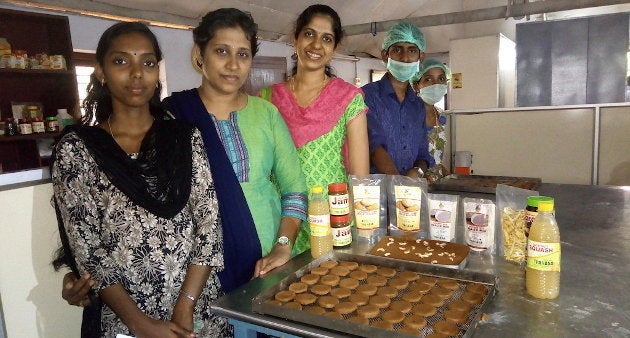 Now, imagine biryani, masala dosa, galouti kabab, kathi roll, panna cotta and payasam from dehydrated jackfruit! That was the image change ushered in by James Joseph, CEO, Jackfruit 365.com and formerly director (executive engagement) of Microsoft in India. "Considered a poor man's food, I put in my efforts to make it the rich man's vegetable," Joseph told VillageSquare.in.
Increasing acceptance
Speaking on the issue how farmers can benefit from the increasing acceptance of the jackfruit, Sri Padre, editor, Adhike Patrike, who has an encyclopaedic knowledge about the fruit, says: "Growers need to organise and have direct market linkage, like the farmers of Toobugere village in Karnataka have done with little bit of handholding by Bengaluru's University of Agricultural Sciences, eliminating the role of traders."
When asked how state governments could facilitate the cultivation and promotion of jackfruit, Padre told VillageSquare.in, "The need of the hour is to have jackfruit development boards in states, growing the fruit much as they do in the case of coconut and spices."
Hiren Kumar Bose is a journalist based in Thane, Maharashtra. He doubles up as a weekend farmer.
This article was first published on VillageSquare.in, a public-interest communications platform focused on rural India.