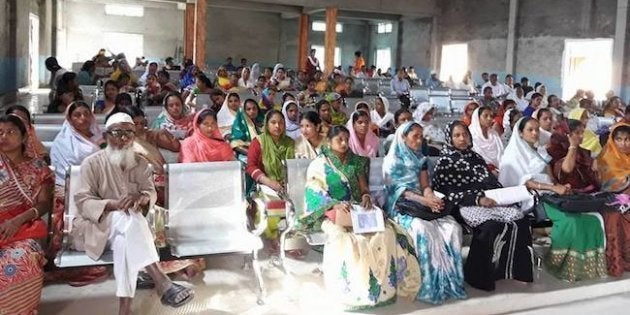 By Abdul Gani*, Darrang, Assam
Rulima Khatun of Dalgaon in Assam's Darrang district, one of the most backward areas in the state, is 17 years old. She is better off than many of her friends in the neighbourhood as she had a narrow escape when her parents wanted to get her married to a much older man. A campaign being conducted through Facebook and WhatsApp groups came to her rescue.
Some local youths sent an alert message to a WhatsApp group called Balya Bibah Birodhi Mancha (Forum Against Child Marriage). Following this, local leaders and activists of All Assam Minority Students' Union (AAMSU), a students' body, immediately stopped the marriage at Rowmari Chapori.
Khatun is safe for the moment. "It was a mistake and I have admitted to it," Nuru Sheikh, father of the girl, told VillageSquare.in. "I will not commit such a mistake again." However, the practice of underage marriage is quite common in these areas.
A similar situation, where a teenage boy was going to be married off, was averted by members of the Balya Bibah Birodhi Mancha Facebook and WhatsApp groups in Baragua in Barpeta district. Ayub Ali, the boy's father, admitted that he intended to marry off his underage son.
At a time when cases of misuse of social networking sites are on the rise, a section of young men and women in Assam are using it as a tool to fight social evils such as child marriage. Some Facebook and WhatsApp groups have become a major threat to those who support child marriage.
"We are really happy to overcome a huge challenge by a section villagers by motivating the youths with the help of Facebook and WhatsApp," Ainuddin Ahmed, general secretary of AAMSU, told VillageSquare.in. "I didn't start it from the AAMSU platform but as an individual experiencing the pathetic condition of the society, especially among the uneducated and poor sections. But later, the youths in the students' body supported me in a grand way. It was overwhelming."
Besides members of AAMSU, others, such as different NGOs and police officers, are also members of these social media groups. Ahmed is hoping for more support though. "I want more proactive role from the government agencies for better results," he said.
Their attempts to fight the social evil of child marriage has often landed these young men in trouble. They have had to face the wrath of goons under whose patronage these underage marriages used to take place. Many activists have been beaten up. On one occasion, Ashraful Hussain, a young activist, was beaten up and threatened by the grooms' family at Bhoiraguri and Kahikuchi village in Barpeta district.
"When we tried to stop a child marriage, a mob from the groom's family attacked me and my friend. They beat us up and held us captive until midnight. Finally, the police along with my friends arrived and rescued us," he told VillageSquare.in.
This was not an isolated incident. Several AAMSU activists have faced similar situations in Kharupetia in Darrang district. Mustak, an AAMSU leader and an admin with the Balya Bibah Birodhi Manch WhatsApp group, said that they have lodged a police complaint at the Kharupetia outpost.
"At least four of our activists sustained injuries after a group of goons launched an attack on us who went to stop a child marriage at Barangabari village," he said. "We have lodged an FIR and admitted our colleagues at a hospital."
They allege that on some occasions, police assistance is not adequate. "Unfortunately, in some areas the police are yet to be active enough to deal with such situations. The change in police is must if we really want to eradicate this evil practice from our society," Ainuddin said.
On several occasions, parents procure forged birth certificates for their daughters and sons to get around the minimum marriageable age limitation on marriages. An FIR was lodged at Baghbor police station in Barpeta district against the parent of a 14-year-old girl for producing a fake birth certificate.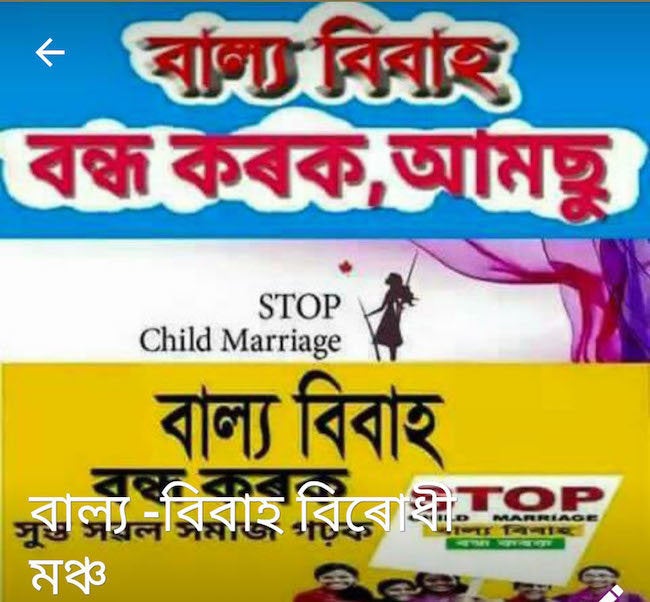 But the Facebook page and WhatsApp group are keeping activists motivated. "We keep track of what's happening all around. If someone has a problem, he or she gets an immediate response from either group to address that particular issue. That's how it's going on in a healthy way," said Ainuddin.
These young activists and AAMSU members are also organising awareness camps in different locations and they are webcasting the camps live on Facebook. On 21 May, they organised an awareness meeting at Dabaka in Nagaon district to which people from different walks of life were invited and the entire event was webcast live on Facebook.
"We got a huge response from this awareness camp. We got calls from different parts of the state and gradually we will also conduct such events in nooks and corners of the state," Mustak said.
Since February, the young activists have managed to stop over 250 child marriages and provided counselling to parents.
Child marriage in Assam is mostly prevalent among a section of the Muslim and tribal population. The main reason is poverty and lack of education. "This is a serious problem among uneducated Muslims. Most of them are poor. Many still regard a girl child to be burden and want to marry them off as early as possible. This is very dangerous," Hafiz Ahmed, president of Char Chapori Sahitya Parishad (CCSP), an Assamese literary body told VIllageSquare.in. "On top of that, there is a section who mislead the poor parents, wooing them with money. It is praiseworthy that these youths have come out to bring a change using social media."
Ahmed said that the educated should come out to oppose and stop this practice in greater numbers. All BTC Minority Students Union (ABMSU) and two other student organisations have also extended their support to the mission.
According to the National Family Health Survey (NFHS) 2015-2016, at least 32.6 percent of married women aged between 20 and 24 in Assam had been married off before they turned 18 and 23.3 percent of boys, now between 25 to 29 years of age, were married before they turned 21. Also, at least 14 percent of the girls aged between 15 and 19 years are pregnant.
The Sarda Act, 1929, prescribed the minimum age of marriage in India. Later renamed as the Child Marriage Restraint Act (CMRA), 1929, it prohibited marriage of girls below the age of 15 years and boys below the age of 18. In 1978, the law was amended to raise the minimum age of marriage to 18 years for girls and 21 years for boys. The minimum legal marriageable age remains unchanged in the new law, called the Prohibition of Child Marriages Act (PCMA), 2006, which replaced the CMRA.
Abdul Gani is a journalist based in Guwahati.
This article was first published on VillageSquare.in, a public-interest communications platform focused on rural India.