Quantov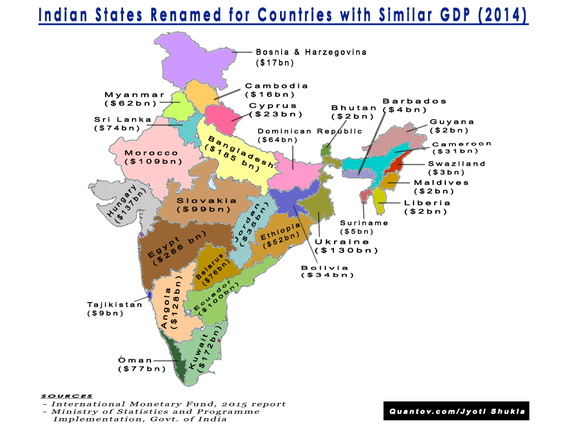 If Maharashtra were an independent country, its $286.50 billion GDP would make it the 38th largest economy in the world. That's slightly higher than Egypt's GDP of $286 billion and much higher than $250 billion of Pakistan.
We at Quantov have created a map that puts India's enormous $2.1 trillion economy in some global perspective. Here we compare the GDP of Indian states with the national GDPs of other countries. Note that the map is not adjusted for population size.
The International Monetary Fund has released its estimates for 2014 nominal GDP of 189 countries. And the Ministry of Statistics and Programme Implementation, Govt. of India has issued the GSDP of Indian states at current prices. We put the two of them together and came up with a map based on the most recent data.
For each Indian state, the map is labelled with the nation whose 2014 nominal GDP was closest to the 2014 GDP of that state. Of course, India's 1.27 billion population means our per capita GDP is still lower than many of the countries shown in the map.
Like Us On Facebook |

Follow Us On Twitter |

Contact HuffPost India