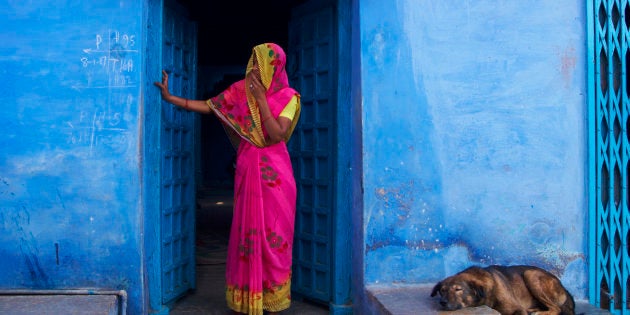 "Usko bhaad mein janey do, mujhe toh life mein aagey jaana hain (Let him go to hell, I have to succeed in life)." These tough words from a frail-looking woman made perfect sense, Rachna (name changed), my house help, is only 25 years old but she is a wise woman, even though she never got the chance to go to school. Her life could have easily taken a tragic turn but she did not let it. She was married in her village at a young age and had children in quick succession, but there was one big problem—her husband was an alcoholic wife-beater. But Rachna refused to tolerate the abuse for long and took life by the horns.
She gives a positive spin to her troubles, saying, "I'm glad he ill-treated me because if he didn't I would have never seen the world beyond the village."
I see so many highly educated women with college degrees languishing in bad marriages or bad divorces. I believe that all they need to do is pull a leaf out of the so-called "uneducated" Rachna's life and I am sure they will be on their way to a newer happier life. Here are six things that Rachna did that can serve as inspiration.
1. She refused to 'adjust' for the 'sake of the kids'
The first thing she did was to make arrangements for her two children to be looked after. She convinced her mother and grandmother, both in the village, to be their guardians, rather than her alcoholic husband. She refused to listen to her so called well-wishers and village elders, that she must make the marriage work at all costs and be miserable "for the sake of the children" for the rest of her life. She recognised that line for the eyewash it is.
2. She gained physical distance from her oppressors
Rachna made a bold decision to move away from her village to Mumbai. She wanted to be in a place where she would not have to encounter taunts, jibes and the usual social ostracism that you go through as women when you decide to move away from your husband. After all, in our culture even the village vagabond must be accorded the status of a deity by his wife. She started her life afresh where she didn't not have to justify each and every move to those who were concerned about her "morality."
3. She got a job
In fact, she started out with three jobs, one of which provided a place to sleep in the nights—she didn't want to continue staying at the mercy of her relatives in Mumbai, nor did she want to exhaust the goodwill of her friends beyond a point. Most importantly, she did not want to be dependent anymore.
4. She started saving her own money
Rather than wait for her husband to provide for her upkeep, she took matters in her own hands. Though she is uneducated, her domestic skills allowed her to earn enough to sustain herself and even save enough money to send to her children in the village.
5. She had faith in her own decisions
All her decisions were bold and took guts to execute, but she stuck with them. Although she missed her children, she knew that the self-respect and money she was earning would hold them in good stead too. She coped with discomforts for what she decided was the greater good.
6. She never lost her spirit
Despite the blows that life dealt her, she didn't complain or look for sympathy. Instead she forged on to meet her goals, and that too with a smile on her face. She is even able to laugh at her husband and revel in her escape from the marriage. She says, "I'm glad he ill-treated me because if he didn't I would have never seen the world beyond the village."