ASSOCIATED PRESS
Not many realise that they are amidst a legend in the making and are privileged to watch him take the field. It sometimes only dawns on us only after a few years to acknowledge the fact. Through history there have been many examples, and more recently Tiger Woods, Roger Federer, Michael Schumacher and Sachin Tendulkar are few of the men who fall into this category. However, no one beats Cristiano Ronaldo, in recent memory, for he has captured the globe.
And having won his third FIFA Ballon d'Or award, second time in a row for an outstanding 2014 season, the Portuguese is just one behind his closest rival Lionel Messi, who has won it four times. Ronaldo was presented with Ballon d'Or trophy during a ceremony in Zurich, where he beat Barcelona forward Lionel Messi and Bayern Munich goalkeeper Manuel Neuer.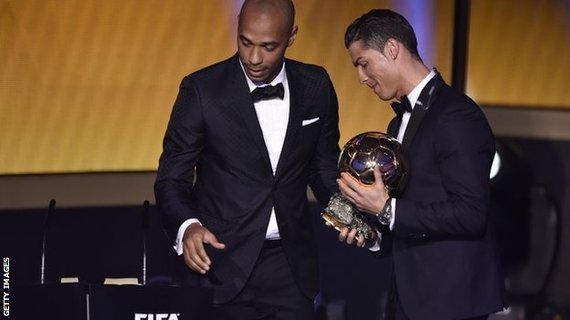 via Getty Images
Ronaldo led his Spanish club Real Madrid to four trophies in the season 2013-14, including the UEFA Champions League for the tenth time; he amassed 61 goals in 60 games and also became the fastest player in Spanish League to get to 200 goals with most number of hat-tricks.
Its been a long hard journey for a boy who was once fighting for his life as he battled with a heart problem, and now over these years he has become the pulse of this beautiful game.
Ronaldo got his big break at the age of 18, when Manchester United manager Sir Alex Ferguson signed him from Sporting Lisbon for fee of 12 million Euros, after he saw an impressive and a promising lad in the Sporting Lisbon jersey.
At Manchester United, Ronaldo received the prestigious No.7 jersey previously held by former greats like George Best, Eric Cantona and David Beckham. Initially employed as a winger, he took a couple of seasons to settle into the role. Although Manchester United fans would not accept it, the void left by David Beckham and subsequently by the Dutch striker Ruud Van Nistelrooy was difficult to fill. This led to a four season title drought starting 2003. However, Ronaldo continued to make rapid strides at United, continuing to pump in goals and assists in all competitions. In three seasons, the Manchester United failed to win the league and had just managed the FA Cup glory and League Cup.
In 2007-08, Ronaldo's was firing all cylinders as he led Manchester United to the Champions League title in Moscow, while also adding the English league title. He scored 42 goals in all competitions and having won all including his first Ballon d'Or, he had achieved everything in England; it was only natural that he looked for other challenges.
Rumours that Real Madrid had bid for the winger, added to speculation that he would leave during the summer of 2008. Although Ronaldo denied reports, it was clear that a move was imminent. A 26 goal-scoring season in 2008-09, and another league title brought Manchester United an 80 million Euros deal from Real Madrid in 2009, which made him the world's most expensive transfer.
He won a host of personal accolades during his time at Manchester United, including the prestigious Ballon d'Or. In all, he found the back of the net 118 times for Manchester United in six seasons.
At Real Madrid, he played under Manuel Pellegrini in his first season. It was difficult to adjust to his new home and new teammates and he often got lost among the sea of stars at Real. He found his bearings in the second half of the season, though, by that time it was too late as Madrid finished the season with no silverware. Still a return of 33 goals in his first season at the Spanish capital bode well for Real Madrid.
However, a poor showing by Ronaldo and Portugal at the 2010 World Cup meant that he became even more determined. The appointment of Jose Mourinho, as coach, who handed him the no. 7 jersey brought out the best from Ronaldo.
Ronaldo went onto become Real Madrid's goal-scoring machine as he scored 41 goals in 2010-11 and became the first player to win the European Golden shoe award in two different leagues.
Subsequently, Ronaldo led Real Madrid to first title win in 2011-12 as he became the second fastest player to reach to 100 goals in Spain in just three seasons. He ended his third season with a record 100 points for Madird, notching 60 goals in all competitions. He won his second Ballon d'Or for his amazing performance and also leading Portugal into the semi-finals of the Euro 2012.
Under Real Madrid's new manager Carlo Ancelotti, Ronaldo shrugged the rumours of him moving back to his former club Manchester United when he signed a bumper contract that would keep him at the club until 2018, with a salary of 17 million Euros, making him the highest paid player in football.
Ronaldo had an injury-plagued dissapointing 2014 FIFA World Cup, but he came back even stronger for the domestic season. For him records are just a number, he averages 62 minutes per goal in Spanish League, with his every goal he almost creates a new record. Ronaldo makes the greatness of others look ordinary on every weekend when steps in the field.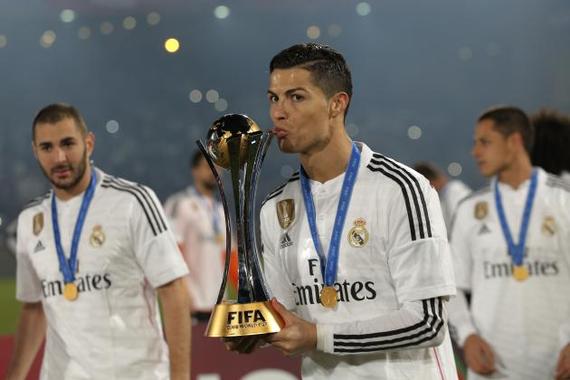 For Ronaldo, there will always be comparisons to the Argentine Messi, who has a team in Barcelona, whereas Madrid has always been a group of individuals. To carry the team almost single handedly and keep them afloat in all competitions has been no mean feat.
Ronaldo is for sure a legend. He has achieved all there is to achieve in club football. But still the hunger in him grows with every game. At International level, Ronaldo will be hoping to make some amends--a European glory in 2016 and a FIFA World Cup victory in 2018, can cap off one of the most glittering careers in the history of the game.