Uzair Hasan Rizvi
In the 2015 Railway Budget, Railway Minister Suresh Prabhu announced ambitious plans to introduce high-speed and bullet trains in the country, equipped with bio-toilets and airplane-style vacuum facilities. And perhaps toilets are indeed where some attention should be paid considering that many passengers spend the entirety of their journey there.
Recently, passengers at Charbagh railway station in the city of Lucknow were seen squeezing themselves in the toilets for a long train journey. The scene was witnessed in a few Bihar-bound trains either starting from Lucknow, or coming from New Delhi and halting at Lucknow. It was also shocking to witness that some of the toilets were stuffed with children (six to eight of them!). Not only is this uncomfortable, but dangerous since the lights were not working and there's always a danger of a small foot getting caught in the opening of a lavatory.
The passengers complained that there weren't enough trains to accommodate people travelling to Uttar Pradesh and Bihar; much of the traffic is made up of migrant workers visiting their hometowns from New Delhi. Demand was also at its peak due to the summer vacations.
Passenger Santosh Kumar, 27, who was travelling inside the train toilet, said, "I had no option, there was no place, since nowadays you can't travel on the rooftop, and I had no other recourse."
Another passenger spoke of his horrific experience on the Bihar Sampark Kranti Superfast that runs from New Delhi to Darbhanga, covering a distance of more than 1000km in 21 hours. For the course of that journey, travellers could not use the toilets as they were crammed with passengers who refused to let go of their spots.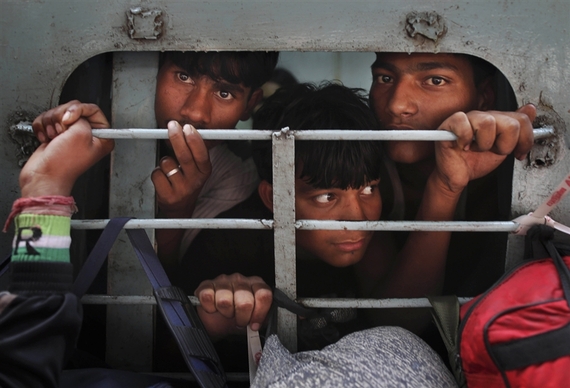 Even sleeper coaches with a maximum capacity of 72 reserved seats were over-crowded. People occupied any empty space they could find on the train, including the loos. A ticket examiner on the Vaishali Express admitted that the problem shows no signs of abating. "In the peak season, many people travel with waiting tickets. Since they cannot get any seats, they just board the train and occupy any space they can find. It's very common to find them travelling in the toilets, especially in Bihar and UP-bound trains. The Railways should have more trains on these routes."
Incidentally, the Vaishali Express from New Delhi to Baruni and vice-versa was the first train to be certified for quality at the ISO 9000 level. In the 2006 Railway Budget, then Railway Minister Lalu Prasad Yadav announced that this train would be equipped with world-class passenger amenities and interiors.
According to railway officials, they have announced a few summer special trains for Northern Railways (NR) and North Eastern Railways (NER). "To meet the rush, we started trains from New Delhi to different destinations in UP and Bihar. We are doing everything to ensure that passengers don't have to face any problems during the journey," said a Railway spokesperson.
It's impossible to see any evidence of this commitment on the ground, however. For the first time in more than a decade, no new trains were announced in this year's railway budget, although plans were unveiled to enhance the capacity of identified trains will from 24 coaches to 26 coaches. More general class coaches will be added in identified trains and routes to benefit passengers on a budget.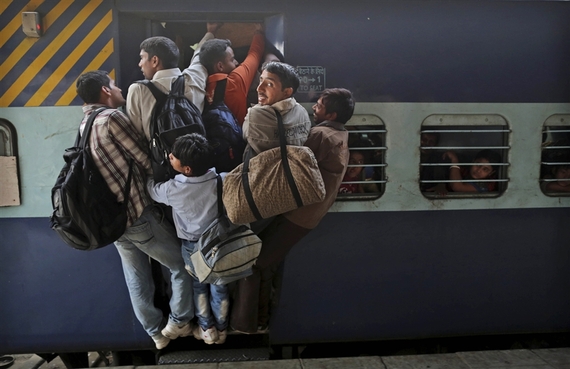 Last year, current Bihar Chief Minister Nitish Kumar demanded an apology from the Railway Ministry for forcing people from Bihar to "travel like cattle" in trains. In a Facebook post, he further said, "Despite having reserved, they are forced to travel even in toilets... the Railway Ministry has become worthless."
Those words still ring true.