It is great to see that Huffington Post has launched in India and more than that I am fascinated to see how it has been travelling across the country to explore the depths of India. I have always admired Arianna Huffington for her wisdom and inclination towards yoga and meditation, which forms an integral aspect of Sustainable Leadership, a new type of leadership which we are all striving for. Arianna's quest to bring this holistic aspect in her personal and professional life is commendable and I guess it is because of that she has been a source of inspiration both in business and civil society.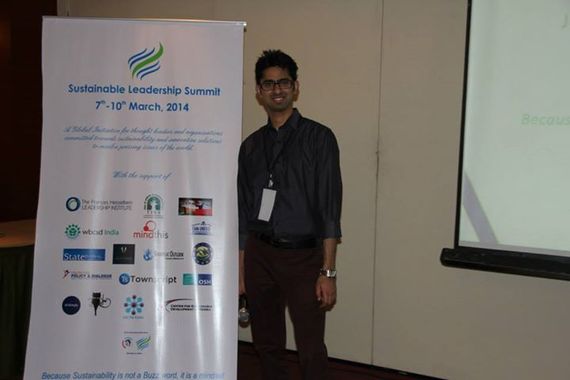 Recently in March 2014, we organised a Sustainable Leadership Summit in Mumbai, our objective was to acknowledge the work of existing leaders that have an international outreach while conserving the traditional spiritual wisdom and values that India promotes. The idea of developing a new mindset for Sustainable Leadership was very well supported by Microsoft Accelerator, Tata Institute of Social Sciences and other respected institutions. It was during this summit we honoured Arianna Huffington for Tesla Sustainable Leadership Award towards her global contribution in promoting Sustainability. So dear Arianna, on behalf of all the Indians and also on behalf of my team I wish all the best to HuffPost India. I hope to see that HuffPost India, through all your means and efforts, will spread the awareness of Sustainable Development through economic, social and environmental empowerment.
Today, I even feel more proud that she is continuing to establish stronger relations with India by all her means. We feel fortunate that she accepted the title and also gave us an exclusive interview after the summit and hence I strongly believe that it is also a ripe moment to share our exclusive interview featured on our blog about her thoughts and views about the notion of Sustainable Leadership. I hope it will aspire Indians and fellow global citizens who are striving for sustainable future. The importance of Sustainable Leadership in India cannot be neglected and the country need leaders like Arianna Huffington who are active in promoting the message of gender equality, youth empowerment and environment sustainability.
Are you a Sustainable Leader ? An Exclusive Interview with Arianna Huffington, chair, president, and editor-in-chief of the Huffington Post
What has been the most amazing leadership experience for you?
Hands down, co-founding the Huffington Post and serving as its editor-in-chief for what's going to be nine years on May 9. The chance to work with so many talented editors and writers, especially now that we are a global operation with editions in eleven countries, inspires me on a daily basis.
You have been very active in the B Team, International youth community; could you share some of your present initiatives which aim at changing the mindset of the world?
I'm delighted to be a member of the B Team, which is determined to change the values that drive businesses, to prioritise people and planet alongside profit, and to move beyond our obsession with quarterly earnings and short-term growth. We believe that, at a time when so many governments are gridlocked and paralysed and unable or unwilling to pursue big, bold, far-sighted goals, the private sector has a responsibility and a unique opportunity to become a catalyst for fundamental change.

With Mother's Day coming up, I'm supporting the Global Moms Relay, a campaign to help people around the world share stories of how a mother changed his or her life, and raise money to help women and children around the world lead healthier lives.

And my new book Thrive is all about putting a spotlight on a major global shift in the way we define success. We are living through an incredible time, when modern science is validating a lot of ancient wisdom. That's why, in Thrive, I've included 55 pages of endnotes to convince even the most stubborn skeptic that we need to unplug, recharge and reconnect with ourselves, and by doing so, actually improve every aspect of our lives.
You have been promoting a holistic approach to work and life balance, how far does it play an important role in shaping the mindset of society?
It plays a hugely important role in connecting us to our inner wisdom and our capacity for compassion and giving. And this is what we need most urgently if we are going to address the major threats facing us, including climate change and growing inequalities.
What does Sustainable Leadership Mean to you?
It means acknowledging our collective responsibility for what isn't working, and guiding us to a deeper understanding of what is working. It means striving for full transparency, new structures, and a pledge to stay true to our values.

A sustainable leader must also emphasize that personal sustainability is the first step to global sustainability. On an individual level, people are burning out. And on a collective level, we're burning up the planet. We need leaders who are committed to strategic plans and goals centered on an agenda of people, planet and profit --and not just token gestures to sustainability.