There are few things that hold as much sentimental value in a household as crockery passed down through generations. Whether they are well-worn and chipped or kept away in the crockery cupboard for "special occasions," they tell the stories of family tragedies, celebrations and migrations in the most intimate way possible—by being the receptacle of food... that binder of relationships, the silent witness to all family triumphs and heartaches. Here are a few such dishes and their unique stories.
A week ago, I was drinking my tea quite daintily from a vintage teacup. In my head, I was Isabelle, a rebellious suffragette who was perfectly capable of setting her politics aside to indulge in tea and cake. It was a delightful fantasy complete with a blue-brimmed bonnet. But the fantasy was rudely interrupted when the handle of the vintage tea cup broke, leaving a horrified Isabelle in the 21st century dressed in lurid green (tea-soaked) pajamas.
[If someone broke my dish] it would never change my everyday interactions with them, or my affections for them but I would hold it against them forever. Joshua Muyiwa
I only mention this incident because I have found that beautiful old things have the power to transport you. Take you away from your ordinary lurid green pajama life to places where chandeliers twinkled and state secrets were exchanged over pudding. And just as easily as they take you away, their fragile aspect serves to remind you that nothing lasts forever. And perhaps this is what makes them so precious.
This seems especially true of dishes from the kitchen. They carry life in them. Secret recipes, family scandals, tales of favouritism, adventure and love along with memories of a million sumptuous teas, lunches and dinners. For our latest story, we traced seven antique dishes, some of them over three generations old, and interviewed their current owners to discover the stories behind them. And since no dish is complete without some food in it, we also brought you the recipes of what's served in these pieces.
A 50-year-old bone china soup bowl Joshua inherited from his grandmother. It once belonged to her wedding china set.
What Joshua serves in this dish: Duck's Eggs in Purgatory
Inspired by Nigella Lawson.
Note: As with all recipes at our apartment—shared with Kabir Husain, a physicist—the structure of the dish is borrowed but the content is constantly improvised depending on the availability of cash and crop. One of those things, we've taken to doing very well at our apartment is whipping up a hangover breakfast, both to cure us as well as to nourish us while we recuperate through the rest of the day.
We don't hold back on the fatty components of our dishes—pork fat rendered from previous outings with porcine delicacies is used to grease the bottom of our pans for our meaty experiments, and butter and ghee for our veggie dinners. Garlic is liberally used, ginger plays an important supporting role and spinach always makes a guest appearance but the other flourishes really depend on your time and temperament. This recipe serves 4.
3-4 pods of garlic, chopped
2 tomatoes, deseeded and chopped
6-7 basil leaves, roughly chopped
1 red bell pepper, deseeded and halved
½ bunch spinach, washed and roughly chopped
Cheese, grated (fancy cheese always preferable)
Salt and pepper, to taste
Preheat your oven for 5 minutes. Take the halves of the red bell pepper, rub with olive oil and salt and roast for ten minutes.
Meanwhile, cook the bacon till crisp in a large skillet. Take out the rashers of bacon and save the rendered fat.
In the skillet with the bacon fat, add the chopped garlic and ginger and sauté. Add chopped tomatoes and cook it down for 5 minutes.
Take out the red bell pepper, peel the charred skin and put the roasted flesh in a mixer and blend. Add the spinach and let the sauce cook till it bubbles and boils.
Make little nests into the sauce with the back of a ladle, crack in the eggs into the dips, sprinkle the grated cheese over it and cook for a few more minutes till the white of the egg sets but the yolk is still runny.
Crumble crisp bacon and top with basil. Toast taftoon (or any other bread) to dunk into this delicious mess.
Joshua Muyiwa says, "I grew up in a house with beautiful objects—we'd talk about curtains, recipes and utensils to no end. These conversations seemed to have triggered my own value system, where I look for things that have weathered time, or can weather time."
What would you do or say to someone who accidentally broke this dish?
"I'd secretly hate them forever. It would never change my everyday interactions with them, or my affections for them but I would hold it against them forever."
Aparna's handmade soapstone rasam rachippa has been in her family for three generations.
What Aparna serves in this dish: Andhra Mukkala Pulusu
200 g each of 3 or more varieties of seasonal vegetables (bottle gourd/ pumpkin/ sweet potato), chopped
¼ cup thick tamarind pulp
For the pulusu spice powder
Fry the spice powder ingredients in the same order in a few drops of oil/ ghee, till the aromas are released and the mustard pops. Cool and grind into a powder. In older times, the spices were pounded in a stone mortar and pestle.
Wash and chop all vegetables into medium sized pieces.
Slit each green chilli vertically, keeping it intact.
Place the rachippa on flame and add about a litre of water into it. Add the chopped vegetables and slit green chillies into the pot with a little salt and cook on medium flame till water starts boiling.
Then lower the flame and keep covered till the vegetables are cooked.
Add the ground spice powder, tamarind pulp, grated jaggery, turmeric powder to the pulusu. Check for seasoning and cook covered for another 5 minutes.
Mix the rice flour with about 30 ml of water, add it to the pulusu and stir till it thickens.
Add the seasoning and cover with a lid to retain the aromas.
Turn off the heat, and let the pulusu simmer in the pot in its own heat till it is served.
Stir well and serve hot with plain dal (pappu) and steamed rice along with home-made ghee.
Aparna Nori says, "I call myself an eclectic person. I am crazy about surrounding myself with a mix of colour, texture and smells that are evocative. As a creative person, this keeps my senses tingling and active. This dish definitely finds a place in that mix."
This rachippa was passed down to you through generations, whom would you pass it on to?
"Maybe my son when he grows up, and if he acquires a love for cooking. He is a nostalgic boy like me, and maybe this will hold a place in his life too."
Mrs. Oommen's 90-year-old bronze cast kai urli is originally from Koothatukoolam, Kerala.
What Ayesha serves in this dish: Kerala Fish Fry (Meen Varuthathu)
½ kg seer fish or pomfret
1 tsp ginger-garlic paste
1/2 tsp vinegar or lime juice
Mix the ingredients for the marinade and coat the fish fillets. Leave on for 20-30 minutes.
In the pan, heat coconut oil, throw in the curry leaves and shallow fry the fish fillets till golden brown.
Ayesha Oommen says, "It was given to me by my mother, when I moved away to Bangalore and started a family, and set up my own kitchen. I remember I went back home on holiday, and she was frying fish in it, in the kitchen. And in that way that mothers do, she said—you take it with you."
What does this dish mean to you?
"It brings back all those childhood memories. I remember my grandmother cooking with it in the kitchen. The kai urli was meant for cooking on firewood—with its thick base and long handle, it doesn't get hot too quickly, and you can hold it without burning your fingers. My grandmother fried fish in it and used it for tempering curries like kachimoru. My mother, however, cook smoked beef and sometimes even fried fish in it, and small quantities of thoran. I can picture her carrying it out of the kitchen outhouse and bringing it to the table to serve fish."
Daniel's great-grandmother's wok came with the family when they left China to come to India. The wok is from a little village called, MoYan in China and has been with his family for four generations now.
What Danny serves in this dish: Chilly Chicken, Tangra-style
3-4 cloves garlic, chopped fine
1 sprig spring onion, chopped
Cut the chicken into medium size pieces with the bones. Marinate with green chillies, soy sauce, black pepper powder, salt, corn starch and egg. Shallow fry until cooked.
Sauté the onion with garlic and green chillies.
Add the chicken, soy sauce and a splash of Chinese wine.
Garnish with the spring onion.
Daniel Liao says, "My great-grandfather bought this wok with his first salary. Before that they would borrow a wok from their neighbours as they were poor and couldn't afford to get one of their own. It took many years of saving to be able to buy this one and they took care of it like gold. My grandma always tells me this story with a smile."
It is a large utensil and must have been difficult to carry over a long journey, was there a reason it was so special that it was brought here?
"It was of great sentimental value to my great grandfather mainly because he saved up to buy it. But another side of the story was, while they were moving here, he tied the wok to my great grandmother's back, to protect her in case an arrow was shot at her."
Delicately shaded pale yellow and gold tea cup, passed down from Amreen's grandmother in sets of two to various members of the family.
What Amreen serves in the tea cup: Lemongrass Tea
2 fresh leaves of lemongrass
Bring the water to a boil.
Crush the leaves of lemongrass and add to the water.
Add the tea powder and allow to brew for about 3 minutes.
Add a splash of milk and sugar to taste.
Amreen Kagalwala says, "Tea time is my favourite time of day, I especially like my morning tea as I tend to gather my thoughts then."
Where are these cups from? How did you come to own them?
"The cups were a part of an assortment of gifts that my mother received from her mother-in-law (my grandmom) on her wedding day. Strangely, there were just two cups and saucers and not an entire set. We presume that she may have split up the original set and divided it equally among all her daughters-in-law. They are a family heirloom and my mother has carefully preserved them over the years."
Carol Rao's porcelain dish has been with her family for more than a hundred years now.
What Carol Serves in this Dish: Mangalorean Pork
1 kg pork with as much fat as you like
6 green chillies, chopped
10-12 cloves garlic, halved
Water from 1 ball of tamarind
1 dessert spoon of Buffat powder
Cube the pork.
Add salt and vinegar and 2-3 cups of water.
Add the onion, chilli, ginger and garlic to the meat.
Add Buffat powder, clove, cinnamon leaves and tamarind water.
Pressure cook on a low flame till meat is done. Oil not required as the pork cooks in its own fat.
Mrs. Rao says, "Sunday lunches were always an important part of family life as children. We were served either pork or chicken but I particularly loved the 'combo multi', Mangalorean rice dumplings made with chicken and of course, the shellfish and rice dumplings. This particular blue dish started out as an ordinary spoon holder and was left forgotten in the kitchen, but it was eventually recognised for its beauty and used to serve Mangalorean brinjal salad with coconut milk. And that is how I remember it."
What do you feel about inheriting a hundred-year-old dish?
"Sometimes I feel it is almost like having a child in the house. You have to personally take care of it, you can't leave it to anyone else. But it also brings you stress because beyond a point you cannot control what happens to it. You may treat it well but someone else might end up breaking it."
Kaveri's china was made by the Colclough China Company in the 1930s. The company was famous for their craftsmanship and the owner, Mr Herbert Colclough was known to stay up all night so he would be the first to see the designs once they came out of the kilns.
What Kaveri serves in this dish: Date and Walnut Loaf Cake
1 oz, or to taste, dark rum
Chop the dates, sprinkle with ½ tsp baking soda.
Bring 1 cup water to the boil. Pour the boiling water over the dates and set aside. Pre-heat the oven to 180C.
Sieve the flour and baking powder together.
Cream the butter and sugar until light and fluffy.
Add the eggs one by one and beat thoroughly.
Add the sieved flour and baking powder, and mix thoroughly.
Add the soaked dates, chopped nuts, vanilla essence and rum, and mix in with a wooden spoon.
Pour into a greased and lined 8-inch loaf tin.
Bake at 180C for 50 mins to 1 hr. Test by piercing the centre with a cake tester, it should come out clean.
Serve warm with thick whipped cream, or salted caramel sauce.
Mrs. Ponnapa says, "I use beautiful, rare china every day. I love the idea of being able to make an occasion of very ordinary moments, and china plays a big role in my life. The value of this set is different though, because of how it came to me. So I use it only on special occasions, for special people. I may or may not share the story with them. I may just secretly savour both the china, and the fact that I have created something out of the ordinary for someone."
You have a home full of gorgeous pieces, why is this particular dish so meaningful to you?
"This set belongs to an era that placed great value on owning and using fine china. The British annexed the kingdom of Kodagu in 1834, and ruled it for over a century. Like most other parts of the country, local lives were influenced by this colonial presence. It was reflected in the architecture, dress, lifestyles, food and how it was eaten-everything. The women were always very proud of their homes. China became, in a way, a new form of self-expression.
It was given to my aunt's mother-in-law as a wedding present. She decided to give it to my aunt, and by doing so she was making a choice, acknowledging a connection with her daughter-in-law. There is a deep, unspoken statement that my aunt has made in turn, by passing it on to me. It connects me with her in innumerable ways. It illuminates the fact that we often forge inexplicably deep bonds with people who come into our lives quite by chance. For her, it is important that I see it and appreciate it for the associations it holds for her, the place it had in her life, her personal history. It is something very special to me, much more than an old and beautiful tea set."
Written and compiled by Meera Ganapathi
Photographs by Mark Swaroop
For more stories on contemporary Indian culture, do read Soup.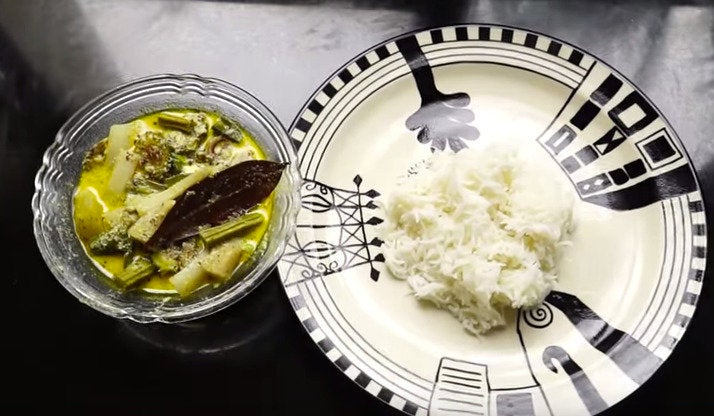 20 Bengali Vegetarian Dishes That Can Give Meat, Fish A Run For Their Money