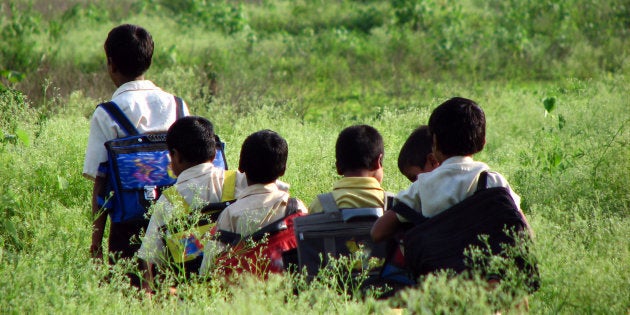 Six years ago, Kushal Dattani—then a student pursuing his master's in finance—found himself volunteering at a special needs school in Melbourne, Australia. What began as an opportunity to gather work experience helped him discover the passion that would drive him to join the Teach For India Fellowship and start his own organisation—Samait Shala.
"I was looking for an opportunity to work and my university counsellors suggested the school as a good option. I had never volunteered before and the environment was completely new," says Kushal. He spent two days a week at the school working with students aged 4 to 12, and after a few months felt a strong connection to the kids. The school noticed it too, and offered him a more formal role, which he continued until 2014, when he completed his MA. Kushal then dedicated his time to the school as a full-time employee working on the operations side. He was put through professional development sessions and certification courses—"it's when I realised how close I'd become to this sector," he says.
Despite the 180-degree career switch, there was no trepidation on the part of his parents, who were supportive of his choices...
"I loved what I was learning, but I started to question whether I could do more in the sector and didn't want to be restricted to the role of special education teacher assistant," he recalls. When Kushal decided he had to strengthen his commitment and expand the scope of his contribution, he moved to India in search of a program that would focus on development and children at the grassroots level. "I remembered reading an article about Teach For India online. I knew it would be the best fit for me—as someone who wanted to know the education sector inside out," he says. Despite the 180-degree career switch, there was no trepidation on the part of his parents, who were supportive of his choices—"they always trusted me with my actions and I'm really glad for that," says Kushal.
Kushal was accepted to the 2014 cohort in Ahmedabad and he was soon standing before a class of first graders in a school that had just joined the Teach For India network (otherwise known as a first-year intervention school). "I thought that if I could just show them what excellence looks like, I'd change the system. But there were plenty of challenges—the school, the structures in place and my own mindset. What struck me the most was how many kids were way behind their grade level and I realised that not all of them moved forward at the same pace."
To Kushal, the parents were the most critical stakeholders in the children's lives—"At a macro level, parents are the key drivers for a child's growth. Most of these young children were from a migrant community, where people wanted their kids to be educated. It was also one where parents weren't aware of how they could help their kids, despite being literate. They weren't empowered with an idea of what an excellent education looks like," he explains.
I thought that if I could just show them what excellence looks like, I'd change the system. But there were plenty of challenges... Kushal Dattani
For the rest of his Fellowship, Kushal made every effort to show people what excellence looks like so they would go beyond imploring kids to "just study well." Through home visits, he introduced the concept of a good parent-teacher meeting, and taught parents how to support their children regardless of their academic abilities. He also spent time with the school management committee to persuade them to match the investment and progress the student's parents had made in his first year at the school. In his second year, the school management committee responded in kind. "They corrected structural problems, addressed rampant teacher absences and became much more organised. For example, I used to come to campus on weekdays and see that the school was sometimes off, because the ground was being used to host a wedding! That kind of thing stopped and through small initiatives like student monitors and child safety protocols, we managed a huge turnaround," recalls Kushal.
In class, he stressed values and exposure while managing to achieve an 80% improvement in academics for his students. "I focused on independence, honesty and respect for each other and self," Kushal says. With help from his program managers, he adopted new techniques to cater to each child's differentiated learning needs. One successful method was creating a levelled library, with help from Pratham, an NGO that focuses on reading. Each child was assigned a reading objective to match their abilities and books were organised accordingly for easier accessibility. During parent-teacher meetings, he encouraged parents to check Hindi and comprehension homework, which eventually contributed to an improved grasp of language among the students.
"I remember Rashmi, one of my students, who would barely acknowledge me in the classroom. When she did, she couldn't repeat what was said in class—she had a short attention span. It took me about four months to understand how her mind worked. She was always silent and wouldn't articulate her thoughts. I worked with her parents and advised them on creating supportive structures at home. And to stop hitting her if she failed to grasp a concept. Her father began teaching her for an hour after work every day and she started to open up more. Her parents changed and she changed," shares Kushal.
Every child has the potential to achieve anything, irrespective of their backgrounds. The difference lies in the opportunities they get. Kushal Dattani
In the second year of the Fellowship, most Fellows channel their energies toward setting up an initiative or organisation to combat a chronic problem they've observed in their community. This initiative came to be known as the Be The Change Project (BTCP). "I knew that we needed to do more to help kids at different learning levels, because it affects at least 20% of any class. And I saw it both within Teach For India classrooms and outside," says Kushal. His response was to form a website with information on typical symptoms of kids with common challenges: dyslexia, ADHD, etc. He also included strategies to help educators and parents address these individual needs. The result was Kushal's project—Samait Shala—built through detailed research, conducted with three other 2014 Fellows, as well as using inter-disciplinary academic resources and assistance from the school he volunteered with in Australia.
Fellows quickly adopted Samait Shala techniques and improved Kushal's platform by providing feedback through in-class videos and at his individual workshop sessions, where he taught practical application. Today, Samait Shala is Kushal's full-time focus and he's committed himself to a bold vision: "We want to design mass teacher training curriculum for mainstream schools too, not just for select groups of students or niche schools. This is my (only) plan and my goal is to make this organisation sustainable," he says. Ultimately, Samait Shala aims to be a critical tool in the process of developing all children holistically.
As he reflects on his choices from before the Fellowship until today, Kushal shares this: "every child has the potential to achieve anything, irrespective of their backgrounds. The difference lies in the opportunities they get. It's our duty to bring this to them as they are our future. Wherever you find a chance to do this, take it, don't stop yourself!"
The path to providing an excellent, and inclusive, education to children across India is a long and gruelling one. People like Kushal are a source of hope for those students who are struggling to realise their potential.
Written by Sneha Kalaivanan—Associate, Communications, Teach For India.