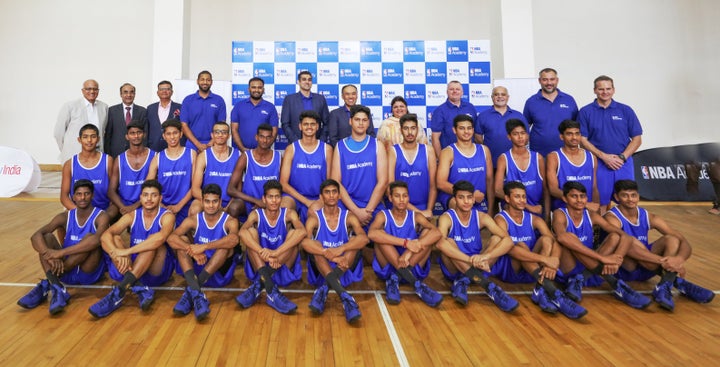 "I come from a very humble background. I was quite interested in basketball so my father enrolled me to a SAI (Sports Authority of India) training centre. The NBA (National Basketball Association) picked me up from there and now I aim to change my destiny through hard work," says 13-year-old Mohammed Ibrahim Ali, who already towers above most people at over 6 feet. His confidence and passion are inspiring—and they are exactly the qualities we need to see in our young sportspeople. NBA has made a great move by tapping into this nascent talent pool with is newly launched academy for the holistic development of young players.
The elite basketball training centre at Jaypee Greens Integrated Sports Complex in Greater Noida, NCR, will not only coach players to improve their game but also help them develop an all-round personality. The NBA is trying to integrate basketball culturally in India and that's what every sport should do. While football, too, has an extensive grassroots program in India there's a lack of infrastructure.
The NBA is trying to integrate basketball culturally in India and that's what every sport should do.
Twenty-one elite prospects (all boys so far), who were selected following a three-month, nationwide basketball talent search, have received scholarships and will be training at NBA Academy India. I happened to be present at the launch of the academy and from a player's perspective, I couldn't be more impressed. These players not only have good study rooms but also PS4s to play with. The initiative gives these talented young players access to NBA-level coaching, facilities and competition and provides a global framework for them to maximise their success.
I spoke to Mark Tatum, NBA deputy commissioner, who said, "The opening of our first academy in India is an important milestone in the NBA's efforts to grow basketball in India and demonstrates our commitment to developing talent and shaping the game's future here, These 21 young athletes and those who will attend this academy in the years to come will receive world-class coaching and training to help them fulfill their potential on and off the court."
When I asked if they see the academy as a means of marketing the NBA in India, he replied, "We are managing this on our own without any commercial or marketing interest or tie up. We want basketball and players to grow from the bottom to the top here."
The NBA Academy India builds on the NBA's existing basketball and youth development initiatives in India. The Reliance Foundation Jr. NBA program has reached more than six million youth and trained more than 5000 physical education instructors nationwide since its launch in 2013. The NBA also launched the NBA Basketball School, a network of tuition-based basketball development programs around the world open to international male and female players ages 6-18. The first NBA Basketball School launched in Mumbai as part of a multiyear agreement with India On Track (IOT), one of India's leading sports management, marketing and development companies.
NBA's intense program should be viewed as a guideline for sports like tennis and football to have a 360-degree holistic approach when implementing grassroots programs. The NBA further plans to include girls as part of their program and that once again is commendable. NBA India has taken all the right steps and the future certainly looks good. Hopefully, there will be more players like Satnam Singh who will represent India at the NBA.