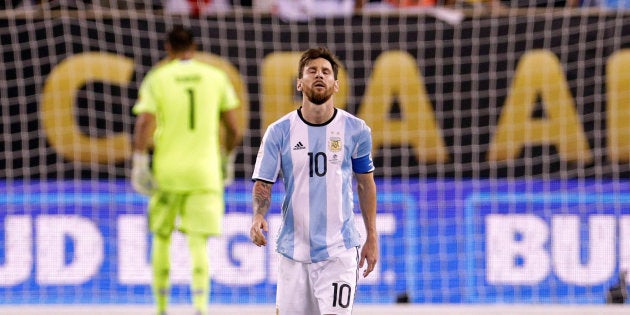 When Lionel Messi missed the penalty in the final of the Copa America Centenario soccer tournament late last month, it sent shockwaves not only in Argentina but across the globe. I was also a television witness to this horrific blunder. This eventually cost the two-time world champion another loss in a major soccer tournament, increasing its drought of global titles since the 1986 World Cup triumph. Messi, five-time FIFA global player of the year, immediately announced his retirement from international football, causing more heartbreak for his diehard fans.
Keeping aside the emotional aspect for now, I was amazed to see how an innocuous miss caused such anguish the world over. Had there been a retake, Messi would not have missed for sure -- I made this general conclusion to myself and closed the discussion in my mind. How wrong I was -- I found out in a couple of weeks.
I was due to participate in a video shoot for an internal office e-learn. I had thoroughly rehearsed my part well in advance and committed the dialogues to memory, or so I assumed. However, on D-day when I sat with the other actors for a mock session, my tongue froze and mind went blank. I could not remember one single word, leave alone a full sentence! There were 12 short sentences and on two occasions I required to say more than two sentences at a stretch. It took me more than two hours to get the hang of these and another couple before the shooting of that single module of five minutes could be completed! One can imagine my plight -- facing the camera for the first time, learning by heart 12 sentences (something not done since school), making expressions realistic to match the dialogues and pressure from presence of colleagues who otherwise come to me for expert advice. Phew! I was no Shah Rukh Khan!
It takes hours, days, months and years of perfect practice to get that perfect shot, even if you have a chance of retake!
The parallels with the Messi miss could not have been better timed. It was only a fortnight ago that I had conveniently concluded that it was so easy to do a re-take! And here after numerous re-takes I was still sweating it out! The perfect shot, if I may be allowed to compare with your kind permission, was sorely missed on both occasions!
It was then that I began to ponder -- how does one miss the perfect shot? Some introspection on past and present happenings helped my confused mind see the light.
The first was a one-day international cricket match I witnessed in Chinnaswamy stadium while in school. We were sitting in the stand perpendicular to one end of the pitch so that the three stumps appeared as one. Ajay Jadeja, who was fielding just before us on the boundary line, effected a run-out from that very angle with a direct throw. Unbelievable, almost magical to my eyes, such was the accuracy of the throw. Subsequently, I tried it many times in our school field but never succeeded.
The second was a discussion with renowned golf player, Jyoti Randhawa, narrated by an acquaintance. Having witnessed Jyoti's accuracy in repeatedly hitting the golf ball for the same distance in a particular golf competition, he quizzed Jyoti on the seeming ease with which he hit those impeccable shots. Jyoti smiled shyly and casually replied that its very simple -- one needs to hit 1000 golf balls a day for the next 10 years!
[The noodle-maker's] calm advice was this: You do this 50 times in a single day and I guarantee you will not fail.
Let me give another example. I am a regular to our local market's snacks corner. In this shop, the cook who prepares delectable (read greasy desi-style) hakka noodles, manages to toss up the noodles almost two feet in the air without dropping anything outside the oversized oven in which it is cooked. Curious, I tried to emulate him at home and failed miserably. His calm advice was this: You do this 50 times in a single day and I guarantee you will not fail.
There lies the answer to my questions above -- it's not necessarily the skill or talent alone that determines outcomes but plenty of practice. Further, as the saying goes, its perfect practice that makes a man perfect. It takes hours, days, months and years of perfect practice to get that perfect shot, even if you have a chance of retake! To reach the level of precision of a Messi, Shah Rukh, Jadeja, Jyoti or even the small-time cook, one has to be extremely focused and toil regularly. Even with inherent talent, a lot of hard work and enormous amount of practice needs to be put in, to make the final output look like a piece of cake.
However, in spite of such stringent effort, if there is a miss, the subsequent hue and cry is completely uncalled for. After all, even experts are human beings. There could be circumstances which affect his (or her) performance on a given day. Such "a perfect miss" should not be condemned; rather, one should wholeheartedly appreciate the supreme dedication and relentless rigor behind the scenes.