ASSOCIATED PRESS
Ten days after the Dadri murder, when Prime Minister Narendra Modi finally broke his silence with a few weak ineffectual statements calling for unity, it was a case of too little, too late for me.
Modi had the chance to send a powerful message against religious prejudices and ethnic bigotry but his remarks fell short of an acknowledgment of his party's responsibility in creating a political climate where atrocities on minorities have increased. He also failed to issue an apology to the dead man's family.
I am deeply disappointed in Modi's remarks. Not only do they display a lack of empathy towards the Akhlaq family, they send a strong signal to rabble-rousing Hindus that he wants to keep their support. He has not said a word about those in his party, possibly because a large number are his supporters.
A few days ago, Modi broke down at a Facebook meeting while talking about the difficulties his mother had dealt in his childhood but he showed no compassion for a poor family whose patriarch was ruthlessly murdered.
"The docile cow that used to be a sacred mother figure has become a bloodied symbol of violence and intolerance."
I think Modi was shamed into speaking because so many were demanding a statement.
The political strategy is obvious here but what astounds me the most is the attitude of a certain section of Indians who accept this as routine and claim satisfaction at the fact that their leader has finally spoken.
The blind devotees of Modi fail to see the ominous signs of where India is headed under his direction.
I feel sad for a country that does not demand more from her Prime Minister. Has India's public not gotten the message that the leaders are supposed to be answerable to the people?
That they are supposed to reassure the people that the country is safe? That they will not allow the country to be hijacked by an extremist philosophy that threatens to rip communities apart?
If Modi had clearly said that it will be a priority of the government to stop and discourage any kind of attacks and lynching based on religion, I would have breathed easier.
I am sickened at the "selective vision" of a section of Modi's followers. This section of people is not only holding India back but are pushing the country into a backward, regressive path.
And I am deeply disturbed at the government monitoring dinner plates. Their behaviour indicates that "beef eating" is a deliberate provocation against Hindus and if you don't agree with that, then you are a "secular" trying to gain points against Modi.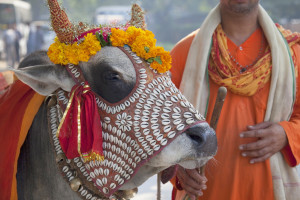 The docile cow that used to be a sacred mother figure has become a bloodied symbol of violence and intolerance. The animal has also emerged as a divisive weapon for political parties. It has also become a secret code to be used by Hindu nationalists to push for their "Hindu India" for electioneering purposes.
The beef ban is a direct hit to the Muslim poor for whom beef is a key industry.
Today, they are going after Muslims and their livelihood? Who will it be tomorrow?
And for all the daily rhetoric on beef banning and cow slaughter, do Modi supporters realize that with its 300 million cows, India is the largest exporter of beef and its fifth largest consumer? That the total exports for beef add up to $4.8 billion? What kind of hypocrisy is this?
"Do not kill the messengers because the message is so shameful. If it makes you cringe, it should."
Modi supporters, followers, devotees, fans or whatever names you want to call them have also got to stop the intimidation of writers, journalists and rationalists.
I am disheartened by the verbal attacks that follow any article I write on India. What gives these self-appointed guardians of Hindutva the right to mock and challenge people who ask any questions?
In an earlier article I wrote on Modi, I was surprised by how hard and fast the comments came in.
Here are some examples:
"...Of late, the media crooks have become frenzied in their opposition that they have started asking many moronic questions..."
"Stop behaving like you are the voice of the nation."
"Do you think he (PM) has no other work?" (Other than to speak on Dadri, the person means).
One comment posted warned me: "Do not get too liberal. A minority has to respect the majority."
Another said, "Failures in life who could not do anything so become pressitutes, write whatever they want, and who cares?"
And the one I found the most chilling... "Time for RSS, BJP, Modi to unleash the power of Bharat Mata and build a mighty Hindu nation."
And even as I write this, I have to admit that these comments on my article are not nearly as vicious and mean as they are on the work done by famous journalists like Barkha Dutt and Sagarika Ghose.
By attacking, intimidating and trolling journalists, these Indians are isolating the voices who can show the truth they need to know.
Do not kill the messengers because the message is so shameful. If it makes you cringe, it should. Let's face it, learn from it and move on to a better future.
The heroes of the incident in my mind are the writers, scientists and filmmakers who are returning their awards and the journalists who are fearlessly reporting on the incident.
Meanwhile, in the corridors of power, there is one person speaking out for a civilized and tolerant India: President Pranab Mukherjee, who is urging a return to India where diversity was celebrated. That India is a secular India where all co-exist peacefully. It what the founding fathers wanted for the country. It's why they fought for freedom from the British.
Like Us On Facebook |

Follow Us On Twitter |

Contact HuffPost India