Sohini Chatterjee
Rohingya Muslims, a minority in Buddhist-dominated Myanmar, are frequently termed as among the world's most persecuted communities. Myanmar boasts of 135 state-recognized ethnic communities, but the otherwise accommodating list excludes Rohingya Muslims. This exclusion is justified on the ground that the Bengali-speaking Rohingyas, hailing from the northwest of Myanmar, are illegal immigrants who settled in Burma only during the British rule, and thus cannot be incorporated into the list of ethnic nationalities that are in place.
In the face of heightened conflict with Rakhine Buddhists in Burma, Rohingya Muslims started fleeing Burma since the 1970s to seek refuge in states which are reluctant to take them in. Thailand, Malaysia, Indonesia, Bangladesh are some of the states that want nothing to do with these people. They are not officially recognized as refugees and nor have they been granted asylum. Bangladesh, especially, has become the unwelcoming host of a large number of Rohingya Muslims, who live there as unregistered refugees or flee yet again in search of greener pastures in neighbouring India. But India has not granted them official refugee status either. Hence, for all intents and purposes, the Rohingya Muslims are a stateless people today.
Conflict situations tend to make women, along with children, worse off. They are the ones most devoid of agency...
They are a forgotten, if not deliberately overlooked, community of people lost in the oblivion that unrecognized peripheries of the world signify. The path that leads to a liveable life is replete with insurmountable odds for people who do not belong anywhere and for whom nobody is accountable. I would not have realized this had I not left my privileged academic space in the capital city to venture into their turbulent lives as an intruder for a day. What I learnt of their lives is worth sharing.
In India, like in so many other states, the Rohingyas live as unregistered refugees. However, the government of India has provided them with short-term visas on the basis of identification provided to them by the UNHCR. Little else has been done for them by the Indian government.
The Rohingya refugees' resettlement area, set up in 2012, in the Kanchan Kunj, New Delhi, where I went to catch a glimpse of their lives, seems dissociated from the rest of the city, which bears the markers of opulence befitting a national capital.
As I entered the Rohingyas' makeshift resettlement area, the first to welcome me were a host of hovering flies. The rooms in this area are not worth the name. They are nothing but tin and tarpaulin sheets wrapped around bamboo poles, with curtains serving as doors. They are glorified tents lined up on two sides of a narrow alleyway where your mobility is severely constrained if more than a few people gather. The space itself bears testimony to these people's lives. They have to struggle to move and find space as a matter of their regular bid for survival amidst dire poverty and dwindling--but nonetheless audacious--hope of seeing their lives being valued.
Women of the community usually do not go out of the camp, except for the few times when they have to access healthcare facilities a few kilometres away.
I looked at women in the Rohingya community, and their children, to understand how their lives have been distorted beyond recognition by displacement. This is important in the light of the often uncritical accounts of refugees that are brought about, which pay very little attention to the differentiated lived experiences of men and women. Being gender blind in this regard serves to homogenize the narratives of a community which is hardly uniform in terms of how they experience conflict, displacement and migration.
Feminists agree that "being a woman" is never easy. Conflict situations tend to make women, along with children, worse off. They are the ones most devoid of agency, either completely, or in relation to their male counterparts. This was evidenced in case of the Rohingya refugees as well.
Women of the community usually do not go out of the camp, except for the few times when they have to access healthcare facilities a few kilometres away. In the absence of paid work, these women remain heavily invested in household work and child rearing.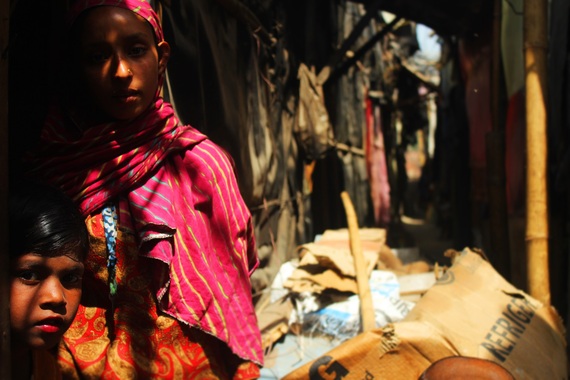 At 22, she is a mother of two. She worked intermittently as a labourer but at present she is unemployed and tied to the household.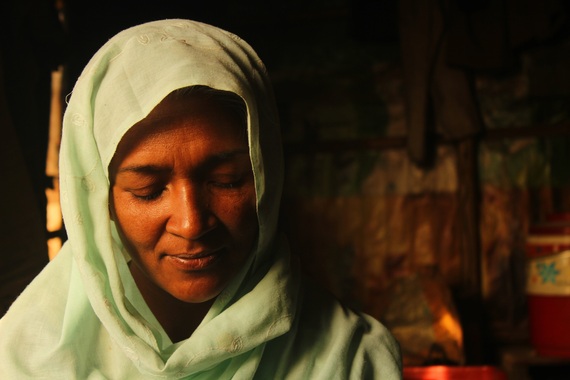 Fatima is married and is a mother of three sons. She has never done a paid job and has a shop which remains closed due to lack of supplies.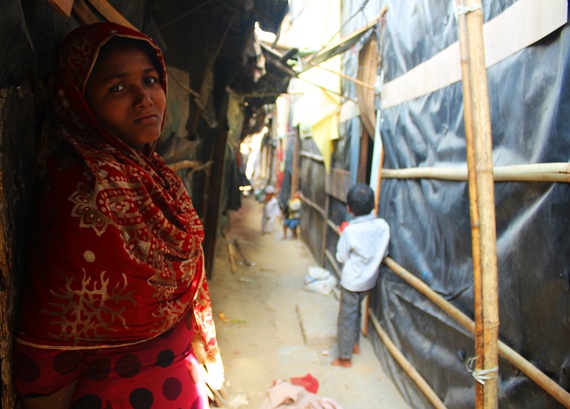 Amina, 23, is her son's primary caregiver. Her husband passed away a few years back, making their life only harder.
For refugee women, living without a spouse exacerbates challenges. They are forced to depend on their male relatives but kinship ties are loose and hence dependence hardly reliable.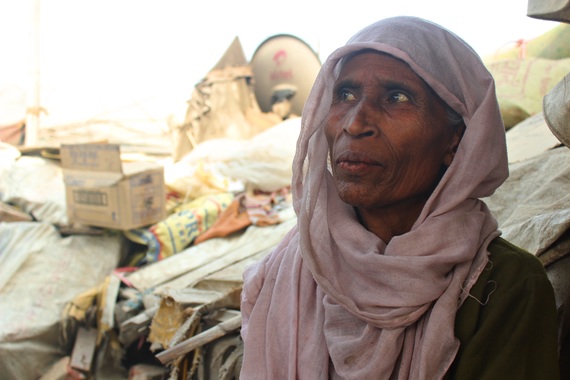 Zohra is 60 and lost her husband a few years back. Her daughter lives a few doors away from her place in the camp, but she cannot provide enough to Zohra for sustenance.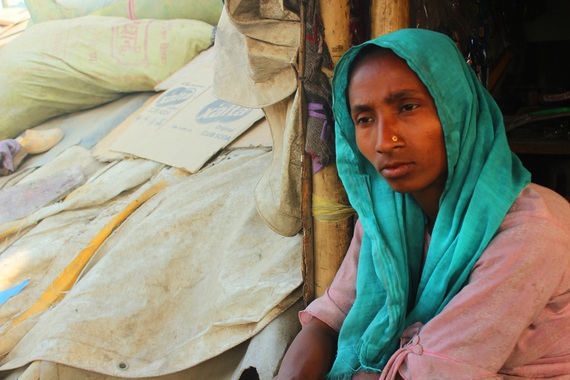 Samjeeda Begum runs a shop funded by the UNHCR. Her husband lives in Bangladesh and they have not been in touch for quite a while. She is raising her two children by herself. She was one of the many women who complained about the lack of healthcare facilities in the camp. Many have to travel a few kilometres for check-ups and to obtain medication. Samjeeda particularly worries that if anything happens to her, there would be no nobody to look after the children.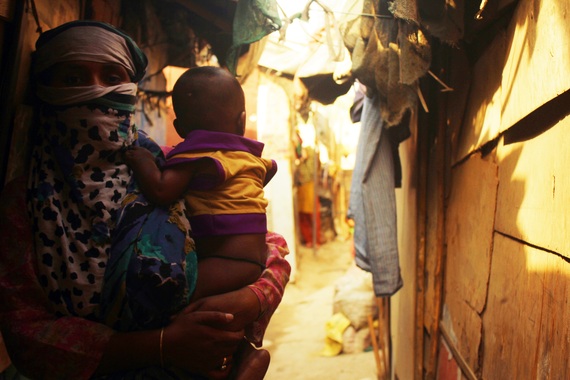 She dropped out of school at a tender age, got married and is now the mother of three children. She says she would work if the opportunity presented itself. Trapped in an unhappy marriage with a husband who is a drug addict, she dreams of freedom.
Mizaan, on the right, wants to be a doctor. Masuma dreams of being an engineer. These girls do not want to be trapped in the household like their mothers and hope to be respected professionals some day. But Mizaan's father does not want her to continue her education. He would prefer she sit at home.
Scarce financial resources and reverence for traditional gender roles has robbed women of agency. The younger generation hopes to break free of such oppressive demands of patriarchy but they face staggering odds.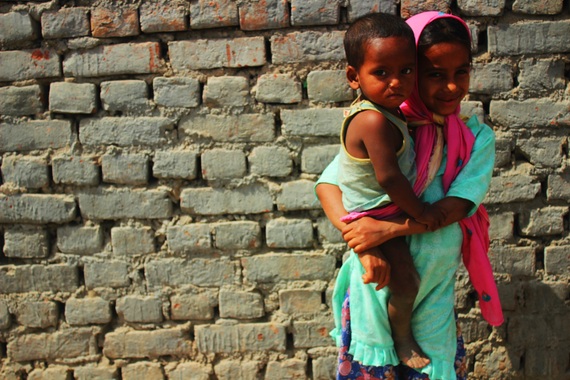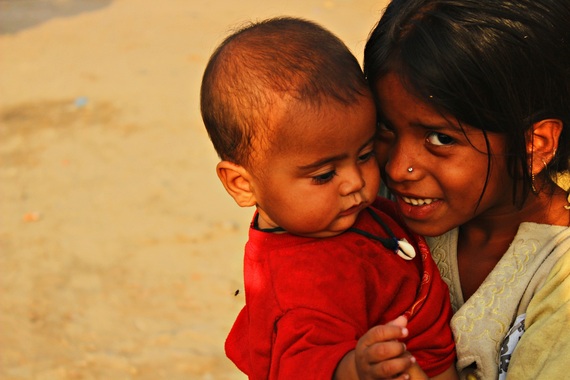 School going girls have big hopes and aspirations. However, most are likely to drop out of school and get married, since their agency is all but lacking and options which are presented before them are not promising. Older female siblings are found taking care of the younger ones, as a way of helping their mothers, as an initiation process towards drawing them to a life of domesticity.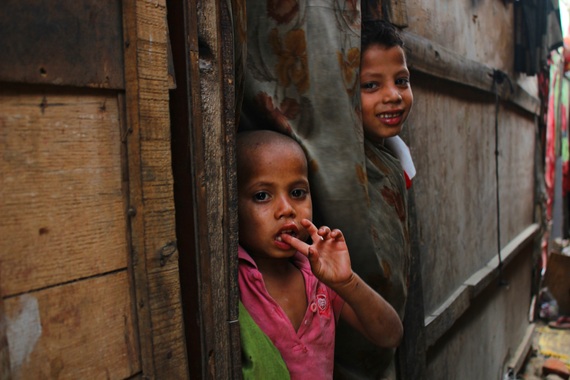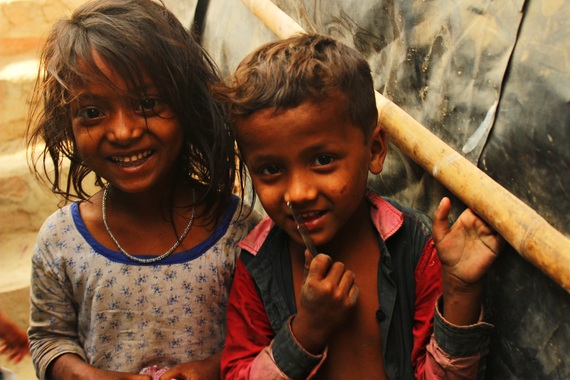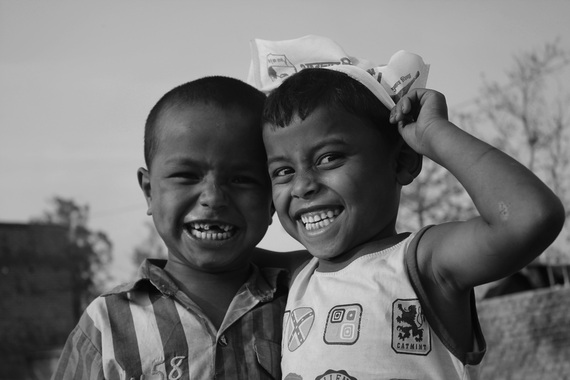 The children, who have never witnessed the scourge of the conflict first hand, are experiencing it through displacement. The struggle for day-to-day survival is so intense, thinking about the future of these children is a luxury parents in the camp cannot afford. There is a school in the vicinity of the resettlement area but funds are dwindling and many are afraid it will close down soon. The community wants to have a school of their own but the prospects look slim. Given their lack of access to material resources, the boys of the community are likely to give up education in search of paid work and women will find they are no match for the compulsions of tradition. Structural violence persists as a result of the systematic denial of citizenship rights the community faces, wherever they travel in search for a better life.
The struggle for day-to-day survival is so intense, thinking about the future of these children is a luxury parents in the camp cannot afford.
The State needs to intervene and provide basic healthcare facilities, provide employment and/or introduce self-sustainability programs for Rohingya women in particular, especially those who are at greater risk of exploitation. Women need access to material resources so that they can support themselves and their children and those who are trapped in miserable marriages, can break free. To escape the mire of poverty and hopelessness, the Rohingya need support from the State. And the State needs to listen to its conscience.
Like Us On Facebook |

Follow Us On Twitter |

Contact HuffPost India

Also see on HuffPost: