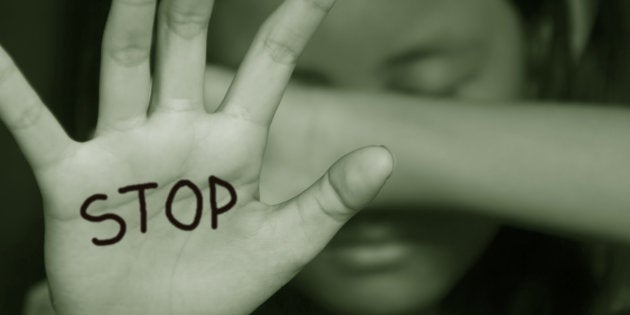 I was 11. The school bus was nowhere to be seen and we were fretting about getting to school on time. Ma had to get to her school too and taking me to mine meant she would be late. It was 28 years ago and I will cut myself some slack for forgetting the details of who came up with the arrangement. It was this. Since there were about six or seven of us, as well as a teacher who boarded the bus from the same stop, we would all take the public transport (a mini bus) and go to school together. Mrs. H, a maths teacher who taught the senior classes was with us, so it was not as if we were on our own.
We boarded the bus and I remember not getting a seat first. My best friend through my school years, S, and I were standing next to each other, both of us in our crisp white uniforms that resembled burlap sacks and our house ties -- hers was yellow and mine was green.
Her words are seared in my memory, "He must have tried to be affectionate and hug you. He must like children. Nothing happened. Forget it."
My school bag was on my back and I had an additional bag in my hand with a chart that was poking out of it. I don't remember what was on it. What I do remember is the instinctive discomfort when the man behind me adjusted his position and ended up standing really close, touching me. The bus was crowded and I was too timid and unsure to object. Bit by bit he edged closer and closer until I felt his hand close in on one of my breasts. I shook him off, scared. I looked back at him to ascertain if it was a mistake. He stared right back at me, smiling through his yellow teeth. I was really scared now. S, who hadn't realized what was going on, saw me squirming and attributed it, mistakenly, to the weight of the bag I carried in my hand. When the first seat became available, she willingly yielded it to me. I sat down.
Throughout that scary bus journey, the man (who by now, emboldened by my silence, stood right next to me) found various ways to violate me. He pinched and squeezed, and each time I readjusted my position, pushed his hand away, used my elbow...I did everything silently and discreetly, as if hiding it was more important than stopping it. It took me by surprise and I was neither equipped to deal with it nor fully aware of what was going on.
Mrs. H was a senior teacher and all of us in middle school were scared of her. Calling her or addressing this with her was not an option in my mind.
So I did the next best thing. I went to my teacher in school, Mrs. T (who was earlier Miss N). I told her everything. I was scared and shaken and it was a fiduciary obligation for her as a teacher to reassure and empower me and explain why what happened was horribly wrong and should not have happened and how it must be dealt with. Today, as I dig out the memory of that conversation from the deep recesses of my mind, I see her face, smiling and unflinching, discounting my experience and dismissing it. Her words are seared in my memory, "He must have tried to be affectionate and hug you. He must like children. Maybe he was trying to see your chart. Nothing happened. Forget it."
I had recently lost my grandfather. The best friend I had. I was vulnerable and insecure. In those days I would often spend a lot of time at the neighbours'. Kakima was sweet to me and often volunteered to watch over me while my mother was rushing between the hospital and my grandparents' home in the one and a half years that Dadu was afflicted by renal failure. Kakima's brother was a frequent visitor at their place. He took me to the terrace one day, made me stand with my back against the wall and squeezed my breasts until they hurt. I stood mute the first time. Frozen with fear. Powerless to resist what was happening to me. The next time I refused to go with him. Undeterred, he pursued me, or rather my breasts, every time I was over. Yet I did not say a word to Kakima or to Ma. I made excuses to not go over when he was around or insisted on sitting in the hot kitchen with Kakima instead of playing outside. I worked out my own mechanism to avoid the monster. But I did not speak out.
I did not speak up then and the man has gone through nearly three decades of his life without being identified, punished and has probably found victims other than me...
Twenty-five years later, while working on the Verma Committee, I stayed up one whole night reliving my nightmares. And as the details of his abuse came back to me with horrifying clarity, that night, I knew I had not buried and forgotten the incidents as I had led myself to believe. It was an entire night of cathartic crying. And a promise to myself that I would tell my mother. Simply because she deserved to know. She who has always been my pillar of strength looked so hurt and betrayed when I told her. The very emotions I was afraid of seeing on her face 25 years ago were writ large. "Why didn't you tell me?" I didn't have an answer. Maybe I didn't want to trouble her when she was already so troubled, maybe I was afraid of the proximity of the relationships and what the revelation could potentially do to them. Maybe I was afraid of being blamed by someone for it. Whatever it was, I did not speak up then and the man has gone through nearly three decades of his life without being identified, punished and has probably found victims other than me over the course of the intervening years.
A sense of shame and humiliation at reporting abuse is so deeply ingrained in us through popular culture that the best and strongest and bravest of us don't start the conversations early enough.
Its fair enough to say that at 10 or 12 I didn't know better. But what about university? Why did I let the professor who locked his door and tried to kiss me get away? I warned him, threatened him but ultimately lacked the courage to expose him. Yes, I was a coward. I was in the 2 year and was afraid of the attention I would attract if I reported it. I had a bad run in with some seniors who bullied me publicly in the first year when I spoke up against nepotism in committee selections and I was keen to avoid a repeat.
Why did I let the professor who locked his door and tried to kiss me get away? I warned him, threatened him but ultimately lacked the courage to expose him.
Or the other professor whose family I was close to. Whose brother-in-law was hitting on me and I was expected to reciprocate. And was told laughingly on my face that the innocent brother-in-law did not realize that flirting or flings were a way of life for the women in law school. And that he was wrong to take me seriously. A man who I had not evinced the slightest interest in. Whose ego was injured because he was interested in me and I was not. Whose family I spent time with. A family that included his purportedly feminist sister. None of them batted an eyelid before labelling me in a conversation that I was a part of. Not surprisingly, the professor hit on me too. Was determined to sleep with me. And when I stopped visiting them without explanation, he lost no opportunity to bitch about me.
Then came the client. Bespectacled and apparently respectable. Insisting on 8pm meetings and then offering to drop me home. Asking me whether I was married. Letting me know that he was younger than he looked. Telling me about his life's ambition to marry a lawyer. I was deeply uncomfortable and found him creepy. It was impossible to work on his matters. And then I found out that another colleague had had the exact same experience. By now we were both livid. We went to the elderly male senior partner who had asked us to attend to this old client of his. Our demand was not that we should be excused from the portfolio but that the firm return the client's files and the reason be expressly communicated to him. The senior partner laughed and said we should be flattered.
(Postscript: We didn't let it go and went instead to another female senior partner who heard us out. The client was told to take his files and go. I don't know if the reasons were communicated to him).
Let's stop worrying about repercussions, wondering if we're overreacting, or telling ourselves it's in the past and it's buried. It is time we started #TellingOurStories
Then came the lawyer, circa 2015. Friendly. I enjoy a camaraderie with him. I've even worked on several matters with him. And yet he doesn't get it. Being friendly cannot mean that you have the license to call me sexy in court. Or anywhere else. Or to repeatedly walk up to me until there is an inch between us and say throatily, "Mujhe bhool gayi hai..." (You've forgotten me). Except I am (thankfully) stronger, unafraid and know now without a shred of doubt that it needs to be called out. That silence or grace is not the way to deal with sexual harassment in any form. So I said to him one day, "You do need to stand at least a couple of feet away from me when we talk. That way you'll immediately know that if what you're saying is not meant for 'public consumption', you should not say it at all..."
I'm not sure I fobbed him off for good with that line, but it's a start.
Different settings. Same story. A mosaic of people and situations with one constant. The repeated memory of being violated and feeling hurt, angry, scared and confused. And not responding appropriately. Ever. The serious ones went unreported. Even after I was old enough to understand what they meant.
I am strong. Empowered. Aware. A lawyer. And yet it took me 35 odd years to simply call it out.
All I can say today in retrospect is that we are often complicit in perpetrating a way of life that subdues, subverts, disregards or undermines such stories. Whether we actively discourage or watch from the sidelines, the effect is the same -- the story remains untold. The narrative is either not serious enough, or was incorrectly perceived, or was brought on by an act of the narrator or was too shameful to acknowledge.
No reason is good enough.
Let's stop nitpicking at the narrative and undermining the narrator. Let's stop worrying about repercussions, wondering if we're overreacting, or telling ourselves it's in the past and it's buried. It is time we started #TellingOurStories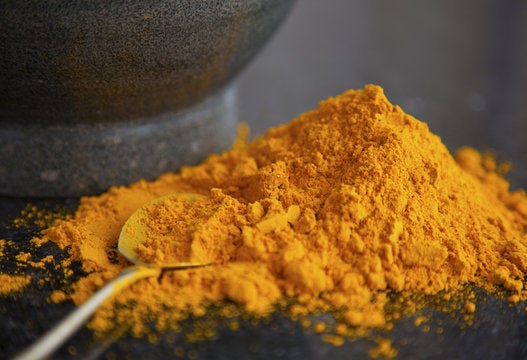 Benefits Of These 9 Super Indian Spices