Dhaka Bangladesh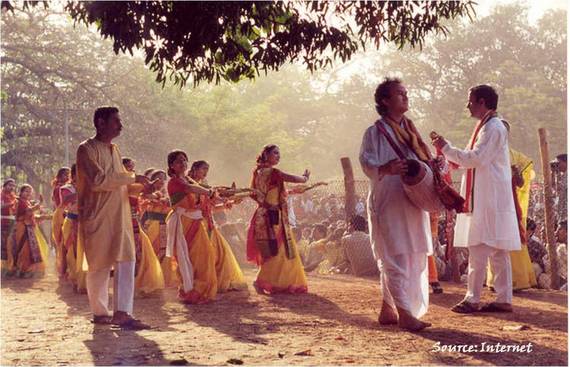 (Vasanta Utsav: Spring Festival in Shantiniketan)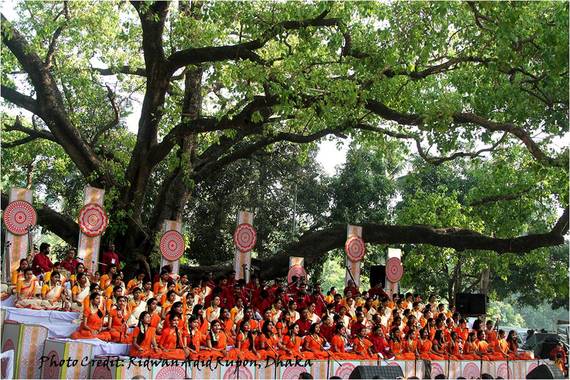 (Pohela Boishakh - Bengali New Year Celebration, Dhaka)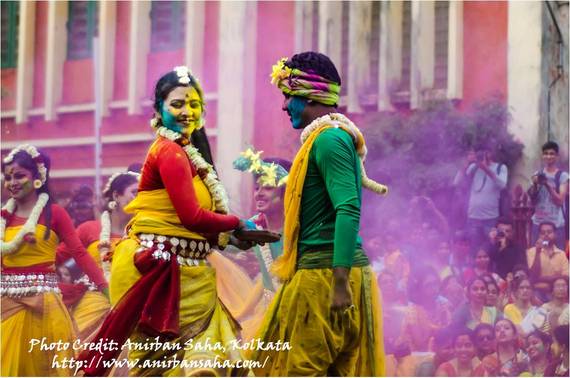 (Vasanta Utsav: Spring festival at Rabindra Bharati, Kolkata)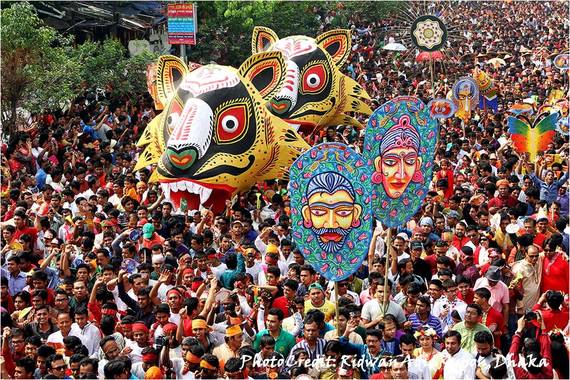 (Pohela Boishakh: Bengali New Year Pageantry, Dhaka)
"Collective art' is not an individual 'leisure time' occupation, added to life; it is an integral part of life itself, corresponding to a basic human need. It means the same as ritual; it means to respond to the world with our senses in a meaningful, skilled, productive, active, shared way. The need for the creation of collective art and ritual on a non-religious basis is at least as important as literacy and higher education."
Thus wrote Erich Fromm, the influential social psychologist and philosopher of the 20th century.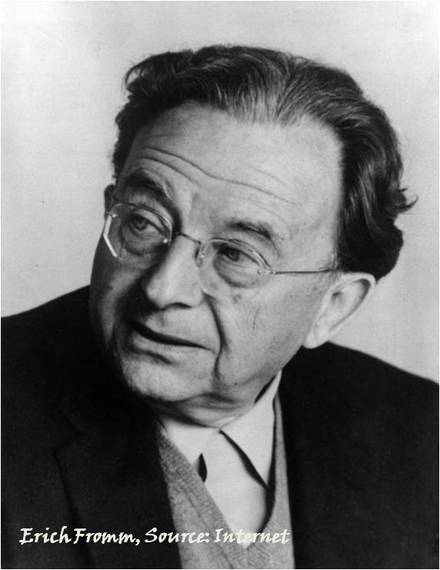 Approximately 70 years before Erich Fromm articulated his theory on collective art, Indian poet laureate Rabindranath Tagore was putting this into practice at his experimental educational centre in Shantiniketan, around 250 km from Kolkata.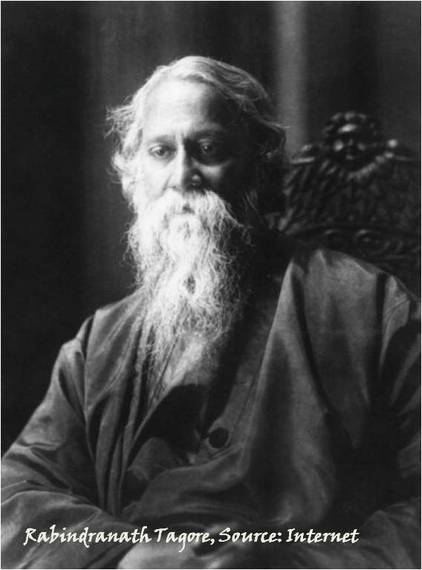 The poet was astute enough to observe that religious festivals in India were largely insular and exclusionary in nature. He therefore conceived of secular festivals that would transcend narrow denominational boundaries of religion, caste, creed and class. He introduced the celebration of seasons at Shantiniketan and linked collective arts, crafts and rural cottage industry very closely to the festivities.
Tagore conceived of the Utsav (festival in Bengali) as a celebration of diversity that included all. An Utsav for him represented a holistic celebration of human society, which presented an opportunity for shared aesthetic experience and creativity and, very importantly, appreciation of the gift of nature.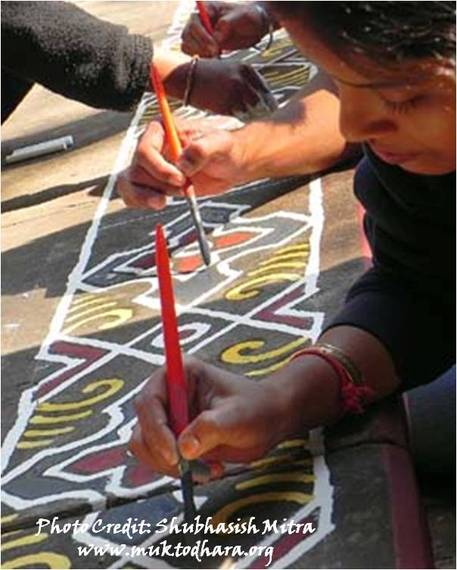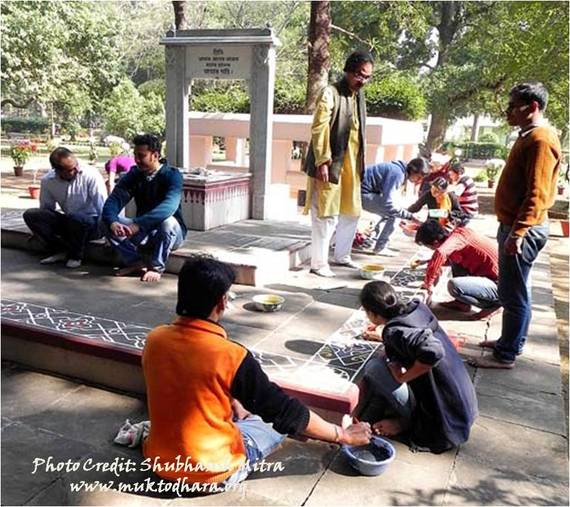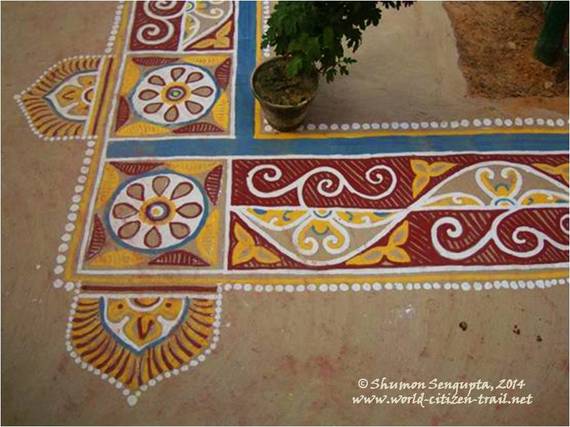 While recognising the need for individual and group space, Tagore worked tirelessly to create public celebratory spaces that would be open to the extended human family.
Celebrations of the seasons through songs, dance and fairs have since became regular features in the Shantiniketan calendar. Varsha-mangal is observed to celebrate the advent of the rains, Sharad Utsav to celebrate Autumn, Poush Mela to celebrate winter, Vasanta Utsav to celebrate spring and finally Pohela Boishakh marks the Bengali New Year at the onset of summer.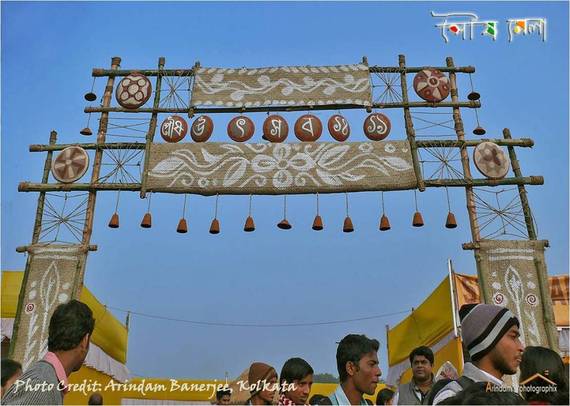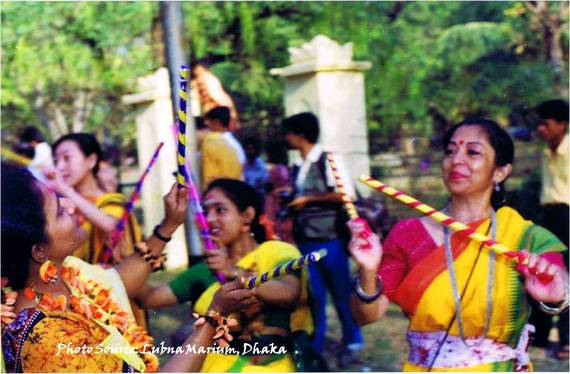 (Bangladeshi dance pioneer, Lubna Marium, at the Vasanta Utsav in Shantiniketan)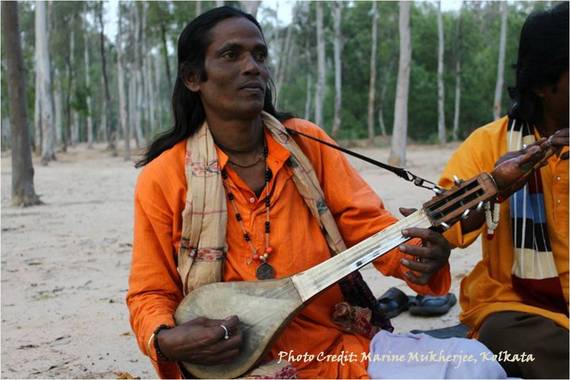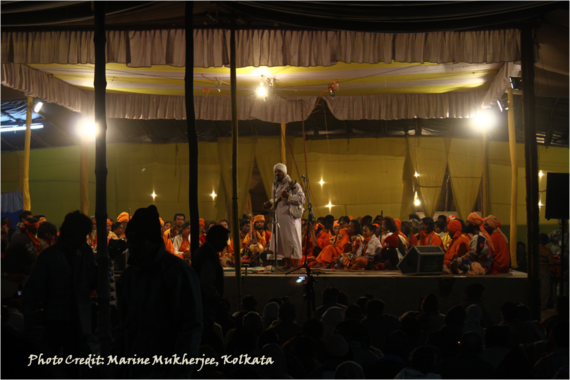 In addition to these, Tagore also introduced beautiful commemorative events like the Vriksha-ropan (tree planting festival) and Halakarshan (plough festival) as a part of an annual environmental awareness campaign, which continue in Shantiniketan till date.
In Shantiniketan, minority ethnic groups, particularly the Santhals who lived in and around the area are invited to be part of all celebrations. These festivals exclude no one.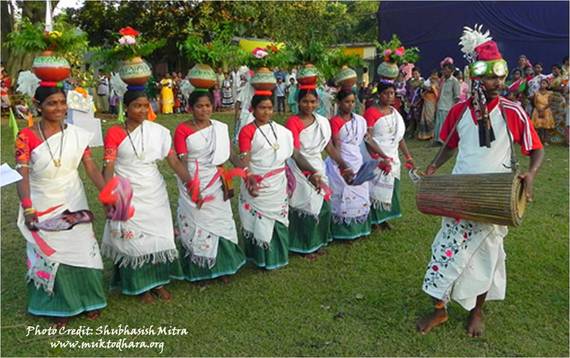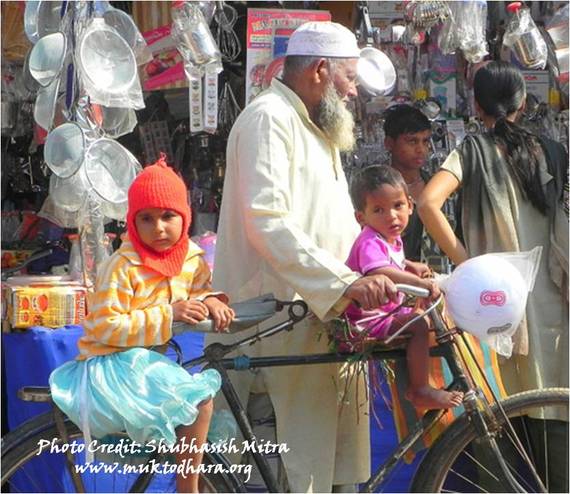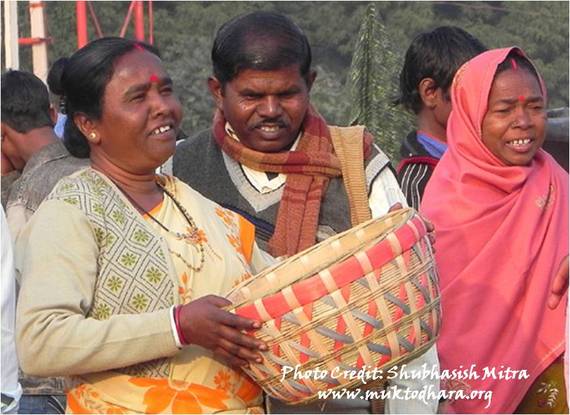 Not only do these festivals bring people together, these also encourage local arts and crafts and promote livelihoods and local economic development, particularly among rural artisans who sell their wares in the fairs organised around these occasions.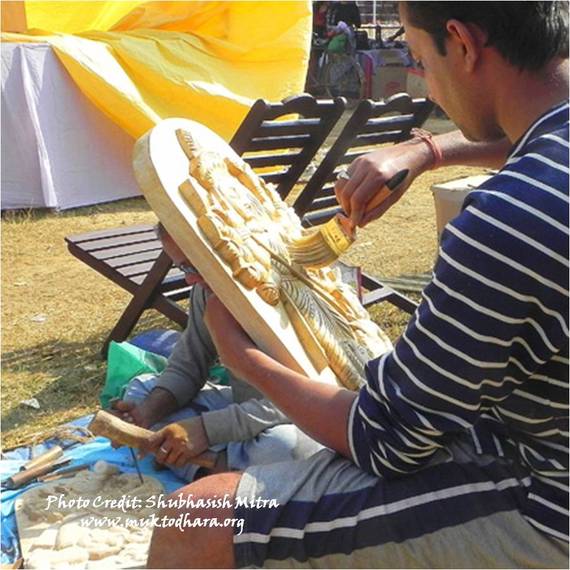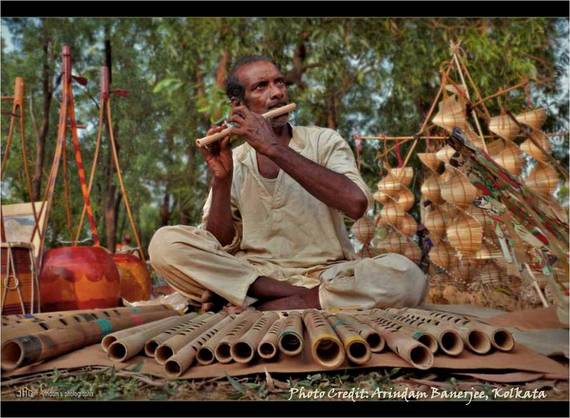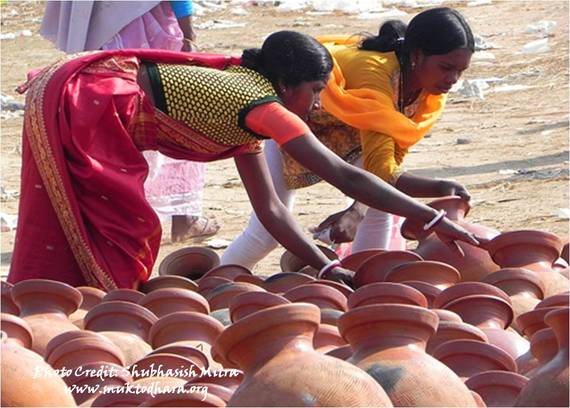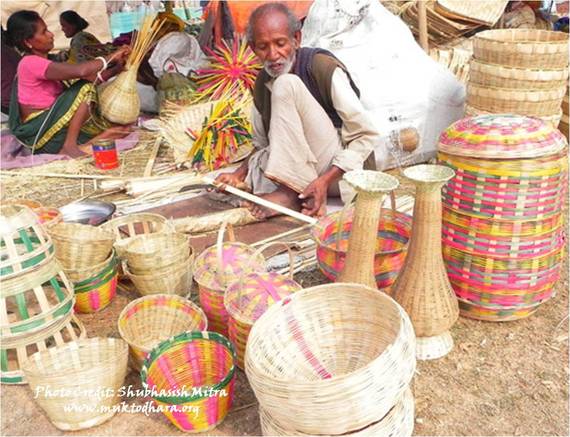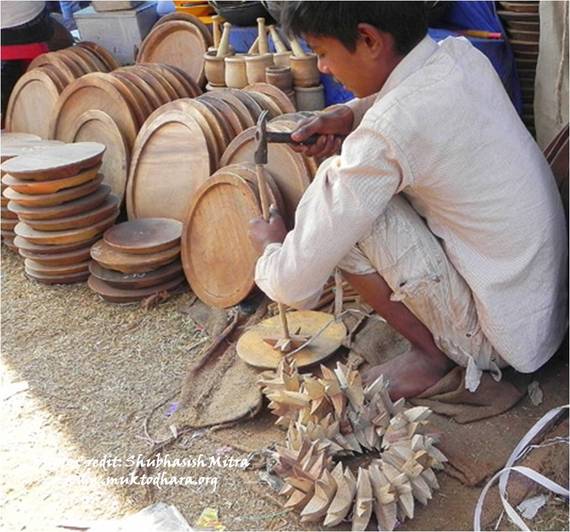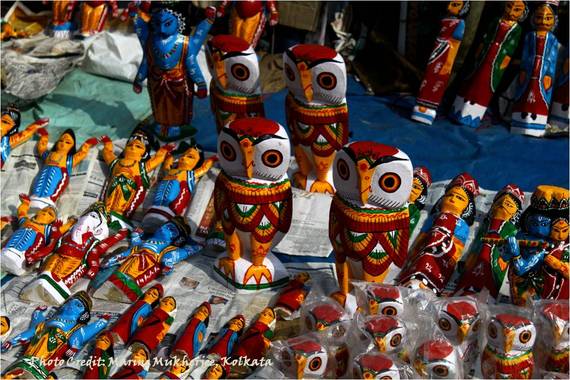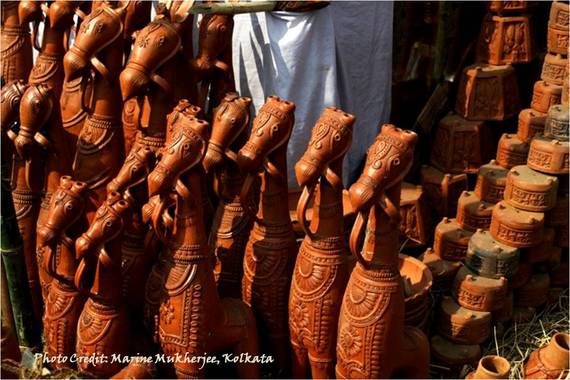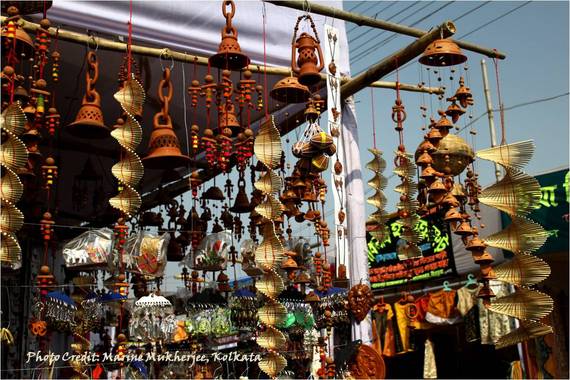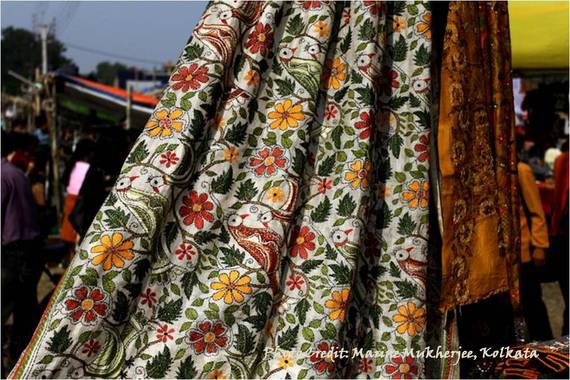 In the fringes of these events, food festivals are organized with an emphasis on traditional Bengali preparations and local delicacies.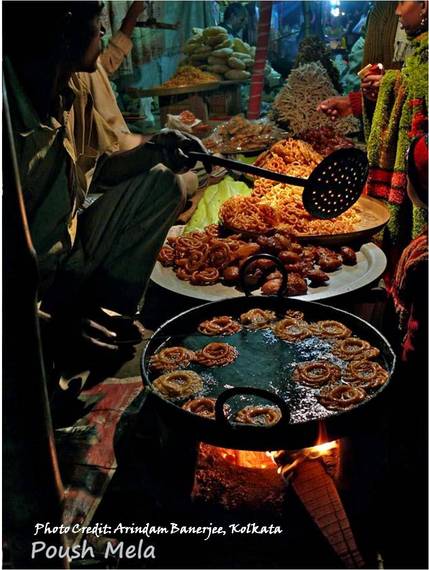 Tagore composed a large number of songs, plays and wrote poems specifically for these festivities and more often than not sang and performed in plays during these events. Music, dance and other performing arts therefore form an important part of these celebrations.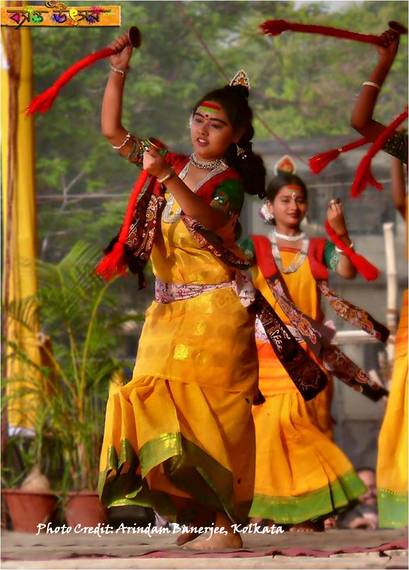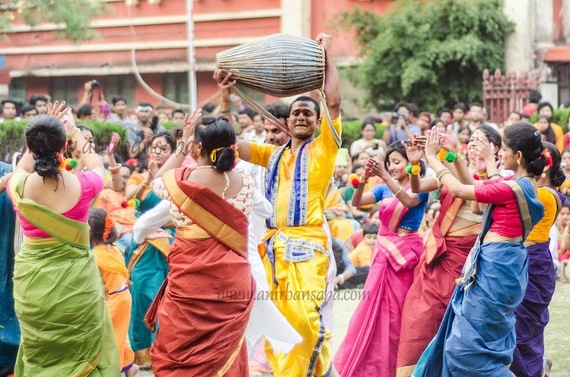 (Vasanta Utsav - Spring festival at Rabindra Bharati, Kolkata)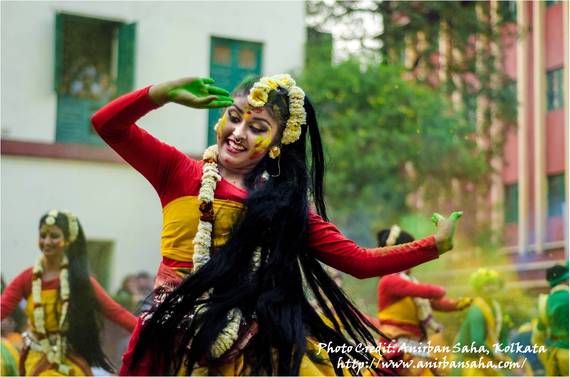 (Vasanta Utsav - Spring festival at Rabindra Bharati, Kolkata)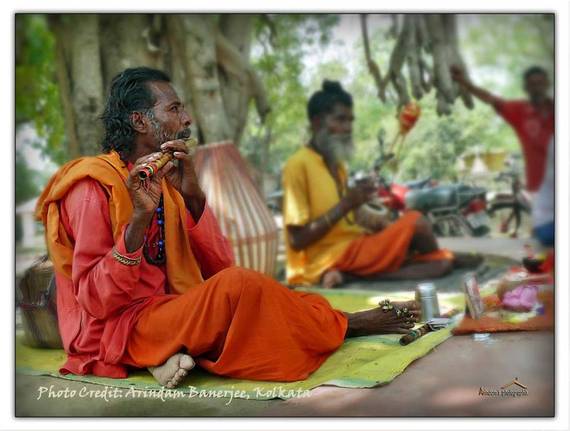 These secular festivals continue to this day in Shantiniketan. However, nowhere does one find a truer, finer and grander expression of Tagore's original idea of an inclusive and artistic festival than in Bangladesh where on April 14 every year (the first of the Bengali month of Boishakh), the entire country erupts into a spontaneous celebration of the Bengali New Year. This, more than anything, reveals the underlying inclusive and secular aspect of this essentially progressive Islamic country.
Borsho Boron, literally meaning, "ushering in the New Year" in Bengali is a wonderful summer festival organized every year on the Bengali New Year by < Chhayanat, an institution of national importance and a centre for research, teaching and promotion of Tagore's works and other performing art forms of Bangladesh.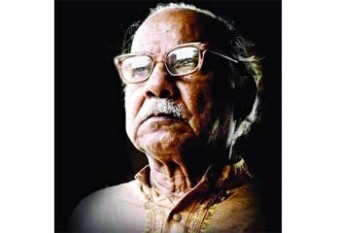 (Waheedul Haque)
Chhayanat was founded in 1961, the year that marked the birth centennial of Tagore. It sought to counter the fundamentalist ideologies that were forcefully imposed upon Bengalis of then East Pakistan. It was the late Waheedul Haque and Dr. Sanjida Khatun who conceived and orchestrated Chhayanat's first Borsho Boron programme in 1961.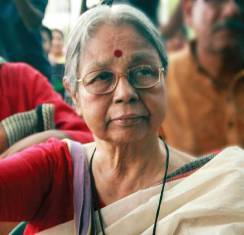 (Dr. Sanjida Khatun President, Chhayanat)
Taking the cue from Shantiniketan, Chhayanat started holding cultural programmes to celebrate the change of Bengali seasons. The special Borsho Boron festival was arranged in the Ramna Park -- a large green expanse in central Dhaka --and an impressive musical soiree took place at the foot of an old banyan tree.
This event which had a very modest beginning was destined to create history and trigger a national cultural movement in Bangladesh. It soon caught the imagination of the people and has over the years snowballed into a nation-wide celebration.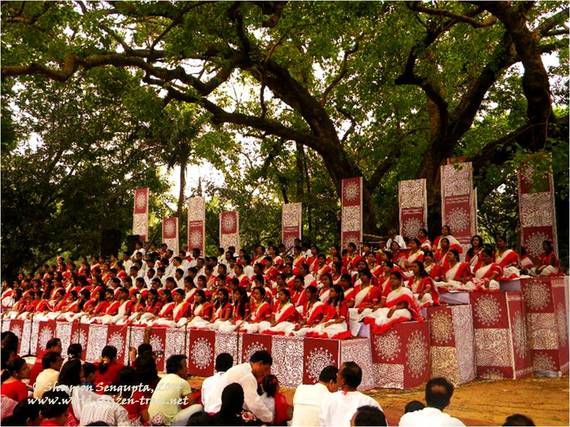 The main Borsho Boron programme organised by Chhayanat starts at 6.15am on 14 April every year and lasts for approximately two hours. Thousands of people participate in this unique event which principally includes songs of the leading Bengali poets and composers, folk music, a brief presentation of Indian classical music and Bengali recitation-- all performed by teachers, alumni and students of the institution.
This early morning programme then kicks off a cluster of diverse events, including the spectacular carnival-like pageantry (Mongol Shobhajatra) from the adjoining Charukala (Institute of Fine Arts, Dhaka University), organised by the students and alumni of the institution. Simultaneously, scores of cultural shows are arranged by other organizations, keeping the area alive with the buzz of music and a heavy rush of people.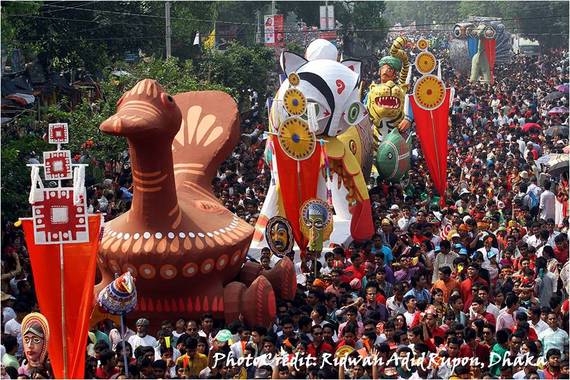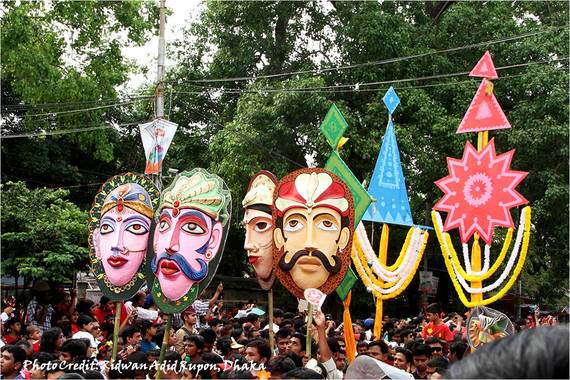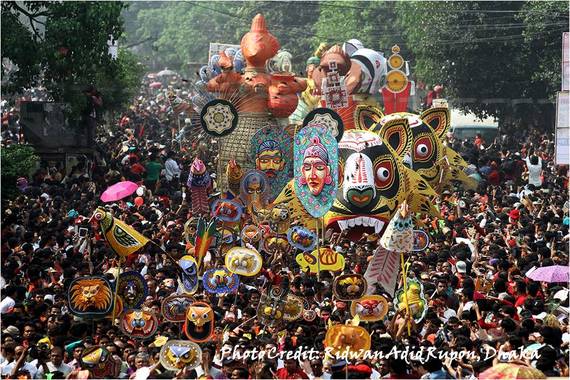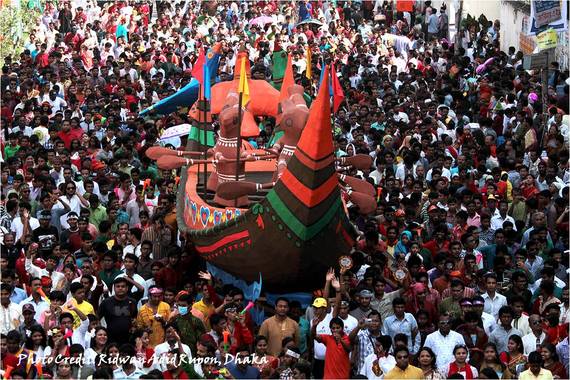 The other events in the fringes of Borsho Boron includes Bengali food festivals, fairs selling traditional handicrafts, face painting, folk music, street theatre etc. Festive delicacies include sweets and rice cakes (pithas) and panta-ilish-bhorta (soaked rice, fried hilsa fish and spicy mashed vegetables).
While the most spectacular celebration takes place at the Ramna Park, many similar but smaller events are hosted throughout the length and breadth of the country. These events celebrate the rich ethnic, cultural and religious diversity of Bangladesh.
The Chhayanat institution has taken great pains and has shown formidable courage in ensuring that it remains completely secular, non-sectarian and apolitical. They have consistently and very successfully resisted the attempts, overt and covert, by politicians to use the popular Borsho Boron platform to convey political messages. Moreover, attempts of fundamentalist groups to subvert the event, including once by bombing the venue and killing many people, have come to a naught.
Citizens of Dhaka started attending the event with even greater determination and enthusiasm since the bombing, clearly reaffirming their faith and support to the essential values behind the festival.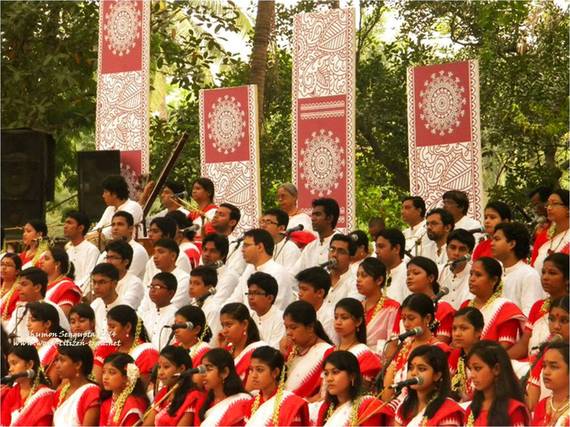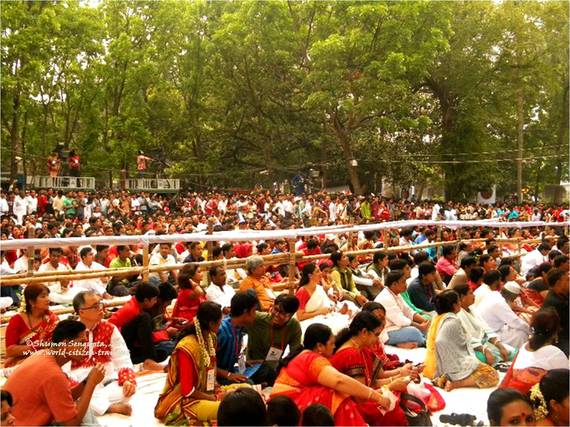 The other secular festivals in Bangladesh include Pohela Phalgun in spring, Sharod Utsav in autumn and the harvest festival known as Nobanno. All of these packed with music, dance, arts and crafts and traditional food preparations.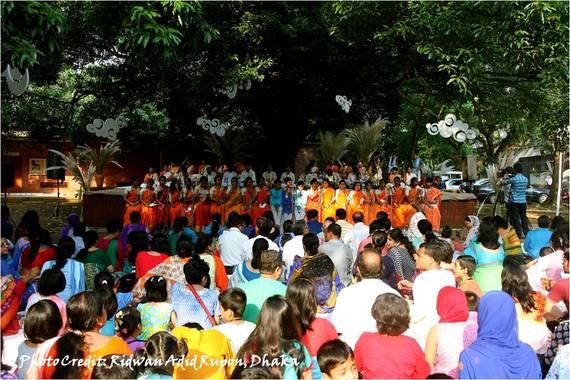 (Sharod Utsav - Autumn Festival, Dhaka)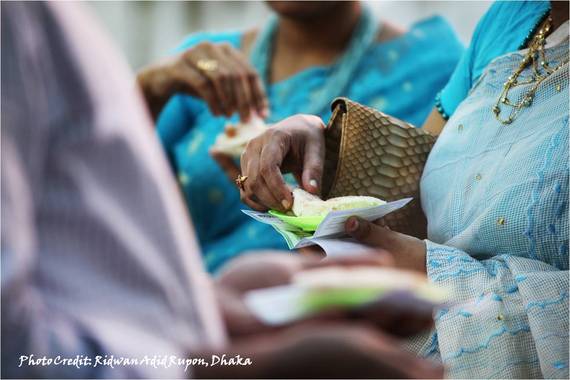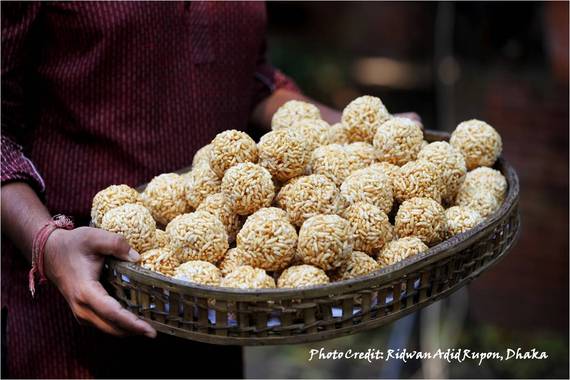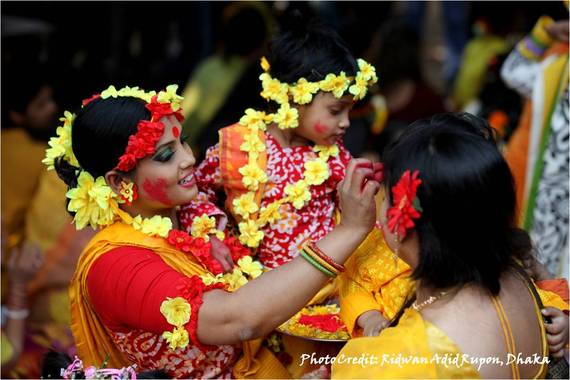 (Pohela Phalgun - the Spring Festival in Dhaka)
Inter-religious, inter-community and non-sectarian communion was something that deeply occupied Tagore throughout his lifetime, just as much as the lack of it continues to pose immense problems in our world today.
It is in this light that these secular festivals, particularly the Borsho Boron Utsav of Bangladesh attain special value and universal importance. Stemming essentially from an artistic impulse, what started off as a modest experiment of promoting secular festivals of the seasons and collective art by Tagore in Shantiniketan in India has now gained massive momentum in Bangladesh, the country of his ancestry.
It is here that we see the fruition of Tagore's dream - in what is a splendid case of life imitating art.
On that note, I leave you with a few images from Shantiniketan.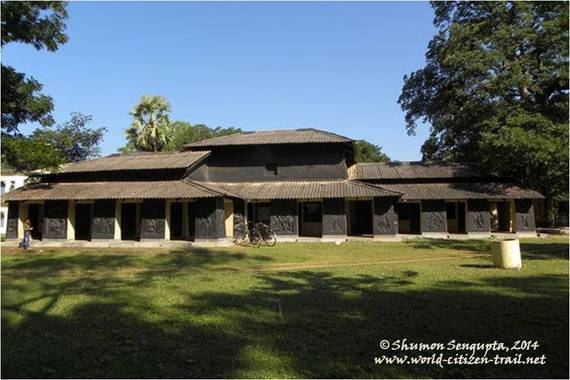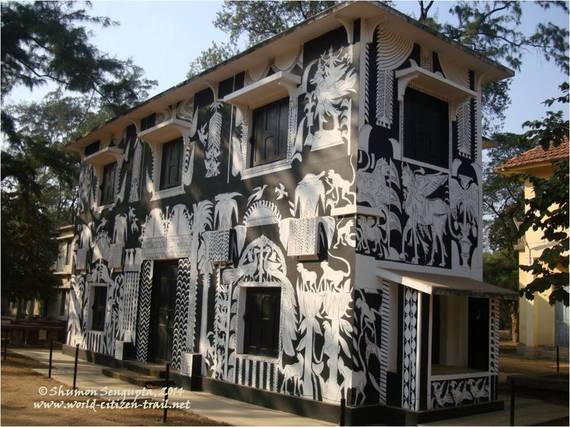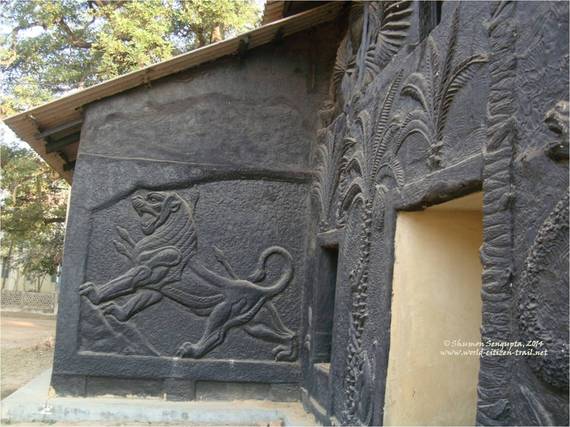 For my travel stories, you might want to check out www.world-citizen-trail.net
I am grateful to the following individuals for the permission to use photographs taken by them, with this article.
1. Anirban Saha, Kolkata, www.anirbansaha.com
2. Arindam Banerjee, Kolkata
3. Lubna Marium, Dhaka
4. Marine Mukherjee, Kolkata
5. Ridwan Adid Rupon, Dhaka Bangladesh
6. Shubhasish Mitra, Shantiniketan, www.muktodhara.org
Like Us On Facebook |

Follow Us On Twitter |

Contact HuffPost India