Mail Today via Getty Images
Tamil Nadu is facing its worst rainfall in over a century, causing massive flooding across the state capital Chennai, killing hundreds and forcing thousands to leave their homes. It's not an isolated story. In the past few years, floods have devastated different parts of the country from up north to down south - it's a wake-up call we can no longer ignore.
August 6, 2010. It was around midnight when the clouds burst. Before the sun could rise, flash floods, debris flows and mudslides swept across Ladakh. Jolted from their sleep the men, women and children saw water gushing into their homes, taking with it all that came in its path and leaving behind devastation.
Scientists later attributed the cloudburst in the region to prolonged winters which may be due to climate change. This week as world leaders gather to discuss Climate Change in Paris - do know that the crisis is real and urgent. It is imperative that it is addressed.
The whole area was devastated, there were mounts of debris more than 20ft high, broken walls and lives washed away.
The flash floods of Ladakh brought the crisis to our very own doorsteps. When the news flashed on TV and I saw media teams on the ground, I decided that I would go too. As a young reporter I wasn't going to be sent to cover the story, so I went as a volunteer.
It had been three weeks since the cloudburst and flights had started operating. I packed my bags with everything that I thought the people there would need and started on a journey that would change me -- for good.
Today, five years later, that journey, those stories, that feeling of loss and the hope of rebuilding the future remains one of the most precious experiences of my life.
I'm putting it down on this blog today so I can share with you what a seemingly small 2 degree change in climate could do to thousands of lives.
Ground zero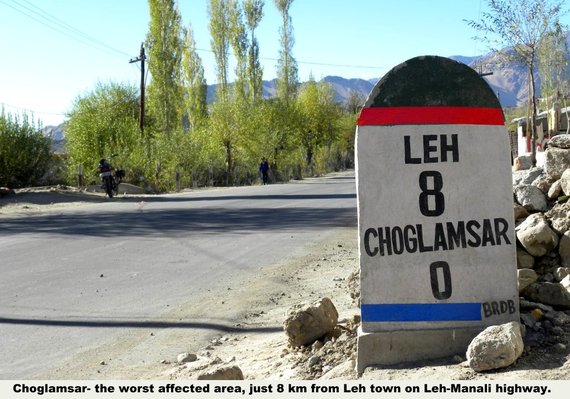 I headed towards the worst affected village - Choglamsar -- on the outskirts of Leh town. The whole area was devastated, there were mounts of debris more than 20ft high, broken walls and lives washed away.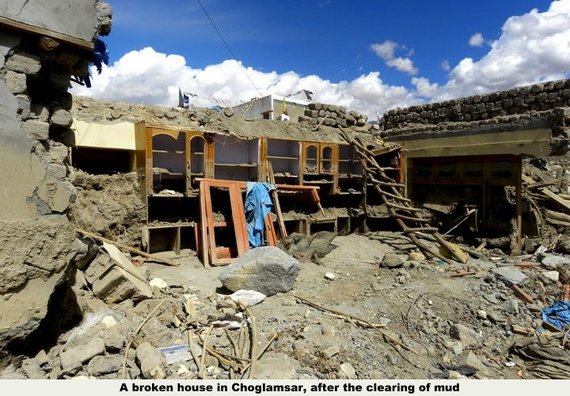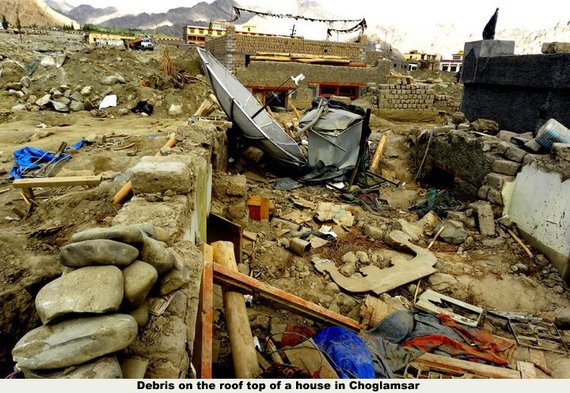 I was on ground zero, looking at the aftermath of this great tragedy, imagining how pristine the place must have looked before the wrath of the rain gods.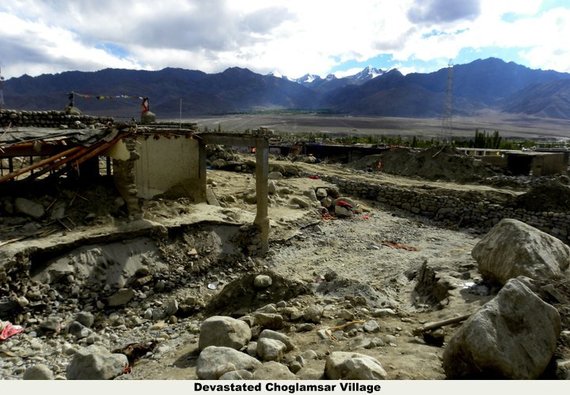 Before I could totally comprehend these sights, a convoy of cars sped past. It was also the day when His Holiness the Dalai Lama visited Ladakh to address flood victims, and to give hope to the people who had lost their all -- their homes, their families. The learned Lama knew then what ecologists said later. He said, "We really need more awareness about the importance of taking care of our ecology. This planet is our own home. This is the only planet where we can live."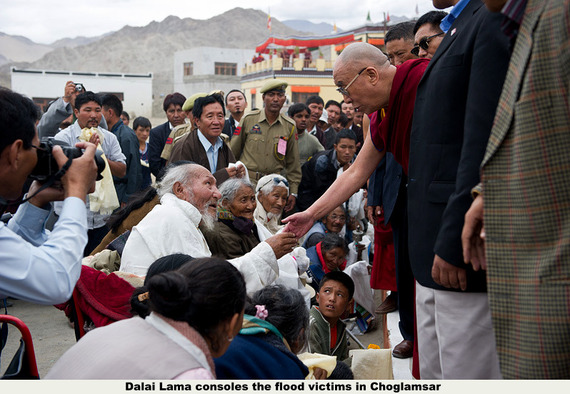 On a mission
Carrying three huge bags filled with stuff donated by friends as their contribution for Ladakh, I moved on towards Leh town. By now the afternoon sun and lack of oxygen due to the high altitude had started taking their toll on me. I was parched. There were no taxis and it was impossible even to find drinking water. As I walked on the barren land, a mini-truck with the sign "Leh Relief Mission" stopped in front of me. A surprised old man asked me why I was walking alone with huge bags. "I'm here to help," he smiled and asked me to hop on to his truck.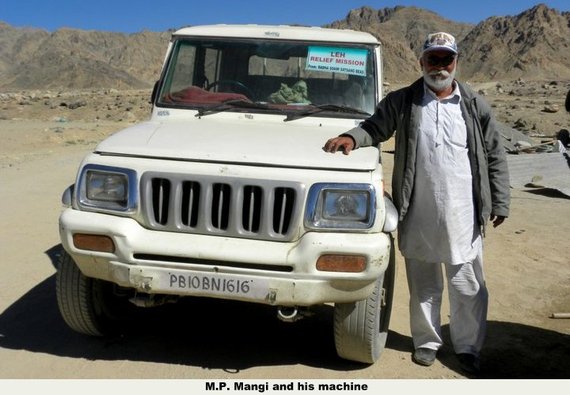 MP Mangi, with his group of volunteers, had come all the way from Ludhiana, Punjab, to participate in the relief operation. He took me to a site where they were building a big hall for the victims. Mangi said, "It is extremely important to have a roof for the flood victims. The winters are around the corner and in the unbearable cold, it will become very difficult to stay inside those tents". He was right - the flimsy tents where most of the survivors were staying didn't stand a chance in below freezing temperatures.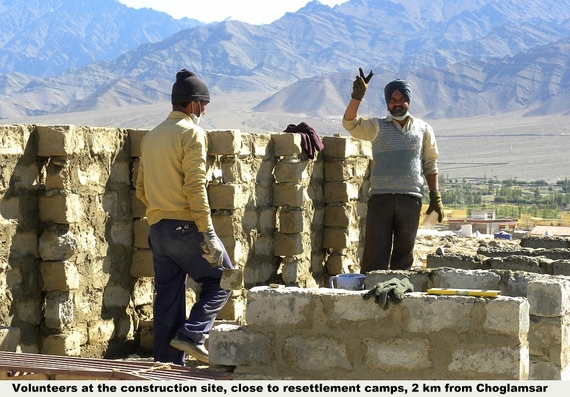 Skilled labourers, college students, businesspeople -- all volunteers from neighbouring states, all doing their best to build this hall as quickly as possible. The hall would eventually turn into a Satsang Bhavan once the flood victims were shifted to their respective homes.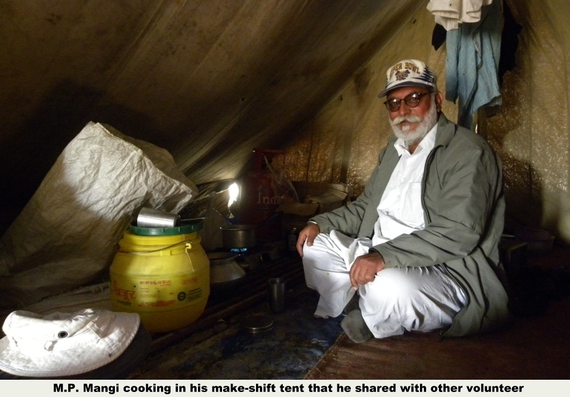 The volunteers themselves were staying in make-shift camps. They were kind enough to offer me food during lunch break. And I couldn't say no -- I could feel the warmth in their hearts in this cold desert.
It was time to say goodbye to my first group of new friends -- Mangi dropped me to a place where I could get a cab for Leh.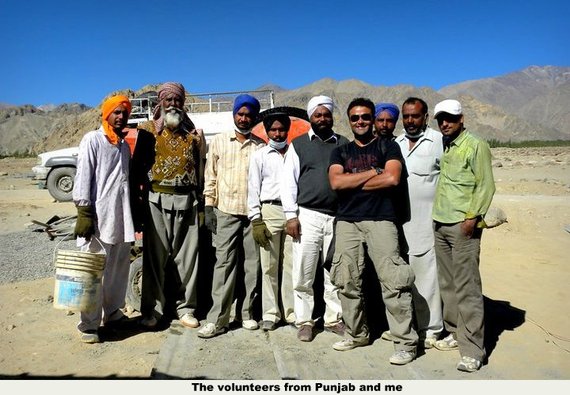 Lost everything but hope
The next morning, I reached the Solar resettlement camps, ahead of Choglamsar. White conical tents, their thin cloth trying to stay taut against the chilly September winds, were sprawled on rugged earth. The state government authorities and a few NGOs had been arranging basic necessities for the survivors. As I peeked inside these, expecting to come face to face with sorrow and loss, smiles greeted me.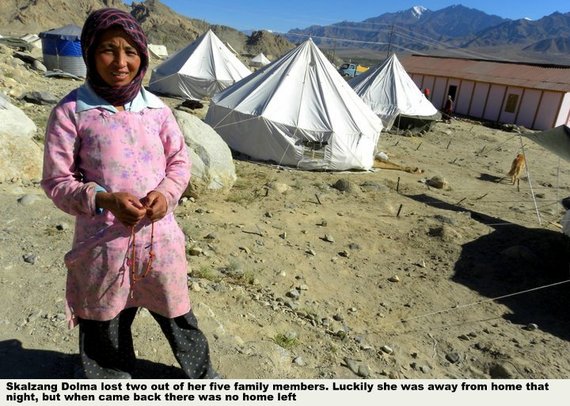 These were the survivors I met -- with the spirit of warriors. They had lost their loved ones, lost whatever they had earned in life and still they were able to share their sorrows with smiles on their faces. There was a sense of great loss, but there was also hope that there would be a new tomorrow.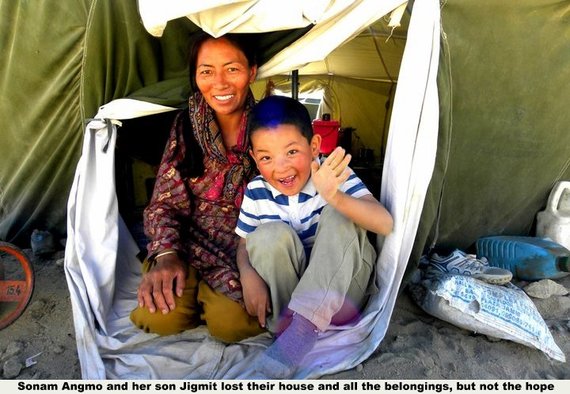 Six to seven people sharing one tent and, usually, one LPG cylinder. Some eggs and bread, instant noodles, chocolates, biscuits and tea packets were the only food supplies. They were mainly dependent on the stuff donated to them by NGOs and the authorities. Apart from food, each survivor was provided with a quilt, a pair of shoes and a few clothes. These were their only possessions. Even with this limited supply, every tent I went in offered me chai and biscuits and welcomed me into their temporary small homes and big hearts.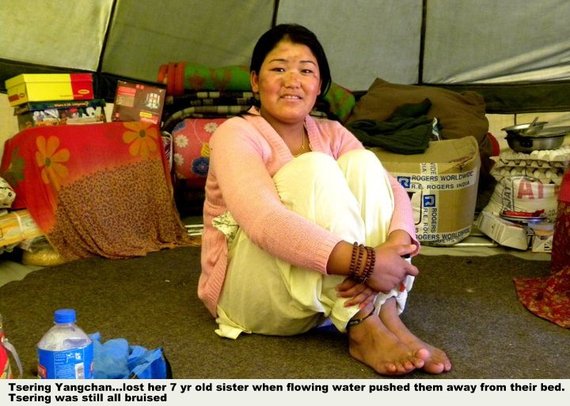 Rebuilding homes
Back in Choglamsar, residents were working hard to rebuild their broken houses; I decided to join them in their battle.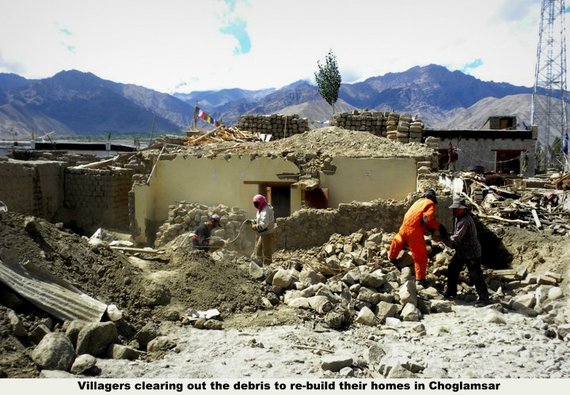 My biggest fear while digging mud in these houses was finding a dead body. Thank God, it didn't happen. The floods had claimed over 255 lives.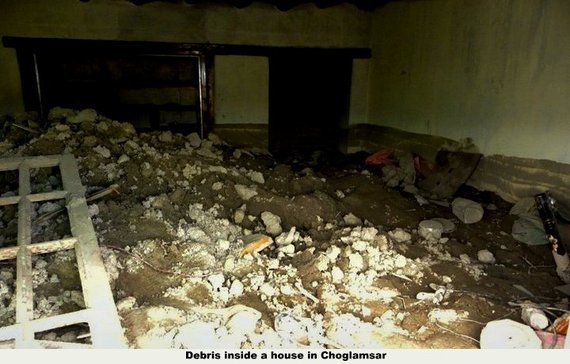 Every story of every survivor would send a shiver down my spine. Some of them questioned why God did this to them, some thanked Him for saving their lives.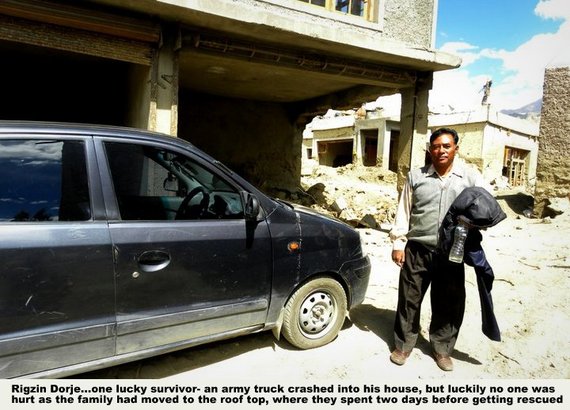 The strength of these people was in their spirit of togetherness; they were all helping each other in the best way possible. I spent a few days with the locals of Choglamsar village. Every morning the work would start with the rising sun and would go on till dusk, and then all of us would go to our respective night shelters.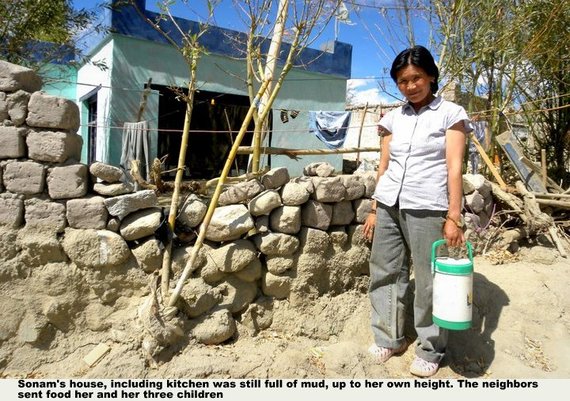 Rebuilding the future
Away from Leh town, a small school in the village of Saspochey was damaged by the cloudburst, leaving the little kids without their daily classes.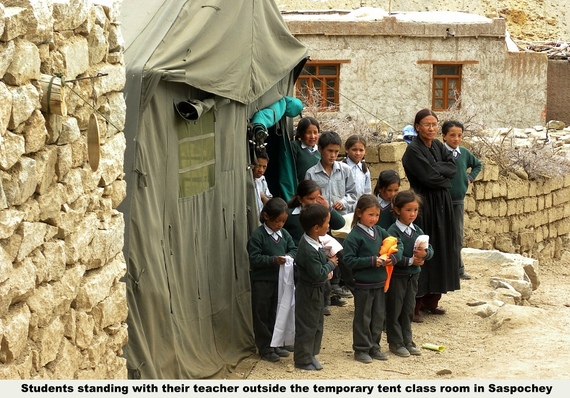 To contend with this, the classes were combined and temporary tents were built up for the students to study.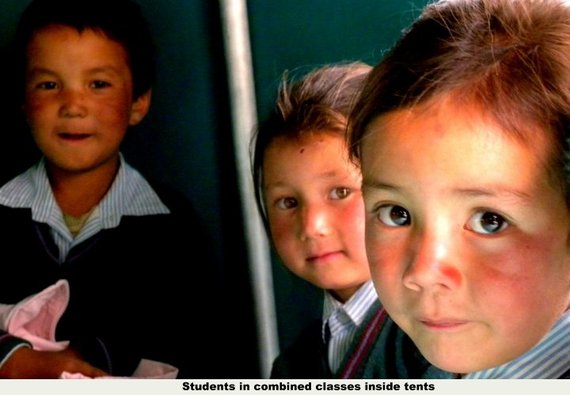 The Snow Leopard Conservancy India was helping Saspochey and many other villages in the aftermath of the floods. I joined them as volunteer on one of their trips to Saspochey. Apart from giving funds to the school, they also provided the students with books and stationery, warm clothes and chocolates collected from donors.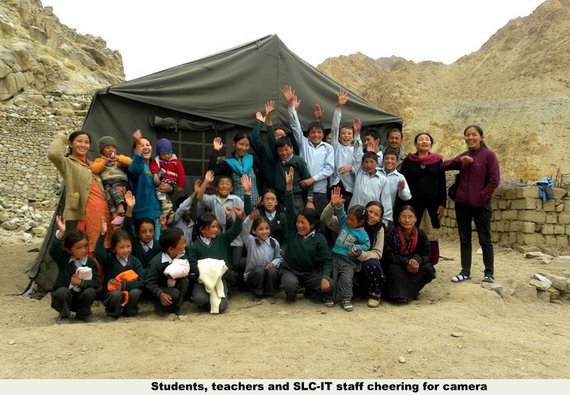 In prayers and faith
On Leh-Manali highway in Choglamsar, there is a long prayer wall with a large flat top where stones with mantras scribbled on them are kept in the open. A major portion of this old wall, called Zanak Manay, was also damaged and washed away with the flash floods. For faithful Ladakhi Buddhists, these prayer walls are as important as their own houses.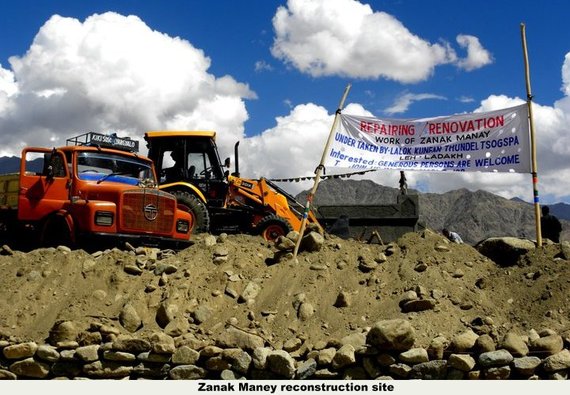 Most of the lucky ones whose homes were left undamaged by the cloudburst came to rebuild the prayer wall.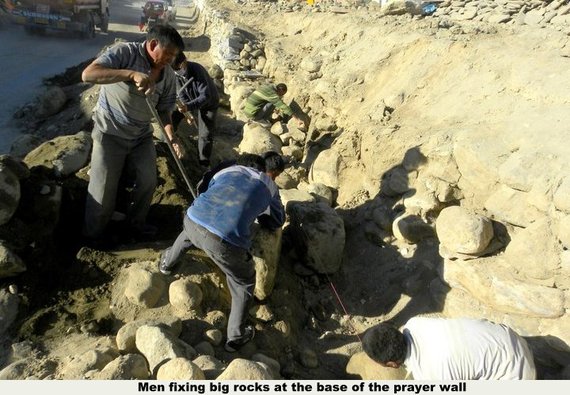 They belonged to all age groups and this was their way to pray and offer their thanks to God. The men would build the base of the wall with big stones and the women and the older men worked on the top layer of the structure. The women always sang local songs while working -- songs of prayers.
While at the base, whenever we had to pick up and shift a heavy rock, one man would call out "chik, nis" and all joined him with "sum". I also echoed with them without even knowing what I was saying. When I asked them what it meant, they first laughed and then explained it to me that it was a cue to put in all our efforts at the same time to move the rock -- it was the equivalent of "one, two...three."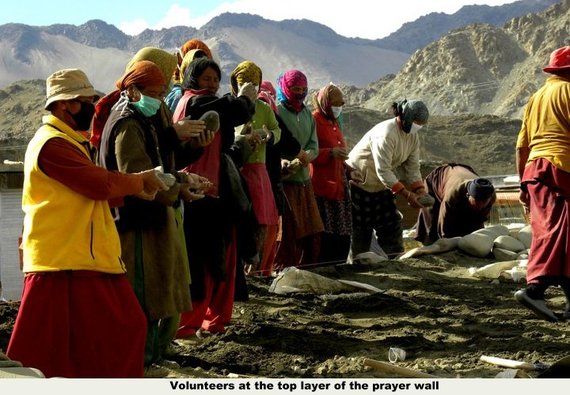 Stanzin, a Ladakhi student at Jammu University, came back home to help. He was the youngest one in the group of people working on Zanak Manay. I asked him if he was missing his classes at the university. He said "I couldn't stop myself from coming here after knowing my homeland got devastated by the cloudburst. I wasn't able to focus on studies. Here, I spend a few hours helping people and then study later in the day for few hours." I could totally relate to Stanzin.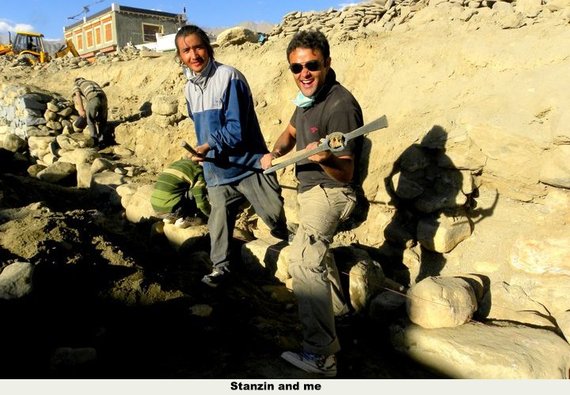 Almost everyone in Ladakh got affected by the cloudburst in some way or the other. And each one wanted to lend a helping hand in getting life back to normal in Ladakh. Every day, a group of locals would arrange meals for the people working on Zanak Manay.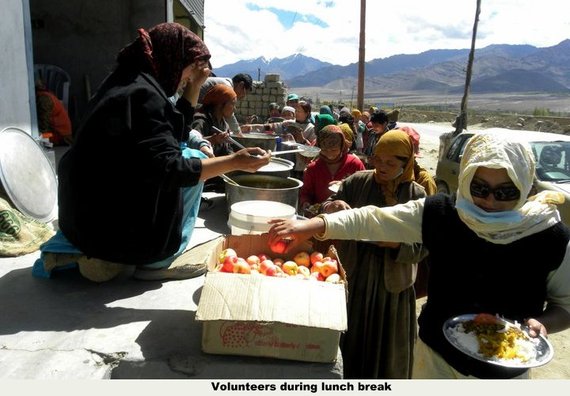 Lessons learnt
I spent a couple of weeks visiting flood-affected sites in Ladakh during my first ever visit to the mystic land. But it wasn't the last. Ladakh moved me and made me its own, forcing me to keep returning. It's been more than five years since the worst tragedy Ladakh has ever faced. But, I wonder if we have learnt anything from it. My heart bled when 100-year-old trees were uprooted from Leh town bazaar in the name of road widening. In five years, the number of cars in Ladakh has gone up by eight times, most of the houses in Leh town are converted into hotels and homestays, the glacier is melting at a much higher rate. Climate change is altering the landscape of the Himalayas. Subsequent floods and cloudbursts in Kashmir, Uttarakhand and Himachal Pradesh are reminders that we need to act, and act now.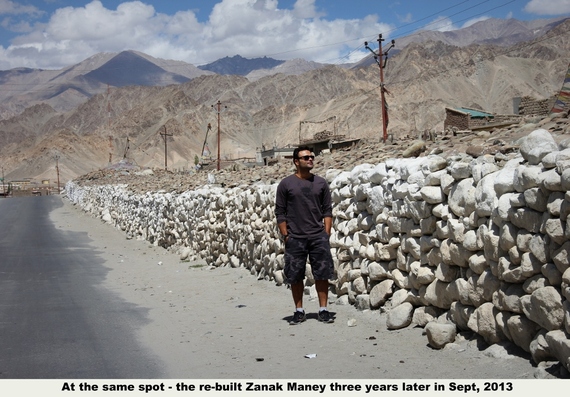 Like Us On Facebook |

Follow Us On Twitter |

Contact HuffPost India

Also see on HuffPost: