Yoann JEZEQUEL Photography via Getty Images
The sun goes with us wherever we Indians go - or at least I proved this to be right on my recent trip to Copenhagen. Till a few days ago I was staring at the Accuweather symbols of cloud and rain casting their shadow over my dates. I had packed long sleeved shirts, a wind cheater and a fleece. And here I am sitting in an open boat, sailing down the canal at New Harbour (Nyhavn), with the hot sun beating down on my head (thank god for my glares) and watching the Danes rejoice at the first day of sunshine in 2015. How momentous was that!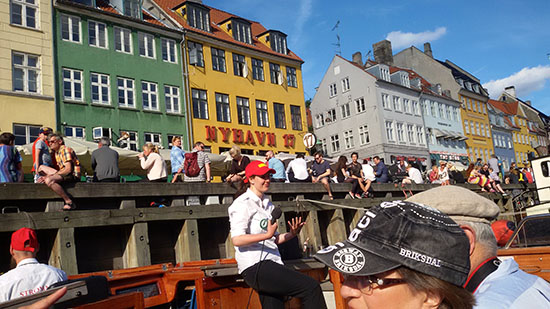 The city's entire population was out at the harbor (didn't they work? Yes, they did, but they had a perfect work-life balance, as I'd read - making them the happiest people in the world). Office-goers, students, parents with kids and old people were all sitting along the canals, beer or coffee in hand, munching at their polse hot dogs or whatever the Danes savoured on a sunny day. The red, blue, yellow, green and, even, mauve houses glided past my boat, and I squinted at the dates over their doorways - 1890, 1767 - immaculately kept homes and offices of normal people. Everyone is exclaiming about the modern Copenhagen architecture now-a-days. But give me ancient houses kept so well, any day. I think the locals might be taking them for granted, and they should be mightily proud of their heritage.
The next day I enjoy more sun worshipping at the Town Hall Square (Rhaduspladsen to the locals). Its enormous expanse is buzzing with people in sleeveless T-shirts, shorts and miniskirts. I feel like a nun in my full-sleeved kurta and jeans, but Accuweather is to blame. In the 1880s a competition was held for the best design of the city hall, and a young, unknown architect called Martin Nyrop won it for his red-brick turreted building inspired by Italian Renaissance style. I nod at Hans Christian Andersen who sits, larger than life, looking broodingly over the square. Did he ever know that his beautiful fairy tales would be read across every nook and corner of the world?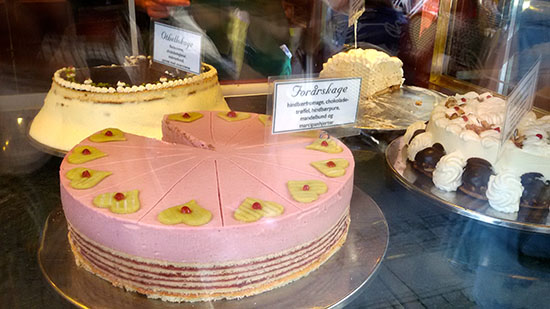 From here, I walk down Stroget, one of Europe's longest pedestrian shopping avenues. Wherever there is a café, there are benches outside with people drinking in the sun, along with their cold coffees, milk shakes and juices. The big brands beckon - Prada, Max Mara, Gucci, Louis Vuitton, H&M. And there is also the Lego flagship store, reminding you that the colourful building blocks were first created in Denmark in 1932, in wood. At a busy corner is the famous bakery La Glace (1870) and I pop in for a sinful slice of layered cake. My choice is Othello Cake with a macaron base, piled high with custard, chocolate icing, and butter cream. To diet or not to diet? No, that's a question Hamlet asked, not Othello, and his Kronborg Castle is a tourism highlight I shall go to see later.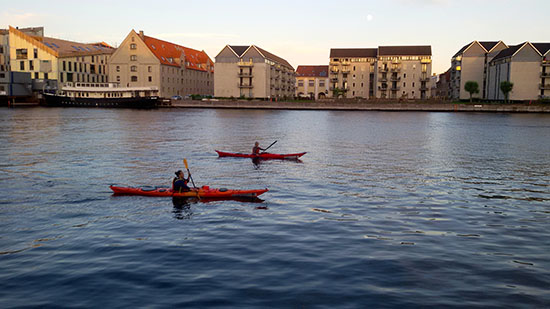 My happy day continues into the night - literally, since the sun doesn't set till midnight in summer. I've been a child at Tivoli Gardens, the world's oldest amusement park. I've waved at the Hans Christian Andersen puppets as I've flown past them in a magic trunk, I've shrieked while riding on the oldest roller coaster in history, I've eaten candy floss and ice cream, and am now thinking of getting back into my adult shell. I walk into The Standard - a cool retro venue that houses four restaurants and was once the ferry point to go to Sweden and Norway. I chose The Verandah, because I want to check out Indian food in Copenhagen, and go for a whiskey sour spiced up with ginger, and amazingly fresh Amitsari prawns, lightly coated in subtle spice. The harbor-side view is beautiful here, and people are enjoying the daylight at 11 pm. A couple of kayaks sail past with energetic rowers, and the golden evening sun glints in the rippling water. I can walk back to my hotel in Vesterbro from here. This central area was once a meat-packing zone and slightly disreputable for its red light on-goings. But now, it's the hip place to be in, with boutique hotels, new age restaurants and bars.
On my last day at Copenhagen, I decide to go to the sea side. I visit the Viking Museum at Roskilde where five original wooden ships have been restored and put on display. I even sail on a re-created Viking boat, which goes rapidly into the sea once the flapping sail is unfurled. Once I'm rowed safely back, I sit in the open-air café and eat Viking food - a variety on cured meats and fish on a plank. Need I tell you the sun is roasting me to a crisp, and I never thought of carrying sun block to a cold Scandinavian country!
From here I go to the little village called Hundested where there's an ice cream shop voted Denmark's best. My waffle cone is piled high with nougat and rich chocolate flavour ice cream, and layered with fluffy raspberry cream and marshmallows. A stream of customers walks into the quaint shop, mostly families out to enjoy the summer holidays with their children. On to the beach next, where I feel out of place again for being over-clad. Everyone is in shorts and bikinis, and enjoying a dip in the crisp, cold water, or sunning themselves on the sand. The sheer pleasure of basking in the sun - especially since it's compressed into a short span of two months in July and August. Summer is indeed the best time to visit Copenhagen, there's such an air of celebration around, which even a snowy white Christmas could not beat.
Like Us On Facebook |

Follow Us On Twitter |

Contact HuffPost India