Savi and Vid
I'm sitting facing a glistening pond as I jot these words in my travel journal. Beyond the pond is a rustic bamboo shack with dozens of bright cushions adorning the floor. Native Baul singers from Calcutta are regaling travellers from around the world with songs that speak of the futility of social conditioning and the infinite circle of life and death.
I came to spend a day at Zorba The Buddha on the suggestion of a friend. Two weeks later, I still haven't left the premises. Such is the allure of the place. It fascinates, tempts, and finally seduces till it becomes impossible to turn your back to it.
I'm glad I'm not the only one who feels like that. This is Asia's largest spiritual retreat and it has cast its spell on many a traveller! Yesterday, I met Katie, she's from Canada and knee-deep into spirituality. She came to attend a yoga workshop at Zorba with her Danish husband Ditlev. Three months later, they're still here. Now they're a part of Zorba's team--they volunteer at the office and stay on site.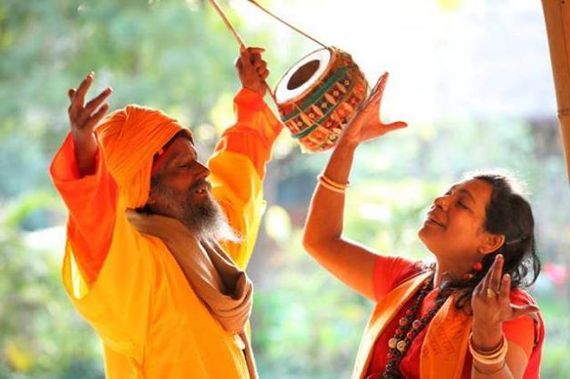 Baul Singers at Zorba The Buddha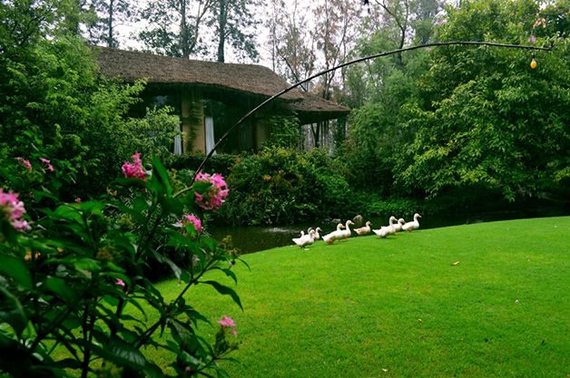 A peaceful retreat in Delhi
If you're a free-spirited soul, Zorba The Buddha is the place for you. Its visionary director, Ashwin Bharti, thinks of Zorba as a cultural village where 'people from all walks of life come to find peace, creative expression, and freedom'. The three-acre farm provides a cosmopolitan free space where social mores and conventions don't mean a thing--everyone follows their heart and happiness just seems to follow suit. Workshops range from sufi evenings to three-day Shamanic retreats and six-day dance festivals. All activities, irrespective of the medium, stress on emotional wellness and happiness.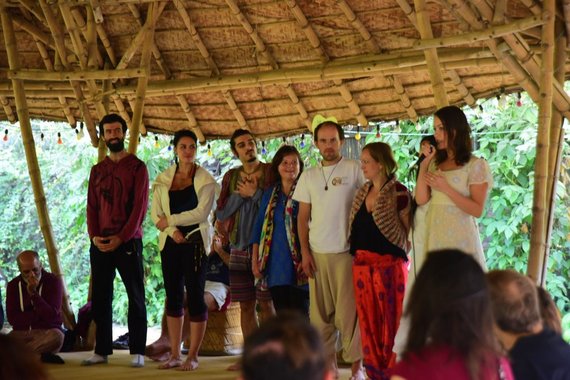 Workshop in progress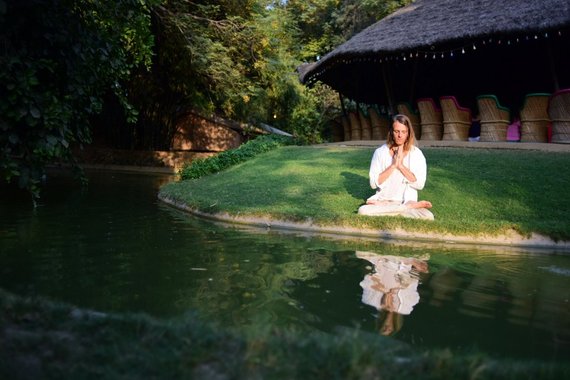 Zorba The Buddha
So far, I've sampled everything I possibly could during my time here. I've been mesmerised by swirling Sufi dervishes, Spanish Yogis, and Indian healers. But it's the meals that have been the highlight of my fortnight--food here is organic, simple, and scrumptious. But it is the ritual of eating that is special. Everyone--guests, visitors, staff, and volunteers--eat together. The area is mobile free and guests are taught to savour each mouthful, linger over meals, and communicate. Osho talks about revelling in worldly pleasures and at Zorba The Buddha everyone seems to stand by his teachings. There are mmms and aahs after every bite!
I first walked into Zorba The Buddha during one such meal. A dozen people were huddled around a bonfire on a cold winter evening in Delhi. As I made my way towards the group of strangers, I could hear giggles and laughter. I plonked myself tentatively on the last available chair. Within minutes, I was exchanging tales with these people. In fact, I felt like I had known them for ages. Dinner was supposed to be an hour-long affair (7pm--8pm) but we kept topping the bonfire and snuggling deeper into our seats. Four hours and a dozen warm hugs later, it was time to call it a night but I knew I'd fallen irrevocably in love.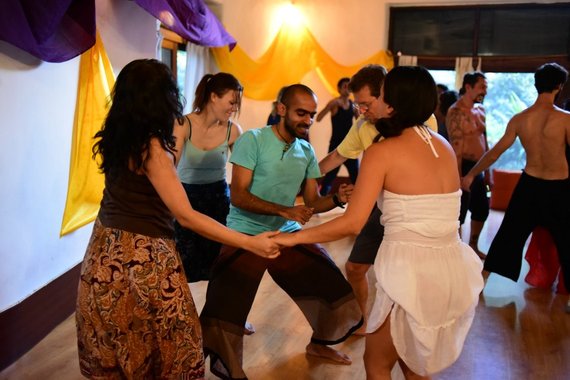 Dance Festival At Zorba The Buddha
I've travelled far and wide but I've never met so many like-minded people in one place. I grew up in New Delhi--questioning deep-rooted patriarchal and social practices at every step. For as long as I can remember, I've been exasperated at the way people around me accept convention without so much as a question. At Zorba The Buddha, I finally feel at peace.
There are a variety of workshops and retreats available at Zorba The Buddha. More information on their website http://zorbathebuddha.org/.
This article was first published on www.bruisedpassports.com