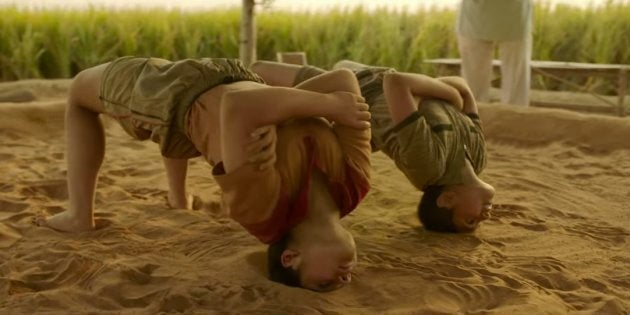 Salman Khan, 1988: Maine Pyaar Kiya; 2016: Sultan.
Shah Rukh Khan, 1992: Dewaana; 2016: Fan.
Aamir Khan, 1988: Qayamat Se Qayamat Tak; 2016: Dangal.
It is not every day that angry activists, fierce feminists and general rebels with or without causes can unabashedly express their love for bourgeois cinema culture and millionaire film stars. But I can do that every time Aamir Khan returns. Back in the days of teenage crushes and stereotypical heteronormative ideas of romance, I fell in love with Aamir Khan's charm from the very first scene of QSQT. He had me at the "Papa Kehete Hai" turn-and-look-at-the-camera moment.
Like love, loyalty too should ideally be unconditional, and so was mine, even though it was quite a soul-crushing experience to survive disasters such as Tum Mere Ho, Love Love Love, Isi Ka Naam Zindagi and more through the 90s.
A father training his daughters to win sports medals may not be a revolutionary idea everywhere, but it is one in a state like Haryana.
A decent human should have by now come of age and got over the Bollywood fandom and perhaps focused on real men, the comrade in the next dorm or hostel. But me, I was still stuck on Aamir Khan. It was embarrassing, when in law college canteens people asked me who my favourite actor was, and instead of saying something like an Om Puri or Balraj Sahni or Godard, I would like an idiot say Aamir Khan. And everybody in the group would then roll their eyes.
But you know what? My loyalty has been vindicated, because with time Aamir Khan evolved. He came of age. I no longer had to disavow my fondness for him. Imagine if I'd been captured by Salman Khan or Shah Rukh Khan. After three decades, they are still sighted in films like Kick and Happy New Year. What utter embarrassment.
Aamir Khan on the other hand has made me immensely proud with the choices he has made as an actor, director and producer. With films like Taare Zameen Par, Lagaan, Peepli Live his Aamir Khan Productions has single-handedly changed the course of Hindi cinema. His collaborations with Rajkumar Hirani, giving us 3 Idiots (2009) and PK (2014), have put a dent in, if not altered Indian youth culture.
Then there is his Satyamev Jayate, a show once again made the great Indian joint family come together in front of the TV on a Sunday morning, decades after the last episode of BR Chopra's Mahabharata was aired. The show brought change-makers, leaders and storytellers to the limelight, it grappled with patriarchy, homosexuality, female foeticide, child sexual abuse—bang in the middle of sanskari drawing rooms. It raised funds and provided support to several organizations.
One would have thought there are no more surprises, but here comes Dangal from Aamir Khan Productions. The first look at the film's poster, released in July this year, had already got feminists talking about the important message it gave out about women in short hair. Now the film's trailer is out and it takes things a notch higher. It does what is most important in the story of Mahavir Singh Phogat—gets the context right. A father training his daughters to win sports medals may not be a revolutionary idea everywhere, but it is one in a state like Haryana.
The trailer opens with the sullen face of a Haryanvi patriarch disappointed for the fourth time with the birth of a girl child. Haryana is a state where the sex ratio is one of India's worst with only 879 women per 1000 males. Female foeticide and infanticide are rampant. Some parts of Haryana have even officially run out of women so bride shopping is a hot business in the state. And because you must utilize a good purchase to its full capacity, the brides who are being bought are being used by all men in the family for sexual exploitation. The film Matrubhoomi (2003) depicts this state of affairs well.
The message is clear—honour and pride are not situated in the sexual organs.
In such a Haryana village, wrestler Mahavir Singh Phogat dreams that one day his son will do what he couldn't—win a gold medal in wrestling. Except that he and his wife can't beget a son. It isn't until his daughters pick up fights with boys for calling them bitch and slut that it occurs to him that a gold medal is a gold medal whether it is won by a son or daughter. The message is clear—honour and pride are not situated in the sexual organs. A medal is a medal, and anyone who brings one becomes a legend. And so they did. Geeta and Babita, daughters of Mahavir Phogat, India's first female wrestlers, created history at the 2010 Commonwealth Games, winning gold and silver medals respectively.
Their story is one of true courage and inspiration. I hope that the film, which is due for release on 23 December, does it justice and makes a strong argument against the gender discrimination plaguing Haryana.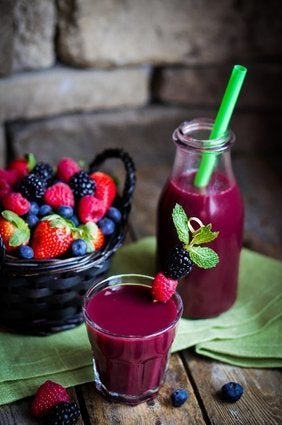 Refreshing Green Tea Drink Recipes