Sanchita Ajjampur
Just recently I attended the ongoing Kochi-Muziris Biennale - as a designer, I make it a point to visit such events for inspiration. It is important to have a finger on the pulse of what is happening in other forms of artistic and cultural expression, and not just fashion. After all what happens socially and the latest advances in science and technology invariably impact art, literature, culture and fashion.
It was exciting to be able to see so much, even though some of the artists' works were not up while I was there, including Anish Kapoor and Ho Rui An. Of the many interesting projects from Indian and international artists, there were three works that struck a chord with me.
Adrian Paci's "The Column" was an extraordinary HD video projection, a dialogue-free film full of profound poetic messages reflecting on the paradoxes of our times, which captivated my attention deeply. It is often difficult to keep a viewer's attention for a silent film that falls in the documentary and artistic genre. However, Paci, in my view, has pulled it off by creating a balance between the unusual storyline, visually rich and yet stark imagery imbued with a fairytale quality. Paci's video is emotionally moving, painterly and strikingly simple.
This film is about a group of Chinese stone masons who carve a commissioned column out of a marble block on the very boat of their voyage to deliver at the destination. The process for producing and delivering a classical Grecian column "Made in China" perfectly describes the modern business paradigm that advocates streamlined efficiency by merging shipping and production times for better profitability, which Paci says is "simultaneously sick and fabulous".
This aspect of globalisation is very pervasive in the world of fashion too -- right from raw materials like silk being produced in one part of the world, certain accessories like buttons in another, creative design and assembly somewhere else.
The video takes a critical look at the way many define culture and identity by geographical location. How relevant and productive is it in an increasingly globalised world to continue to A B C culture and identity as separate and confined? Are there other ways of understanding and representing people's experience of culture and identity?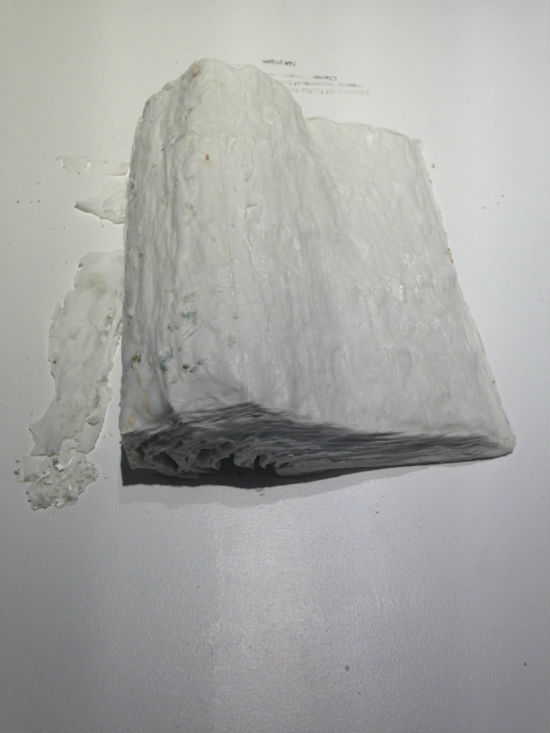 Phenomenon of Times, Annie Lai Kuen Wan
I was entranced by "Phenomenon of Times" by Annie Lai Kuen Wan. It comprised a presentation of several books in white porcelain clay accompanied by a video showing how she created these.
The artist had taken the original history books of the nine-volume History of India by Romesh C Dutt, ritualistically brushing every page with white clay, turning each one over with loving care, sealing it down firmly, and then on to the next. She then fired each clay-coated book until the paper burned away, leaving behind the ceramic shell, erasing the often narrated history of the past into oblivion.
All that remains are pristine white models of empty clay books, glaringly present and still in the moment. These books were not just books; they reflected the unbearable "lightness or nothingness of time" and were receptacles of linear narratives through which humanity validated its existence.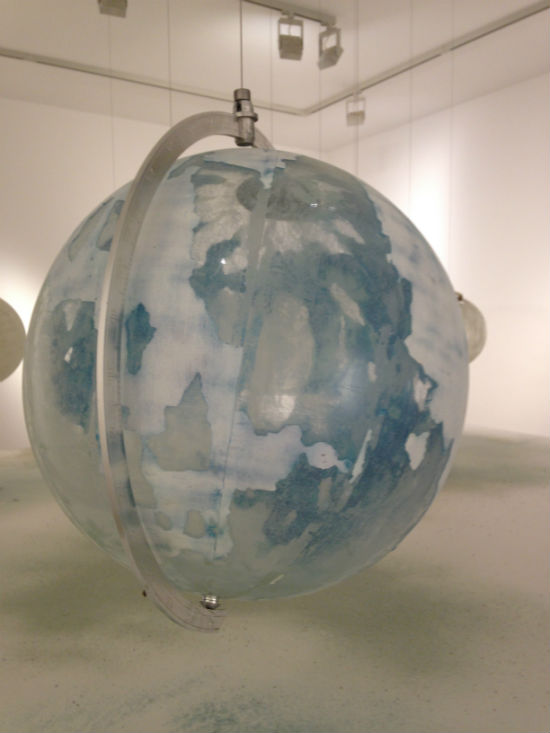 We Are All Astronauts, Julien Charrière
I found Julien Charrière's work called "We Are All Astronauts" particularly appealing from several perspectives: the creative process as well as the artistic interpretation of abstract ideas which culminate in a dramatic and visually pleasing 3D structural representation.
The artist had taken mineral samples collected from all recognised nations of the world to make 'international sandpaper'. He also scoured the world, unearthing 13 globes manufactured between 1890 and 2011, which he then scuffed with this international sandpaper, smoothing and blurring signs of land, national boundaries, and sea.
These smooth spheres floating over a board, collecting the fine dust of the sanded surfaces, evoke the notion of erosion and constant reshaping of the world as we know it over time -- be it through nature or globalisation. Charrière's exploration of the ephemeral nature of time and space is expressed in this impermanence.