Eric.Parker/Flickr
This essay is the second part of a three part series on my experiences as a PhD researcher studying the governance of urban water-bodies in Bangalore, India. The first part which was published on the 20th of January, 2016 can be read here.
****
A week or so ago, I had begun this essay by listing out five different reasons on why I believe that that the life of a field researcher is similar to that of an itinerant mendicant. I had ended my write-up with the observation that like itinerant mendicants, who use a set of handy tools to go about their daily lives, field researchers too use a set of handy tools, to go about doing their daily research.
While the nature of the tools could vary, the functions that these tools perform in the lives of the itinerant mendicants, is remarkably similar to those performed in the lives of field researchers.
Today, I shall elaborate on these tools!
Too sacks
The day's journey cannot begin without a careful examination of whether the tool-sack will withstand the wear-and-tear of another rough day. These tool-sacks can be really fancy -- they can be made of bamboo and can be designed to carry goods in multiple layers so that the process of extraction of goods from the tool-sack is fast and efficient (Image 1c). Or they can be relatively uncomplicated in design -- taking the form of a back-pack (Image 1b) or a side-pack (Image 1a).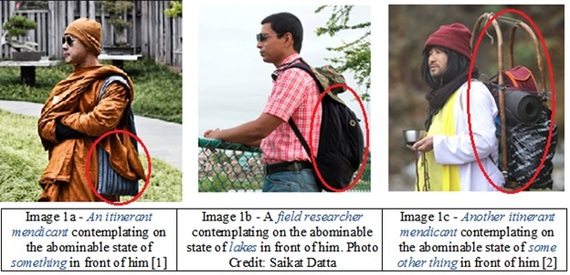 Head gear
Itinerant mendicants as well as field researchers have to travel far and wide -- through the sun and the rain or through snow and ice and through dust and light; it is therefore natural that they use a wide-brimmed hat to protect their faces (Image 1b) from sun-burn or use a slouchy beanie to protect their ears (Image 1a & 1c) from frost-bite. Some field researchers also carry umbrellas with them.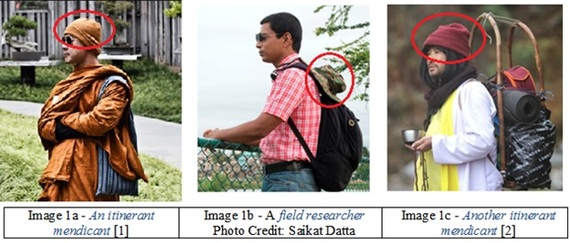 Sunglasses
These are necessary but they are not mandatory. Some itinerant mendicants prefer fancy Ray-Ban glasses (Image 1a); field-researchers, on the other hand, benefit from the use of clip-on lenses (Images 1b & 2) -- especially if the researcher is also a budding photographer . Clip-on lenses allow him to switch from a black-and-white view of the world to a more vibrant one with a single flip of his fingers. The field researcher doesn't have to repeatedly remove the Ray-Ban sunglasses from the tip of the nose to the top of his forehead or to the safety of the chest-pocket; clip-on lenses comes in handy in situations when time is a premium and the loss of a few seconds could result in the loss of a few hundred likes on Facebook.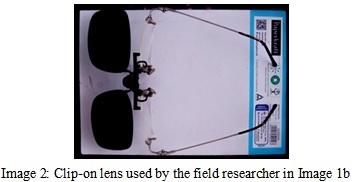 Cameras
It is important to keep in mind though that the photography aspect is one area where the lives of itinerant mendicants differ from those of field researchers. Itinerant mendicants rarely carry a camera with them; a camera is, however, a must-have for a field researcher. Cameras serve multiple purposes in his life -- they are handy note-taking devices (a photograph is, after all, worth a million words), they enliven conference presentations, serve as useful memory aids for the day-end journals, and also prepare the field researcher for an alternate career as a producer of coffee-table photo-books, in case that tenure does not come through. Most importantly, cameras come in handy in the archives or when the researcher is meeting a whistleblower and there is no photocopier near-by -- click-click-click and in no time, he has all the data needed for that pesky dissertation. If the field researcher desires a lot of likes on Facebook, he should without hesitation purchase a DSLR camera (Image 3a). However, if his main goal is to use the camera as a photo-copier, a point-&-shoot (Image 3b) is just fine. Most field researchers carry both types - in such cases, the point-&-shoot often serves as a backup for the DSLR camera.

Charitable donations
Charity is a way of life for both itinerant mendicants as well as field researchers -- survival depends on the goodwill of others. As explained earlier, field researchers as well as itinerant mendicants depend completely on charitable donations for survival -- for itinerant mendicants, these charitable donations can be in the form of cash or kind; whereas for field researchers, charitable donations are in the form of one-and-a-half hour interviews with requests for more. Thus, another tool which both itinerant mendicants as well as field researchers frequently use is the begging bowl (Image 1c).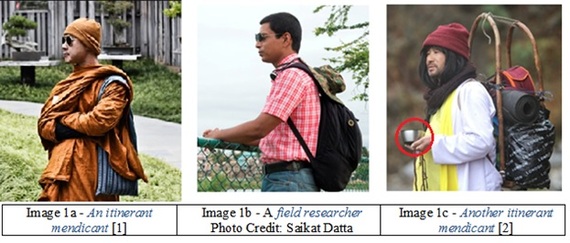 Field researchers however appear to be more technology savvy as compared to itinerant mendicants - they use an electronic voice recorder (Image 4a) to go about their daily charity collection needs.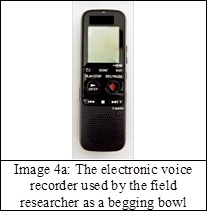 I shall conclude this essay next week by elaborating further on the tech-savviness of itinerant mendicants vis-à-vis that of field researchers.
... to be continued...
Footnotes:
[1] "Robes and Ray-Bans", https://www.flickr.com/photos/freid/5759365958/, accessed on the 15th of December, 2015
[2] "The wandering Tsampa from Mongaar", https://3.bp.blogspot.com/-1K1W-hOKjTE/VHPiM2pnrQI/AAAAAAAAGbA/Mo16H17saHw/s1600/Gomchen%2B1.jpg, accessed on the 14th of December, 2015
Like Us On Facebook |

Follow Us On Twitter |

Contact HuffPost India

Also see on HuffPost: