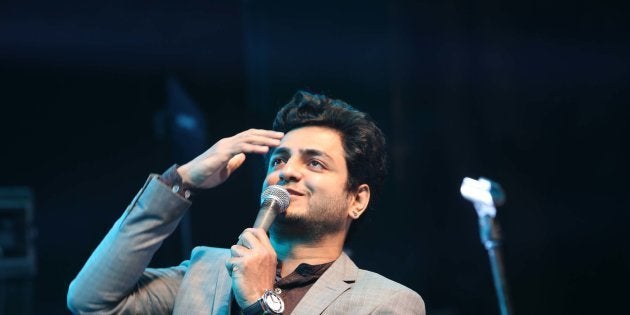 Like most things in life, 'comedy' too has a dichotomy about it, especially if one were to look at the comedy scene across India. Over the past few years, the growth of 'stand up' comedy in the Indian entertainment landscape has been exponential. If one were to take a closer look, the Indian stand-up comedy is a bifurcated entity, patronized by two contrasting styles that have managed to co-exist so far while catering for the classes and strata that underline the diverse Indian populace.
It all started almost a decade ago with the hugely popular TV show 'The Great Indian Laughter Challenge', a show that provided a much-needed alternative for those Indian viewers who had been left brain dead by mindless TV serials. It was the show that presented Kapil Sharma to India and Indian viewers. Many other stand-up comedy shows ensued across various channels at that time, hoping to cash in on the new-found popularity of this genre. They gave us other comedians such as Krushna, Sudesh, Rajiv, VIP, and many others, making them household names. It all culminated in Sharma climbing his way to the pinnacle of the Indian TV scene and making it his own with his hugely popular show 'Comedy Nights with Kapil' and the re-branded 'The Kapil Sharma Show' that followed.
However, all these stand-up comedy offerings on Indian TV were crafted to rake in the masses and therefore remained unashamedly loud, slap-stick, and partly offensive. They catered to a prime-time Indian audience that merely wanted to laugh out loud at the end of a hectic day. Hence, the quality of comic content for most of these shows remained extremely pedestrian, often restricted to caricatures, and mimicry.
Herein, emerged a parallel offshoot of this fast evolving Indian comedy topography that set out to woo the urban audiences who craved comedy that was intelligent, quirky, and culturally relevant. Indians in urban centers started to flock to pubs, and restaurants on Friday nights and week-ends to be tickled by a more meaningful brand of comedy than was being offered by the TV outlets. In no time, people like Amit Tandon, Zakir Khan, Vir Das, the AIB collective, Aditi Mittal and many others became hugely popular as they served a potent dose of stand-up comedy that had the urban Indians in stitches.
These new bunch of Indian stand-up comics are not everyone's cup of tea in India. Their comedy is irreverent towards the conservative social fabric of India and hence appeals to the more liberal-minded urbanites. They nudge the boundaries of political correctness in a country that is saturated to it brims with sycophancy, and in doing so (knowingly or unknowingly) are contributing in shaping up the new moral and cultural spine of Indian metros.
Lacking a main stream TV platform, this parallel stand-up comedy phenomenon out of India found an effective medium in YouTube to reach out to the global Indian diaspora. These guys are all getting increasingly popular with their audiences and their craft is on the cusp of flourishing with more and more of them notching up high profile stand-up comedy gigs both in India and overseas.
So while the Kapil Sharmas of India are lapping up the glory by playing to the masses who prefer a dumbed down version of comedy that is not prickly enough to puncture their fragile egos and value systems, there is a young breed of 'thinking' comedians who take to the microphone in half-lit venues every weekend and take the 'mickey' out of the Indian way of living while being cheered on by their audiences.
This alternative brand of comedy emerging out of India is in fact more aligned to 'stand-up' comedy in its purest form than the trash that is dished up each night through a multitude of comedy shows on Indian TV.
So I wish these stand-up comics of the parallel cadre all the very best and I cross my fingers and hope that their surge is not stalled by greedy Indian TV executives who are forever keen to bastardize a good thing and suck the life out of it.