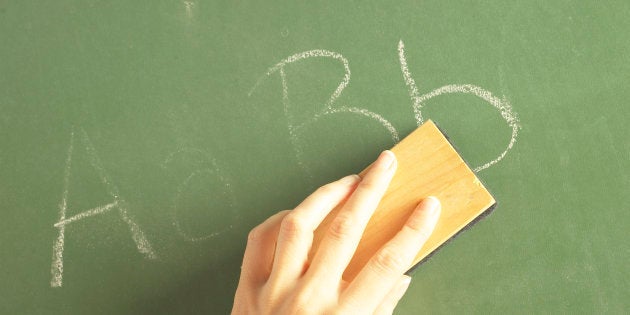 One of the most belittling comments about teachers, unfortunately with more than an iota of truth in it, was made by famous Irish polemicist George Bernard Shaw. To paraphrase: "Those who can, do. Those who can't, teach." In India, where education, from the primary to higher levels, is in shambles, with minuscule islands of excellence, a lot of people find great truth in Shaw's words. Yet, however criminal it may be for a teacher to be absent, vengeful, incompetent and callous, the buck actually does not stop at him or her alone. The entire education ecosystem is to take the blame and thus it is there where the change has to come about.
The inadequate, limited and outdated training facilities provided by the State resulted in a glut of untrained teachers...
In the Handbook of Educational Ideas and Practices, Krishna Kumar traces the history of how two phenomena at the turn of 19 century determined how the teacher came to be in society. Firstly the teacher was a "powerless subordinate within his own profession" above who stood the "rank and file of a bureaucracy". Secondly, the low salary and "unspecialized image" marked the low status of teaching when compared with other professions in the colonial era. The inadequate, limited and outdated training facilities provided by the State resulted in a glut of untrained teachers, which is a problem that the education system in India continues to grapple with.
More than a lakh schools (1,05,630 to be precise) in India have only one teacher, as reported by the MHRD recently. Faculty vacancies are at a staggering 50% in IIT Jodhpur and IIT-BHU, and more than 40% in IIT-Kharagpur and IIT-Roorkee. India has ranked second last among the 73 countries that participated in the Programme for International Student Assessment (PISA). A study early this year evaluated 1.5 lakh engineering graduates across 650 colleges to show that a whopping 80% of graduates are unemployable. This is a quick testament to the sorry state of primary, secondary and higher education in India.
Committees, several of them, eminent educationists, education researchers have all made numerous suggestions to repair the pathetic state of affairs, yet it seems more is never enough for the education mandarins in New Delhi. As a teacher for nearly eight years in a medical school, I would suggest a few measures, which I have termed STAFF.
Search
The entry of faculty members in any level of education needs to be controlled. Standard exams, which can be cleared with a year of "coaching", do not produce good teachers. Systems needs to be devised and placed which test a candidate for competence in all three domains of teaching and learning -- knowledge, skills and attitude. It is imperative that all three domains are given equal importance.
However competent a teacher may be, however well trained she might be... the room to innovate in teaching-learning or execute out-of-the-box ideas does not exist.
Train
The appointment of a teacher is only half the job done. According to the MHRD there are about 4.5 lakh untrained teachers; it imparted training to mere 19.2% teachers by 2013-14. There has to be more training provided, and by competent people, to teachers. The training has to be more frequent and has to be taken to local levels in order for it not to be seen as a burden, as often is the case. If the State lacks the mechanism and resources it should encourage individuals and groups to take the mantle.
Autonomy
However competent a teacher may be, however well trained she might be, in the current state of affairs the room to innovate in teaching-learning or execute out-of-the-box ideas does not exist. Greater autonomy needs to be given to institutions, percolating right up to the individual teacher, so that she functions better. Autonomy should also free the teacher, usually a government servant, from duties in census, election, etc. These do not fill the mandate of "social responsibilities."
Feedback
For any system to function effectively, continuous feedback needs to be received. A feedback mechanism needs to be built in. While a few such mechanisms exist, they are either cumbersome or most commonly end up nowhere. For change to be brought about, New Delhi or state capitals need to have their ears on the ground and respond adequately. Merely generating feedback and publishing it in voluminous annual reports doesn't help the cause.
Funding
Indian governments do not care for two major priority areas -- education and health. The global weighted average for government spending in education is 4.8% of GDP. India has been spending 3.5% for one and a half decades now. For all the above listed measures to succeed -- be it robust selection procedures, effective training, providing financial autonomy or making amends post-feedback -- increased government spending, which carries huge positive externalities, is a must.
Contrary to popular belief and convenient labelling, there are millions of teachers who wake up very early each morning to travel long and arduous distances to teach, and teach well, for a paltry salary that they receive at the end of the month. There are millions of teachers who take so strongly to their calling that they fulfill the roles of parents and beyond for their students. There are thousands of teachers who adapt to new technology and are constantly endeavouring to be more effective – the only returns they seek are the wide-eyed smiles of their students. They are the harbingers of change, of good education.
In fact, lot of change is taking place in education in India, but in isolated pockets. Individuals and small groups are spearheading this change. But it needs scaling up which is not possible without a willing and motivated government. With half of India's 1.2 billion people below 25 years of age, education will be the single most important determinant of its success as a nation. It needs to be seen if those calling the shots will respond to this challenge.