From a culinary perspective, Bengaluru is quite the city to be in. It embraces international trends and innovations in cuisine while also remaining true to its roots and evidence of both are visible in the numerous food festivals hosted in the city.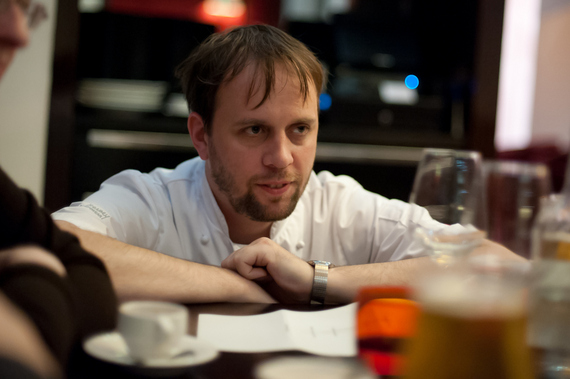 Mark Poynton, chef patron, Alimentum, Cambridge, UK. (Image courtesy: Mark Poynton)
Recently, Mark Poynton, the chef patron of Alimentum in Cambridge UK was in Bengaluru at the ITC Windsor as part of the "Taste of Britain" promotion that was held in association with Curry Life magazine. Alimentum is a Michelin starred restaurant that specializes in modern European food, with a focus on slow cooking techniques. Chef Mark showcased a special menu at Dublin, the pub at ITC Windsor.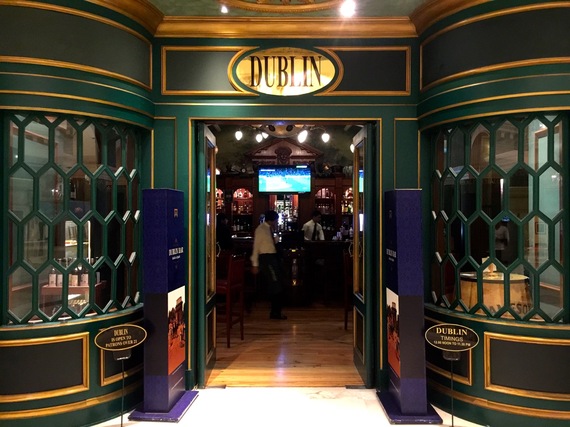 Chef Mark Poynton showcased a signature British "pub grub" menu at Dublin, ITC Windsor, Bengaluru. (Image courtesy: Nitin Kandhari)
At the formal address of the festival, Chef Mark said that the idea was to dispel the notion that British food is bland. "What it is, is light. We think of provenance a lot because we want each ingredient to taste the way it should. Acidity, sweetness, salt... it all comes together for a well-balanced dish."
I managed ask a few exclusive questions that explore what it's like being a Michelin-star chef, his thoughts on modernist cooking and his work to promote "ethical cuisine".
***
What are the expectations in terms of the food experience at your restaurant today, and how do you work on innovating?
Expectations are always pushing us on. We want tomorrow to be better than today and today to be better than yesterday. If we lose sight of this simple ethos we fail as a restaurant. We use this every day to make sure we never stop striving to be the best we can be.
Running a Michelin star kitchen -- what does it mean for the chef in charge?
It's a lot of pressure not just from customers but for yourself and your team. But, we have to remember that without happy guests we can't make profit and those two things are the basis of running a restaurant. If we do that well, then, and only then, will Michelin become relevant in the day-to-day running of the restaurant.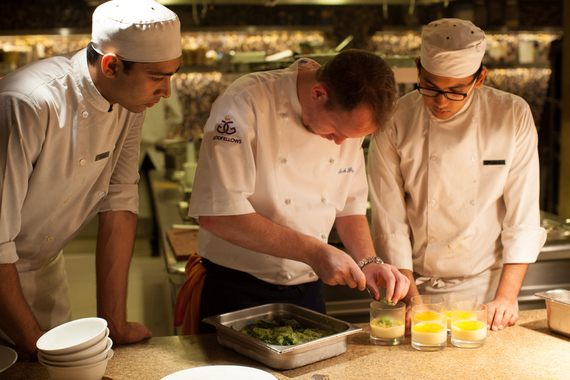 Happy guests make a profitable restaurant believes Chef Mark Poynton. (Image courtesy: Mark Poynton)
What is your take on modernist cooking techniques and their contribution to making food more interesting for the diner?
There is a place for all types of cuisine in the world and modernist cooking is no different. If something helps to produce a better plate of food and dining, it can never be a bad thing... but without the ability to cook in the first place, modern cooking techniques and the like are useless.
Internationally there is a need for more ethical cuisine. How are you doing it with your restaurant and what are your suggestions to restaurants across the globe for a move in the right direction?
Everybody has a part to play and if you are sourcing ethically it will inevitably make your restaurant more sustainable. As chefs we all need to think about what we are buying, where we are buying it from, how it was produced and is it ethical. It is a slow process, but small steps make a massive difference. I urge all chefs to go to the farms they buy from, like I do. Make sure you are happy with the farming procedures being used and check to see how those procedures affect the animals or crops or the environment around us. If we all do this it will be a massive step in the right direction.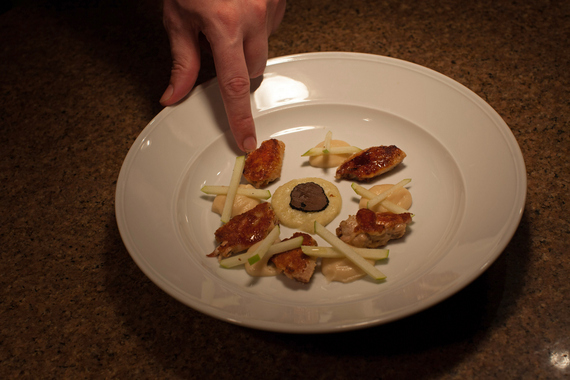 "Ethical cuisine is a slow process but small steps make a massive difference." (Image courtesy: Mark Poynton)
Considering that the inspiration comes from the Indian subcontinent, how is the British curry faring today on the culinary scene?
Well! First of all, we see "curry" as an experience in dining out, not just what the Indian word for curry means (gravy). So, when we say curry it could be biryani or tandoori kebab, not just tikka masala etc. Chefs in England see it slightly differently and we are also trying to make the food lighter, moving away from ghee and replacing it with lighter oils such as coconut, while also making the individual spicing more prominent so you can taste them all in each dish.
You have been in the restaurant business for a while now. How has the modern diner evolved?
Twenty years and it's been a whirlwind, in the UK. We are very lucky, as we have probably the most diverse culture in the world. Customers in the UK are very into provenance and animal welfare, but with this in mind, people are eating out more than ever, which means we as chefs and restaurateurs can carry on investing and pushing boundaries in food and service.
If you had to pick three chefs to work with you in your kitchen who would they be and why?
Daniel Clifford my old boss, the single-most driven chef I have ever met -- he still inspires me now, eight years after I left him. Joël Robuchon, superstar French chef who retired from cooking in the 90s but opened many restaurants since and currently holds 35 Michelin stars across the world. My son Ray who is only six, but questions everything, every minute of the day which is so very inspiring in its own right.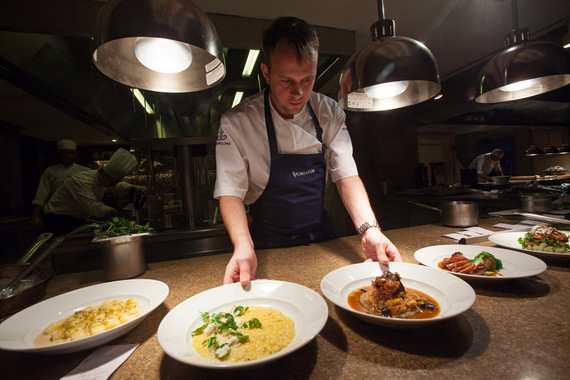 "With more people eating out chefs can push the boundaries in food and service." (Image courtesy: Mark Poynton)
Any Indian chefs you are familiar with in India and internationally that you think are doing a good job?
In Bangkok, Gaggan Anand is doing amazing food. His restaurant Gaggan is currently rated the best restaurant in Asia. In the UK, Alfred Prasad is a great chef who has accumulated Michelin stars and really pushes Indian food. Sat Bains of Punjabi origin runs the amazing restaurant Sat Bains, with two Michelin stars in Nottingham -- while not cooking Indian food per se, he is an inspiration to a whole generation of chefs across Europe and beyond. In India, JP Singh at Bukhara, ITC Maurya, has been at the forefront of Indian food for 30 years.
Your favourite international places to dine and a dish that you would recommend there...
Midsummer House in Cambridge, UK -- the roasted scallops with celeriac and truffle; Alain Ducasse at Plaza Athénée, Paris, France -- any food he touches is amazing. Esquina, Singapore -- any of the amazing tapas-style dishes produced are top notch.
What kind of food do you personally enjoy?
I really enjoy Japanese at the moment. So light in the touch but so flavoursome and fresh.