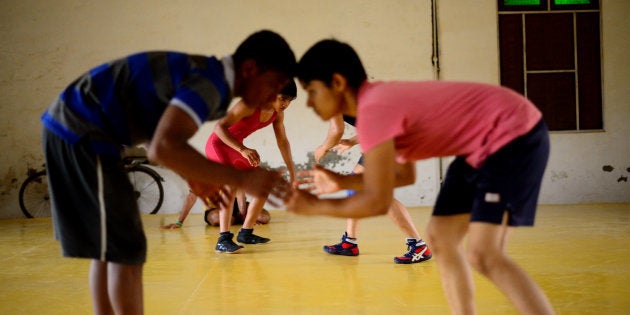 Journalist Rudraneil Sengupta travelled far and wide, to villages and small towns in India, to document the culture of wrestling and akhadas. Enter the Dangal: Travels Through India's Wrestling Landscape is the result of his research, bringing together incredible accounts of courage, fortitude and will-power since historic times till this date. The excerpt below tells the story of the journey of the Phogat sisters from a village in Haryana to the world stage.
The distinction of being India's first woman wrestler to qualify for the Olympics belongs to Geeta Phogat, who competed at the 2012 London Games, two years after [Arjuna Award-winning wrestler] Chandgi Ram's death.
Geeta belongs to what is perhaps wrestling's most remarkable family. Her father, Mahavir Singh Phogat, came to Delhi from the village of Balali in Haryana to train under Chandgi Ram when he was just sixteen.
He has four daughters—each of them an international wrestler—and two adopted daughters after his brother was killed in a land dispute. They too are international wrestlers. And he managed all this not from a city, but from his own village.
Balali is deep country. It is still untouched by Haryana's hurried pace of urbanization, and sits hidden in the middle of wheat fields and guava and citrus groves. In the afternoon, you can walk around Balali's slim tracery of cobbled streets and meet not a single person.
Inside Mahavir's house—an elongated rectangle of flat white—there is a stirring of post-siesta activity. There is a gathering of village elders, all in white kurtas, who have lit the communal hookah and broken out the cards. Mahavir himself is on his charpoy, eyes still resolutely closed. His wife Daya has swung into action. The family's immense black buffaloes have been led out of the shed, their troughs filled with feed. Daya is laying out the buckets she will use for milking.
Mahavir opens his eyes abruptly, pulls out his phone and scolds someone at the other end: 'Where's your daughter? We start in five minutes. Tell her to run.'
He stands up and shuffles towards the house. It's not a house. It's a large wrestling hall: a double-sized mat on one side, top-of-the-line weight machines in another, thick ropes dangling from the high ceiling, and a series of small windows overlooking lush farmland.
Mahavir's six girls are the first on the mat—Geeta, Babita, Ritu, Sangeeta, Vinesh and Priyanka—all dressed in dry-fit tees and training tights. Two more girls come running in. Then three boys. 'Warm up,' Mahavir barks, pointing to the mat.
That there are girls wrestling at all, in these rural settings, is in itself a miracle, let alone the quality of international success they have managed.
Geeta is a gentle, soft-spoken woman with an aquiline nose and an easy smile. She is the only one of the six sisters with long hair, which she ties in a high ponytail during her bouts. The rest have identical short crops that barely cross the nape. As the eldest sister, Geeta has forged a remarkable path for the rest to follow—Commonwealth Games (CWG) gold in 2010 was followed by a bronze at the 2012 World Championship, a first for Indian women; then she qualified for the Olympics. The sisters are not far behind. Babita won silver at the 2010 CWG, and gold at the 2014 version, where Vinesh also won gold. Ritu has every major international medal at the junior level (including multiple World Championships), and is about to make her leap to the senior team.
Sangeeta and Priyanka have medals from junior Asian Championships.
What if all six of them land up in the same competition one day, and all of them finish with medals?
'Let that be the Olympics!' Babita is thrilled with the idea. It has occurred to her before.
'Well, perhaps not all six. Let's say three,' Geeta says. 'Now that's not fantasy—that can happen in Rio.'
'Yes, and then papa will finally say—' Now Babita makes her voice heavy and manly: 'Fine, not bad. Now you can rest a little.'
Despite Chandgi Ram's efforts, no village in India has a wrestling school where women are allowed, except here, in Balali. Even in the cities, the number of private akhadas that allow women can be counted on your fingers—Jabbar's centre in Meerut; Indore, where former Olympian Kripa Shankar Patel campaigns for akhadas to open their doors to women, and runs his own centre; Rohtak, where the University of Rohtak runs a popular training centre; former Olympian Prem Nath's akhada in Delhi; Deepika's school.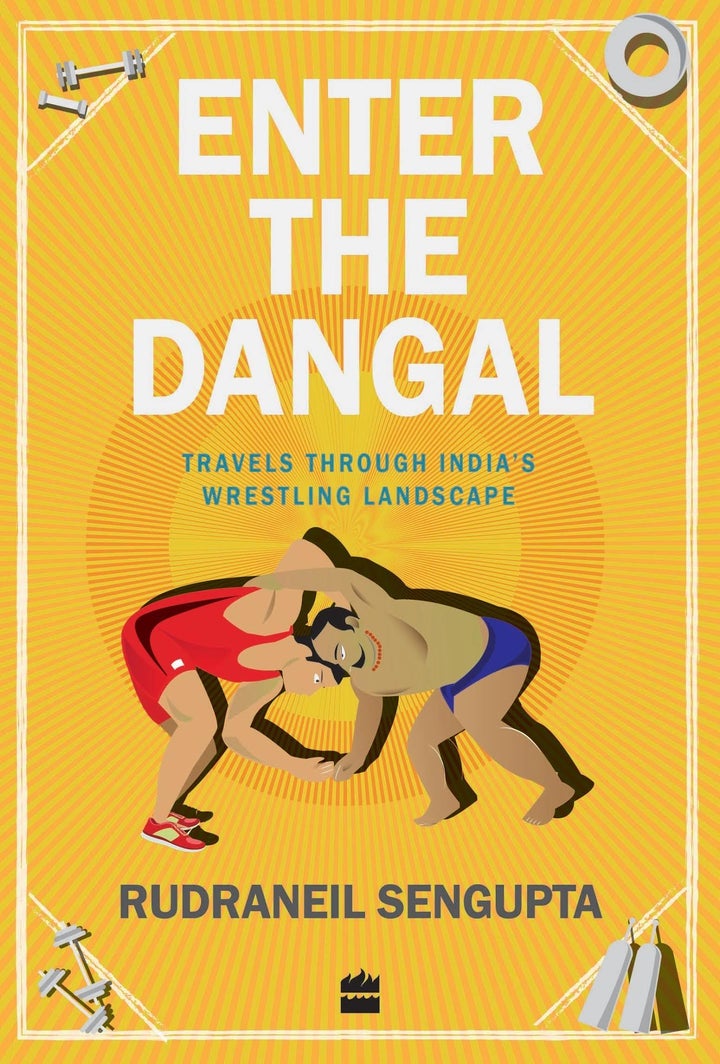 Chandgi Ram's campaign has spread, more than a decade later, and consolidated in these little pockets of resistance.
'The general atmosphere is still strongly against women in wrestling,' says Kripa Shankar, who was a former coach with the national women's team.
His family, who have been in wrestling for generations, were Chandgi Ram's chief patron when he opened his vyayamshala.
'We have a very small talent pool to pick from,' Kripa Shankar says. 'Maharashtra, which produces hundreds of male wrestlers, has nothing for women. Madhya Pradesh has very little, Jabbar Singh is alone in Uttar Pradesh. Only Haryana is really trying. Women's wrestling is still new to the world, and we could have stepped ahead, taken the lead and dominated it for years. But no, we are stuck being backwards, judgemental and idiotic.'
Not Mahavir, not in Balali.
'Masterji opened my eyes,' Mahavir says. 'He used to tell me, "What you are doing for your girls, you will see one day that it will bring you great happiness. So keep doing it, don't be scared, face your difficulties like you face opponents, and be deaf to the criticism."'
Geeta remembers that morning when her father woke her and Babita up at five one morning, and said, 'I want to see how well you two run.'
She was ten then, Babita eight, and they were both a bit puzzled.
'It was fun though,' Geeta says. 'We ran laughing through the fields when everyone else was asleep, it felt like a secret game.'
A week of that, and Mahavir in the meantime had finished making a level square of soft earth next to his house, and had raised a tin roof over it. The akhada was ready.
'People said, Mahavir has lost his mind,' he says. 'They said, he is destroying the village, he has no shame, and he is making an exhibit out of his own girls.'
But there was only so much the villagers could do to oppose this unprecedented development—Mahavir was the sarpanch, and the family had both influence and land.
'So we were spared the worst of it,' Daya says. 'They could not come up to me and say these things to my face. But I was told many times, "Your daughters will become like boys, their faces will get messed up, they won't be able to bear children, their ears will get mangled, and who will marry them?" I felt the stress of that. But I felt angry that there was so much opposition to the girls doing anything different, so I wanted to see the fight through the end.'
Geeta and Babita were exposed to some of this harassment; people in the village stopped talking to them. They would not even make eye contact with the sisters.
'After a few months, there were a couple of boys also at the akhada, and papa started training us together. We would fight the boys, and wrestling's such an intimate sport,' Babita says. 'That was a step too far for most people in the village. There was constant trouble during that time.'
Despite the social boycott, the Phogat girls loved the life of the wrestler—the pain, the euphoria, the fighting, sleeping exhausted after a hard day's training, the liberating experience of wearing shorts and T-shirts, all the fuss over their diet.
'It was a great adventure,' Babita says, 'And what made it special was that we knew no other girls in our village or in any nearby village who were doing this!'
Excerpted from Enter the Dangal: Travels Through India's Wrestling Landscape, with permission from HarperCollins India (280 pages, Rs 350).
Also see on HuffPost India: