Rita Banerji
This may sound odd, but when I lived in the US, one of the things I missed about India was Christmas. It was not nostalgia for family and friends, as my family did not celebrate Christmas, or any religious festival. My grandfather, an atheist, had a standing instruction for all things religious --"Take it outside the gate." So it was outside the gates that I learned about religion and decided that fascinating as it was, it did not fit my logic on life.
Yet, religion is central to the celebration of Christmas in India in a way it is not in the US. In the US, I often felt weary with the consumption glut that overwhelmed Christmas, driven by aggressive marketing, and the endless obsession with malls, sales and hoarding of gifts.
But what endears the Calcutta Christmas to me is not religion. Rather it is the unique event in time and space that it is. For Calcutta, Christmas is an event where the city celebrates its centuries-old history and its multitudes of immigrant communities, cultures and religions in a manner that they retain their uniqueness, even as they blend, seamlessly, into one big celebration. It's an experience I've not witnessed with any other religious festival in India or anywhere else. The British, French, Portuguese, Dutch, Turks, and Arabs, had all, at some point in history, colonised or occupied Calcutta or some part of Bengal. Jews and Armenians fleeing genocides had sought refuge here. Traders from China and Afghanistan had also settled down in communities here. And it's remarkable how one can still spot all these communities and their impact on Calcutta in the way this city celebrates Christmas.
It is this joy I share here with a set of pictures I took as I went around the city yesterday, enjoying its pre-Christmas celebration.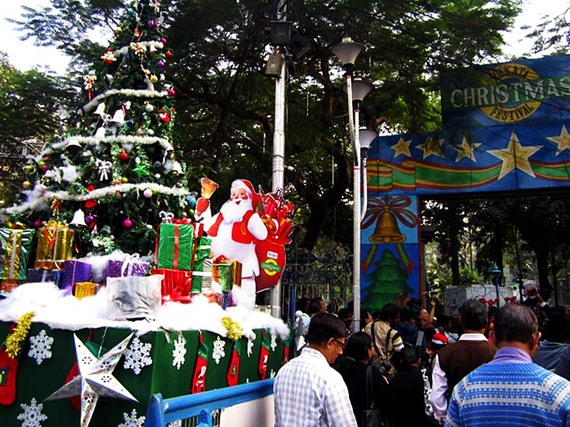 A Christmas Carnival at Allen Park in the heart of the city. This was originally a deer park owned by Sir Elijah Impey, a British Jew, and the first judge of Calcutta's Supreme Court in 1773.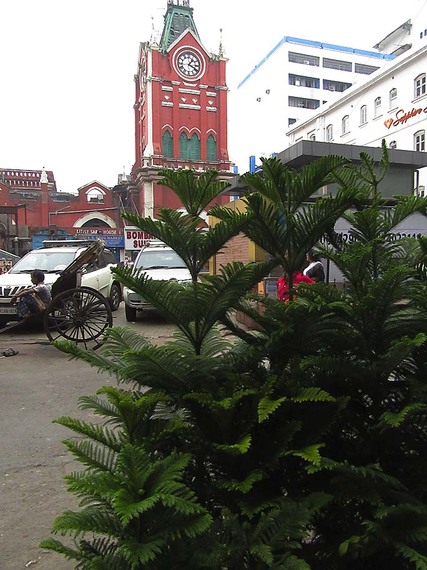 Fresh Christmas trees for sale under New Market's red brick Victorian clock tower. "New Market" is one of the oldest and largest shopping malls in Asia. Earlier known as Hogg's Market after Sir Stuart Hogg, it was built in 1874 to cater to Calcutta's large expatriate British community. Even today, with 2000 shops, it sells everything under the sun.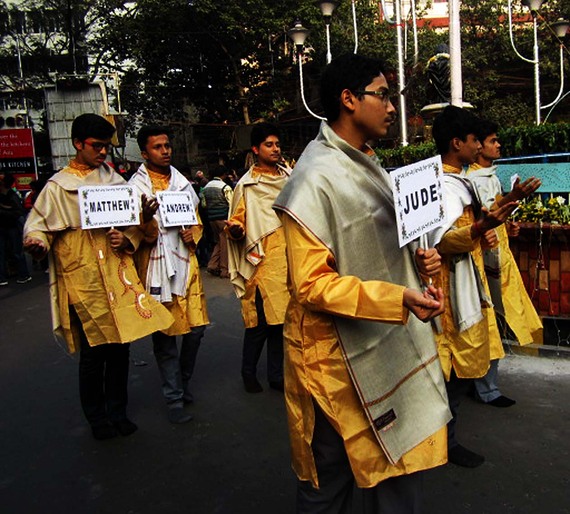 Schoolchildren enact the roles of apostles in street Christmas pageants. Though it's often assumed that it was the British who brought Christianity to India, the religion came to India about 1700 years before the British did. Saint Thomas, one of Jesus' 12 disciples came to India in AD 52, and was later killed here.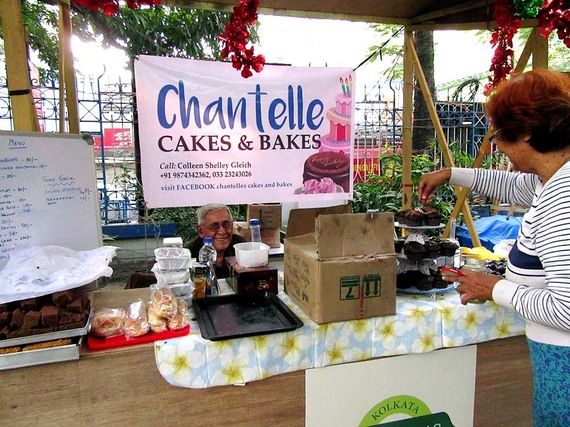 Many in the Anglo Indian community of mixed British and Indian descent have immigrated to the West. But interestingly, many return to Calcutta every year to celebrate Christmas. There are wonderful stories of how women start the preparations for home-made raisin and plum wines for Christmas months ahead, using family recipes that have been passed down for generations.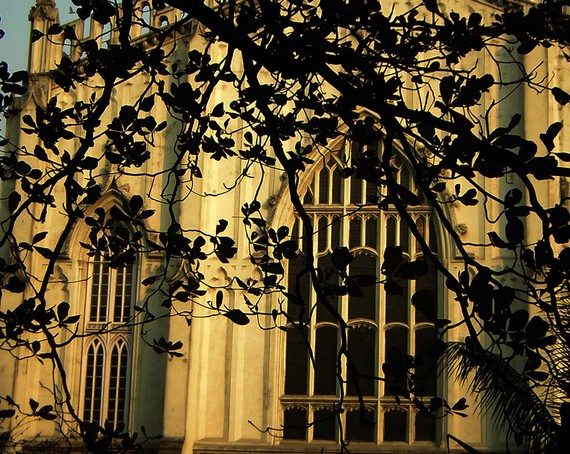 There are 41 churches in Calcutta. The St Paul's Cathedrall built in 1847 was the first Anglican Cathedral outside of Britain and modelled after the Canterbury Cathedral. There are midnight masses held in many of the churches, and wonderful music by children's choirs often from the orphanages affiliated with these churches.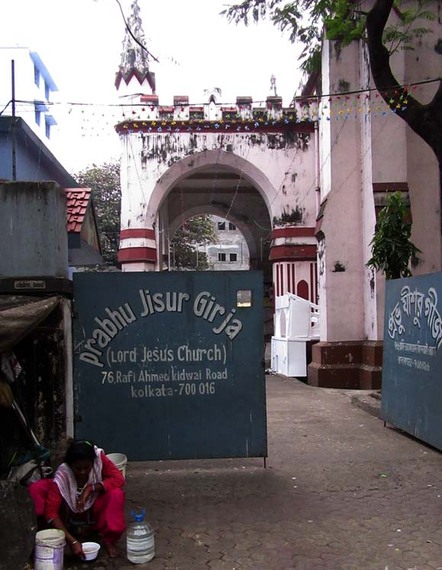 A slum outside the Church of Jesus (known as Yeshu locally). Often the poor in the city visit churches around Christmas time for the food or clothes that are distributed.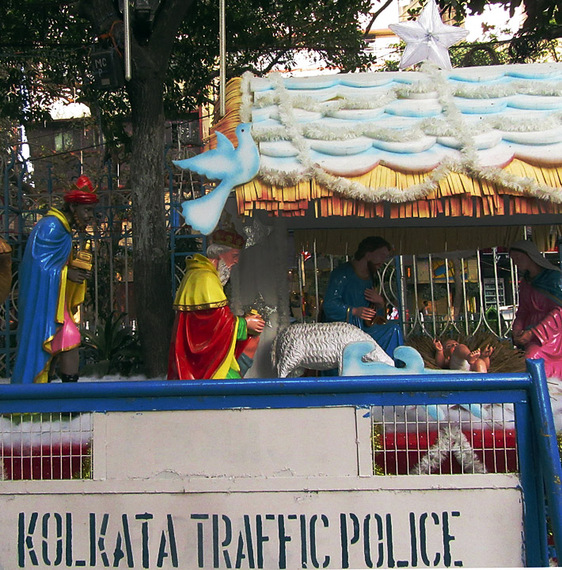 A nativity scene at the Allen Park Christmas Carnival blocked off with a police blockade to prevent vandalism.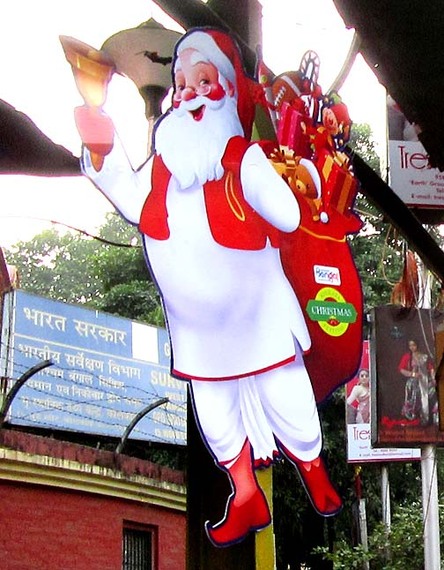 Interestingly, Santa, like Jesus, is always portrayed as a White man. However, Santa is sometimes dressed to suit the climate. Here he's shed his winter wear and is wearing the Bengali dhoti, kurta and a little jacket.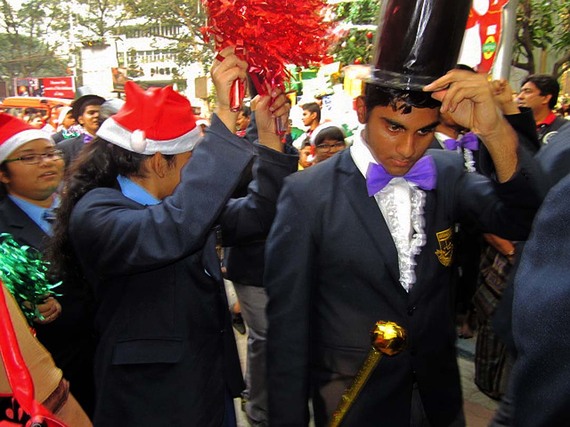 Schoolchildren carolling on Park Street.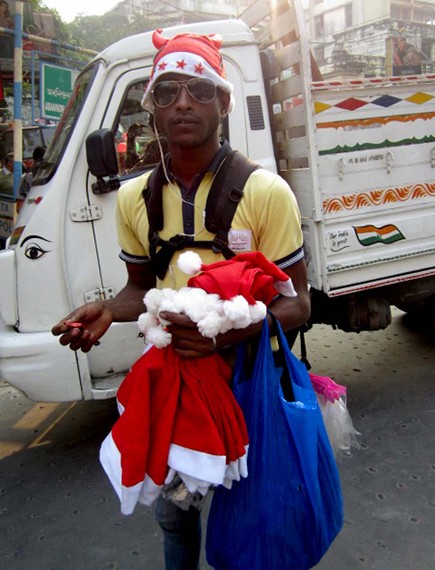 A vendor with a Devil's cap sells Santa hats at a traffic crossing. Interestingly, Santa Claus is a pagan feature of Christmas! Behind him, the truck has an Indian flag on one side, and on the other the symbol of "the eye", a remnant of the Turkish presence in Bengal - in Turkish culture, the eye symbolises protection from evil.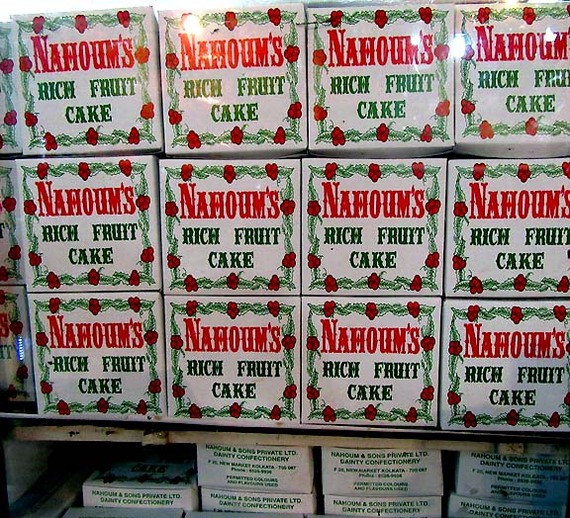 One of the most popular Christmas cakes in the city is the rich fruit cake from Nahoum's, a Jewish bakery which was established 1902.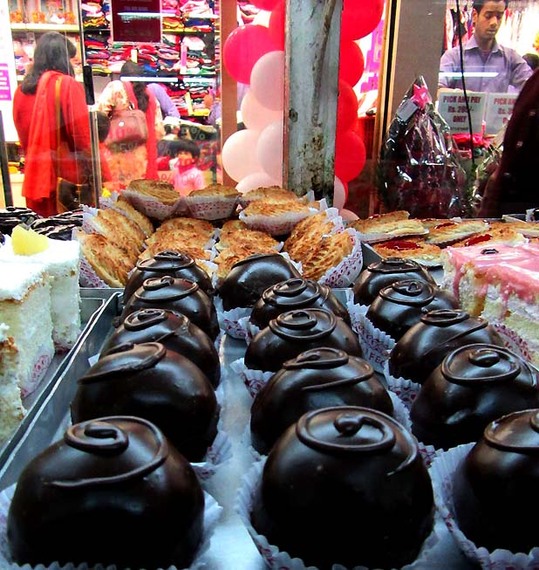 Chocolate rum balls and other popular pastries at Nahoum's.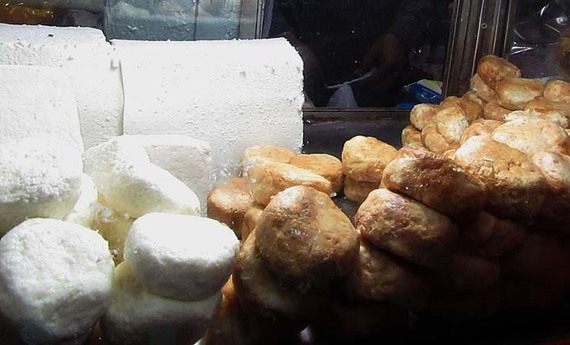 Bandel cheese is perhaps the only real cheese that was produced in India. One of my favourite cheeses, it is semi-soft and smoked. The Portuguese who formed a colony in Bandel, near Calcutta, introduced the technique of curdling milk to Indian cooks, and helped develop the Bandel cheese. Curdling milk with acidic materials to form cheese was actually prohibited to Hindus, yet Bengal embraced this technique so wholeheartedly that chhana (paneer), another soft cheese, is the main ingredient for sweets like sandesh and rasogolla that Bengal is most famous for.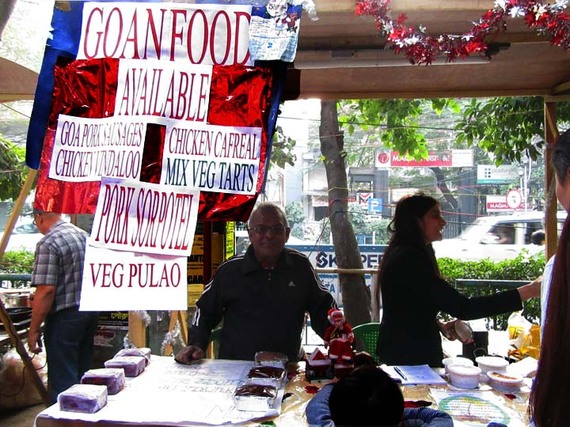 Goa in western India was also a Portuguese colony and has a large Christian population; many Goan dishes have Portuguese influences. Here a Goan family's Christmas stall sells a pork dish, sorpotel (or sarapatel), originally from the Alentejo region of Portugal.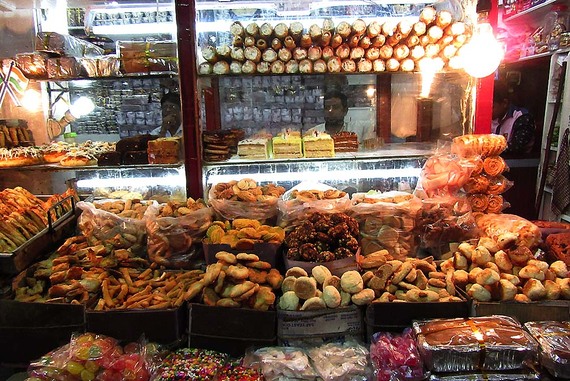 A wide array of cookies in the bakery shops of New Market. Many of the traditional bakers in Calcutta are Muslim. Indeed, Christmas is a very busy time for them. This is because traditionally techniques of using yeast in baking breads were brought to Calcutta and the rest of India by the Turks and Arabs.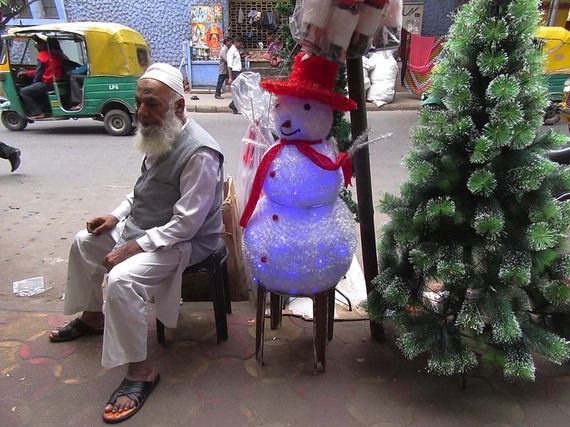 It's also interesting that many of the vendors selling Christmas ornaments and accessories are Muslims.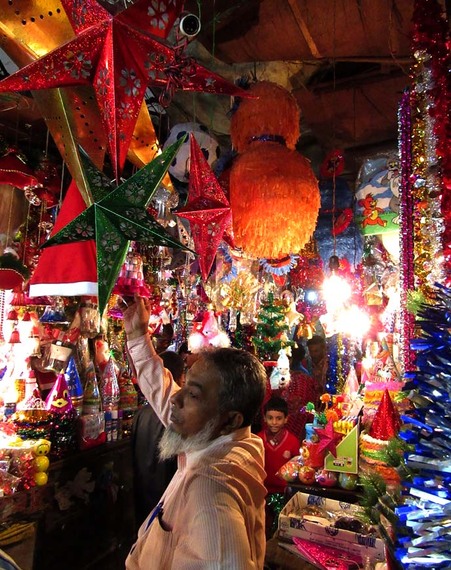 Even though the population of Christians in India is only 5% there is big demand for Christmas decorations, because Calcuttans love to deck their homes with Christmas ornaments at this time, regardless of their religion. And there are many shops selling them.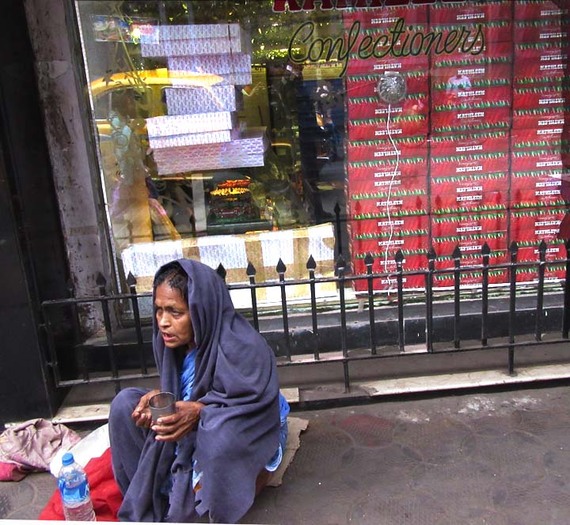 A homeless woman sits in front of a fancy bakery selling Christmas cakes, hoping some of the customers will show some Dickensian good will.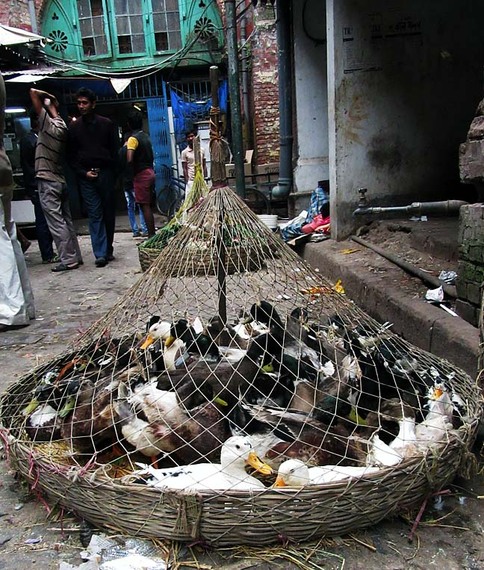 Ducks are not a usual staple, but during Christmas there are markets that cater to the small demand for them. Here, like with other poultry, the customer picks a bird and the shopkeeper then kills and cleans it for you.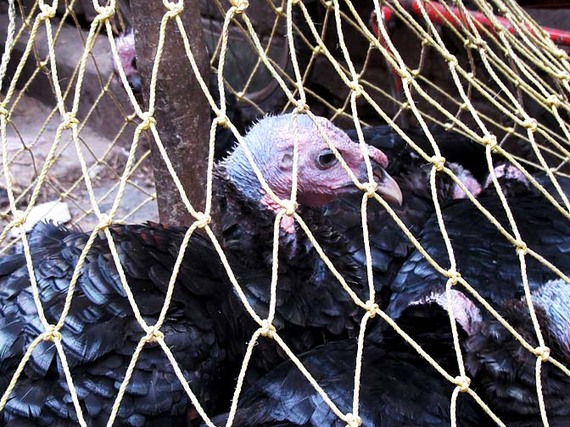 Earlier turkey would be sold frozen or smoked because it had to be imported from the West. But now, as with the ducks, the poultry farmers are breeding them locally and selling them live during Christmas.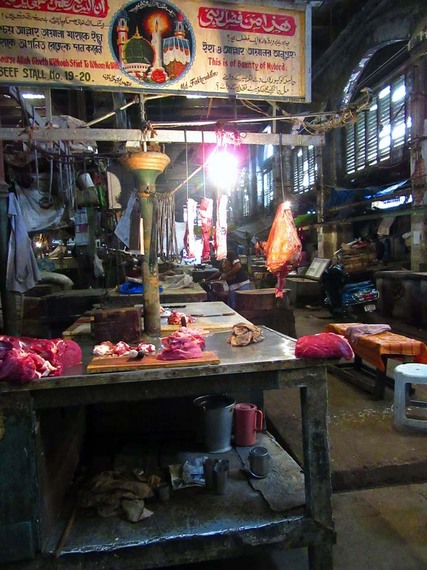 While there has been a lot of controversy over the sale of beef in other parts of India because Hindus there see it as offensive, there's no such issue in Calcutta.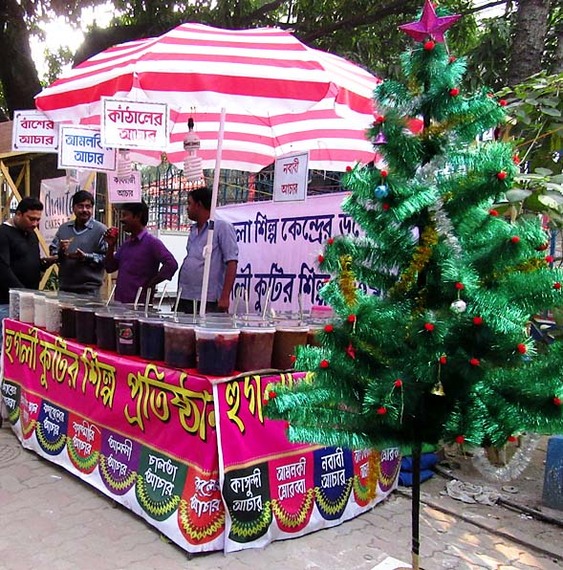 The local Bengali flavour to Christmas. A pickle stand at the Christmas fair selling tropical pickles, including a jackfruit one.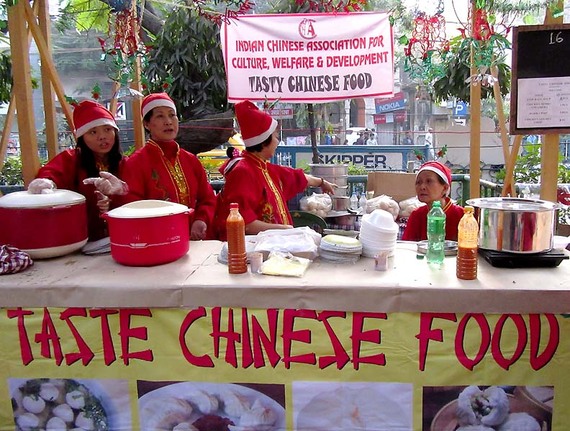 Calcutta has a large Chinese community that's been settled here for over 230 years. Many Chinese are Christians, and the use of red here is interesting, because for the Chinese it is also a colour of good luck.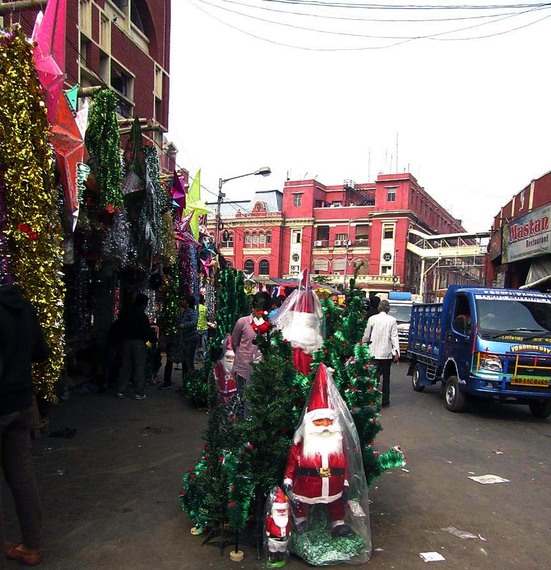 Fake Christmas trees on sale, right in the middle of the street, behind New Market.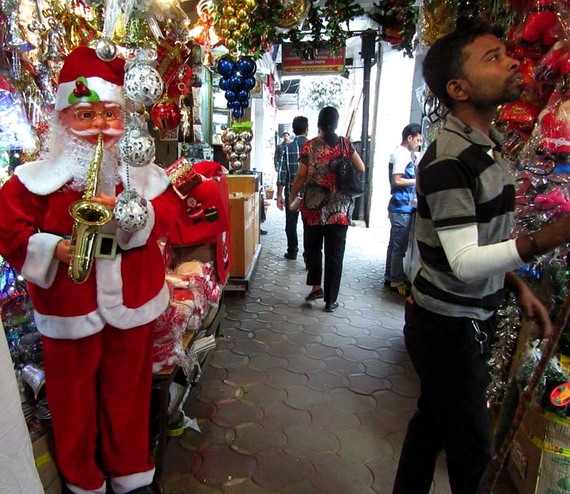 Around Christmas time, the little pavement shops around new market on Lindsay Street, sell Christmas decorations and form a lovely arcade that pedestrians can walk through.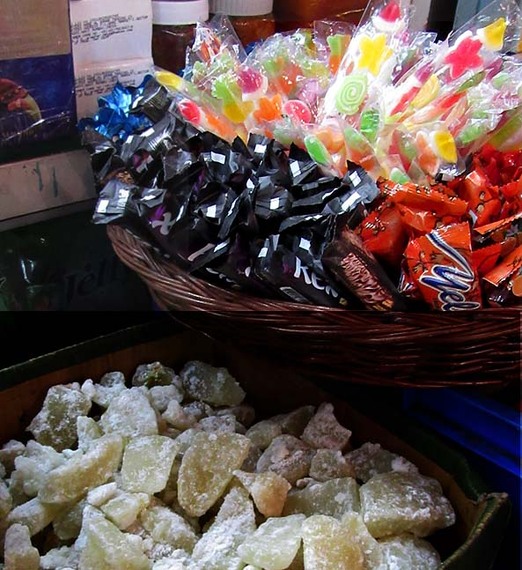 Along with commercial chocolates and candy, traditional Indian candies like the (white) candied gourd are popular during Christmas.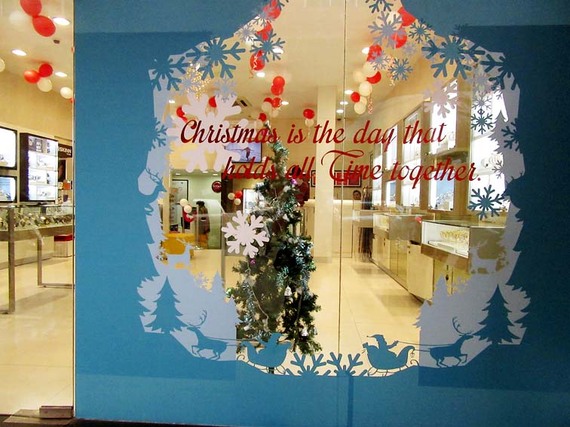 I thought the words on this shop window on Lindsay Street perfectly captured the spirit of Christmas in Calcutta!
Photos by Rita Banerji. All Rights Reserved. © 2015
Like Us On Facebook |

Follow Us On Twitter |

Contact HuffPost India
Also see on HuffPost: