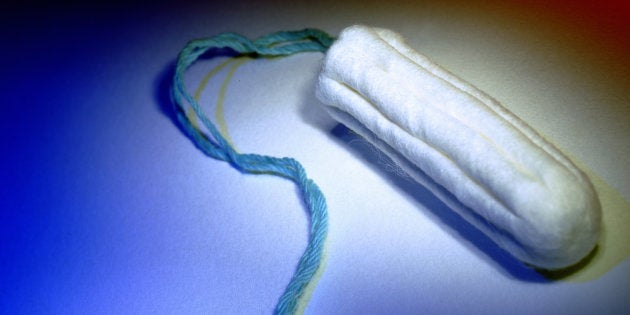 Men are spared the ordeal of bleeding every month, going through menstrual cramps and having their body considered so "dirty", "impure" and "disgusting" that in some parts of India they are forbidden from entering kitchens and temples during "that time of the month." What is it about menstruation that makes it such a hush-hush, private affair when we all know that it is just a normal, bodily function that women have to undergo every month? Why are there so many taboos surrounding the menstruating woman?
I remember when my younger sister first started menstruating and would complain of cramps to my mother, she would always do it in hushed tones. Sanitary napkins would be wrapped in newspapers and kept out of the sight of male folks in the house. The lack of information around sexual and reproductive health meant that my siblings and I were at best ignorant and took our mother's way as the norm. A report brought out by Dasra, a strategic philanthropy foundation working around women's welfare and rights, has observed that 70% of mothers in India consider menstruation "dirty", thereby perpetuating a culture of shame and ignorance that more often than not begins at home.
The ignorance and indifference of men can have severe consequences for the economy, girl-child health, education, and sustainable growth.
Research shows that secrecy and stigma around menstruation inhibits participation of girl children in schools, particularly in rural ones that lack basic infrastructure such as toilets and adequate water and sanitation facilities. Social institutions like the family, schools, universities and workplaces often ensure that we do not talk of the female body or sexuality outside the bounds of homes and bathrooms. Female sexuality is regulated by a system that denies women basic rights over their body and health. The fact that so many women across the country do not have access to adequate menstrual or reproductive healthcare is testimony to this. Figures released by Dasra indicate that 88% of menstruating women in India do not have access to pads and tampons, instead using home-made alternatives such as old fabric, rags, sand, ash, wood shavings, newspapers, dried leaves, hay and plastic.
In India, sex is considered a 'dirty' word. More often than not, sexual issues remain shrouded in silence. The only way a lot of us learn about our bodies and sexuality is through pornography, the internet or from peers. For boys, knowledge about periods is often hindered by cultural and gendered norms. We grow up with dangerous stereotypes about what constitutes "men", "women', "transgender people", "homosexuality", etc. A lack of awareness around menstruation results in negative views about girls and the female body. As this article points out, issues surrounding periods and PMS (premenstrual syndrome) are often reduced to jokes by young men.
The self-awareness and sensitivity of men towards issues of women's sexual and reproductive health can go a long way in dispelling myths around periods.
On 8 March, 2015, 19-year-old Elona Kastrati from Kalsruhe, Germany started a unique campaign on gender equality. As she hit the headlines for plastering the city's important road signs with sanitary pads carrying provocative feminist messages, she became the source of inspiration for similar public art projects in Jamia Millia Islamia and Delhi University, with students writing feminist messages on sanitary pads and placing them on college campuses. In a culture that perpetuates sexism, misogyny and homophobia in the garb of tradition and moral values, recent campaigns like Pads Against Sexism, Why Loiter and Pinjra Tod -- mostly driven by young, independent women in Indian cities -- have asked unsettling questions.
Met with hostility from certain quarters, as well as support from many others, these campaigns have initiated significant conversations around menstruation, rape culture, access to public spaces, moral policing in university hostels and homophobia. It is crucial that more men join these conversations. The self-awareness and sensitivity of men towards issues of women's sexual and reproductive health can go a long way in dispelling myths around periods, in nurturing environments of mutual dialogue and care, and in ensuring accessibility of menstrual healthcare for all women. A gender-equal world is only possible when all girls go to school and all women are free to make their choices. For this to happen, we need men's voices too.