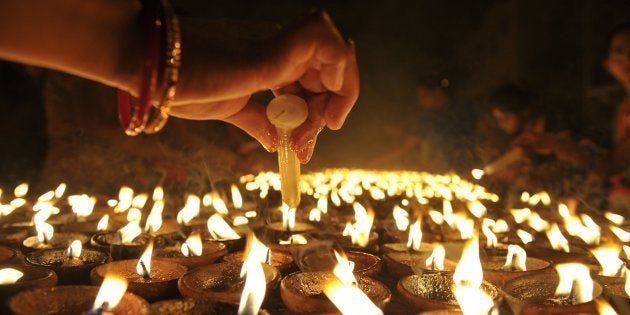 In my home, Diwali is a festival that is celebrated with gusto. I am not a very 'festival person', and generally I like to witness the festivities and associated toil from a distance, but not for Diwali. From cleaning, cooking, decorating, diyas, buying new ethnic wear, to a proper Lakshmi pooja, Diwali signifies lights, happiness, community and family to me, as I am sure it does to many people. Diwali is also the time when it is important to be with loved ones. As the world celebrates, this is no time to be on your own.
Many of my childhood Diwalis were spent in my maternal grandmother's home. With cousins and extended family, this was truly a time to cherish. Later when we move to Bombay, it was not possible to make our trips back to Uttar Pradesh every year. Dad was a high-ranking bureaucrat and we threw parties and invited a lot of people around Diwali. Family was slowly replaced with friends, and the dimension of the festival shifted from close family to friends.
Then mum fell sick. She had a couple of fractures, a long drawn out recuperation period, depression and was bedridden for a few years. Those were some of the most painful times for my family, along with her illness came a sort of social exclusion, rather ostracisation. Bombay is a wonderful city, but it is also a city where one does not know who lives next door, very unlike the gated community I live in Bangalore now. Hence, visitors and friends greatly dwindled over the months. Then there was this one Diwali when just the five of us were at home with nothing much to do.
A festival is much more than eating or making merry, it is about spreading joy.
Festivals are the times when the women in the family do a lot of planning, organising and shopping. Since mum was the center of all festivity, running around cooking up a storm, arranging for things for the pooja, getting the house in order, her illness took a toll on the house. Where is the gaiety when our lifeline was on the bed, ailing and depressed? Our moods were grim, and we did a very half-hearted pooja.
That year, we did not go around to any homes to wish and greet people for Diwali, and no one came home to wish us. When someone in the house is sick, all happiness is sucked out from any happy occasion, and you are very acutely aware of this on a festive day. All the happy advertisements on TV seem to mock you. People were enjoying and celebrating all around us, I felt a little sorry for myself, and was upset.
Then the doorbell rang, and in walked an old friend of dad's, he and his wife had known us for years. They were there to meet us and also enquire after mum's health. Things looked up. Mum who was propped up on bed also smiled and engaged in some chatter. As they stayed for some time that evening, we all felt our Diwali brightening up. A festival is much more than eating or making merry, it is about spreading joy. Most of us don't pause a moment to think about those around us who may be down, and need a little support. We are caught up in our circles, in our families, in our little cocoons.
When things are not going well for you, it is the time when you need the support of your friends, and family the most.
When things are not going well for you, it is the time when you need the support of your friends, and family the most. This Diwali, as I prepare with joy, planning a lot of details, thinking about what gifts to buy, I remembered them with gratitude. They would never know how much their visit on that Diwali night meant to our family, and to mum.
This Diwali, let us seek out those who have not been able to go home. Those missing their families, those sick and unwell and call them home or visit them. They don't need much, just an acknowledgment that they matter and that you thought of them. You don't know how far your little gesture will go in brightening up someone's unhappy festival.
A version of this post was originally published on Rachna says.
The opinions expressed in this post are the personal views of the author. They do not necessarily reflect the views of HuffPost India. Any omissions or errors are the author's and HuffPost India does not assume any liability or responsibility for them.