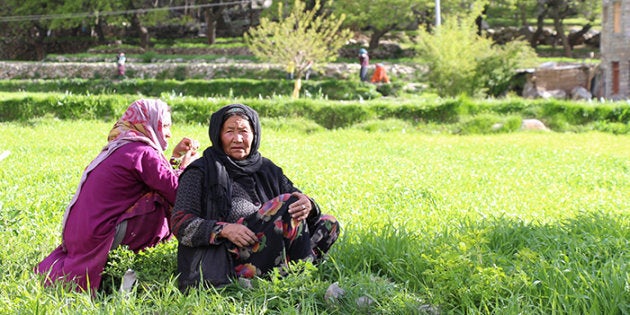 Women are breaking glass ceilings everywhere and reaching for the skies, whether it's in medicine or engineering or entrepreneurship or politics. They are rightfully earning their place in the sun. Yet there are many unsung women heroes out there, far from the public eye. I had the privilege of meeting some of them in Ladakh. While some of these women grapple with danger and adversity as part of a day's work, other are inspiring for their sheer grit and determination to craft a better life for themselves and their families. These women, in short, are doing things that would leave most city-dwellers awestruck.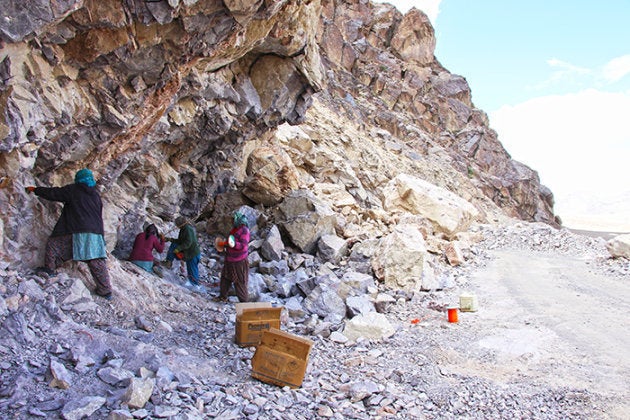 The Boulder Breakers
These "rock stars" work their magic in the highest motorable road in the world.
The Border Road Organisation is famous for building roads at the highest possible mountain passes. And their secret ingredients for success are Ladakhi women who work tenaciously even at low-oxygen altitudes. Indeed, most workers up here are women.
"Sometimes we get hurt while breaking the rocks, but now it's a part of our life. We have become expert in pulling off the rocks which are then pushed down the hill by the machines," said Tsanzin Dolker. She is a middle-aged woman whose children study in a local school in the Khardun Village while she works here from morning till evening. There are so many women like her, who are happily devoted in such dangerous work and still wish all the travelers "Julley" with a broad smile at any time of the day. If you ever travel through this route, don't forget to greet the rock stars who make it motorable for you. They are the reason you enjoy the most scenic journey in Ladakh.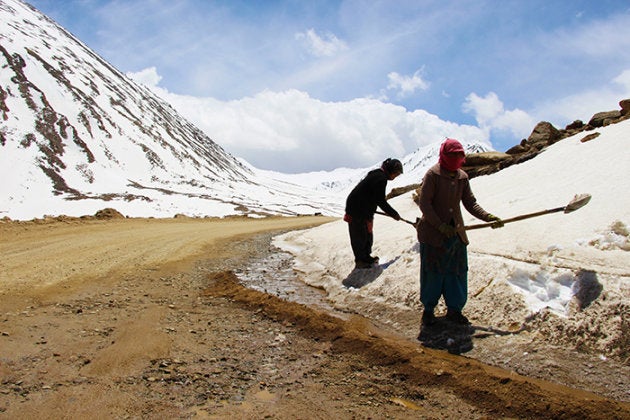 The Snow Fighters
The highest motorable road in Ladakh remains open throughout the year except for a few days in winter. Though machines remove most of the snow, manual labour is still needed for the last layer of on the rocky sides. The women heroes of Ladakh thus come for the rescue and work for hours together to ensure a smooth ride for you.
I asked the ladies if they had water-resistant or special shoes for their work in the snow. The answer was a no. Most of them work in wet shoes that are later dried off in the sun; mild frostbite is not an uncommon affliction for them.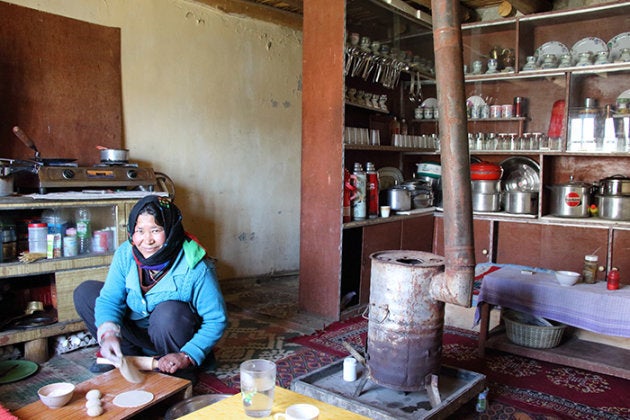 The Super Moms
Ladakhi moms have become experts in trading the goods and in earning off their vacant houses while their children and husbands are away for their jobs. I met one such lady at Spangmik Village.
Dorkas stays all alone in the house for the sake of her family but she isn't just a homemaker. Her children study in Leh and her husband is posted at the border. She works in the farm the whole day and then sells the grains all by herself when she visits Leh.
In the evenings she welcomes guests who are visiting Pangong and cooks traditional dishes for them to earn some extra income. Where the flourishing tourism industry in Ladakh was once dominated by men, it is not seeing an increasing number of women leveraging it as well.
The Fashion Designers
The ladies of Ladakh have always had an eye for design. While they may never have had access to a formal education, their attire and sense of style reveals the influence of centuries of craft.
Be it leather or silk, women have traditionally made their clothes and shoes on their own—right from painstakingly making threads from wool to weaving to stitching.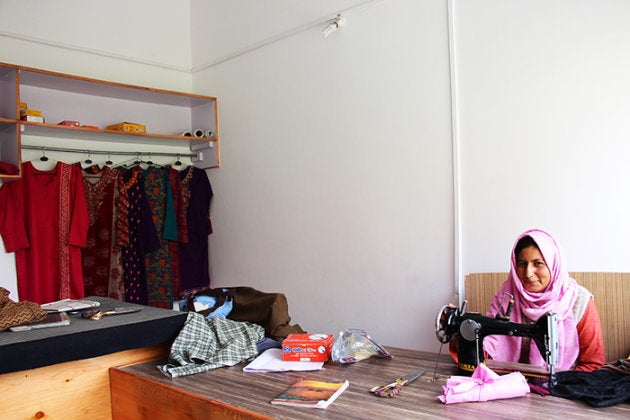 "One day I will make the Ladakhi style famous in the whole world," says Samina, a budding designer in the remote village of Turtuk. She dreams of opening a boutique of her own. There might be thousands of such aspiring and capable designers in Ladakh—all they need is the right exposure and platforms to showcase their talent to the world.
The Revolutionary Educator
Until the year 2000 it was not common practice to send kids to school in Ladakh. Most were put to work in family farms or tasked with cattle-rearing. The scenario is changing now, especially with the dedicated efforts of people like Yangchen Dolma, who aims to provide quality education to even the poorest children.
For the last 12 years she has been successfully running a school in Choglamsar near Leh. Her goal is to spread economic, social and religious equality in the region. She has admitted and even sponsored many children who could not afford schooling. She has also opened a school in Kargil—in fact she's the only woman heading an educational institution here. The secular education system in her school aims at inculcating good values along with skills in the future generation.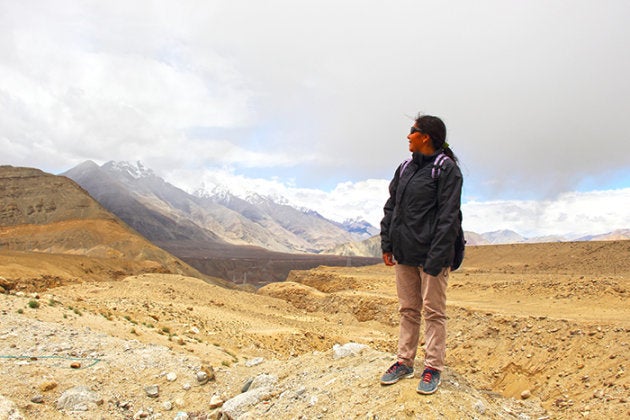 The Trek Guides
Even before the Ladakhi Women's Travel Company was established, Rinchen Dolma was the talk of the town in Ladakh for being one of the first female trek guides. She recollects how the villagers curiously ran out of their houses to meet a female trek guide during the initial days of her career.
She started her career in the year 2002 when most Indians weren't even aware about Ladakh. She has been successfully leading trek groups to Stok Kangri peak, Markha Valley and Zangskar valley treks for 13 years. Many trekking and travel agencies have now employed female trek guides. Rinchen too was working with one such company but now she has established a company of her own.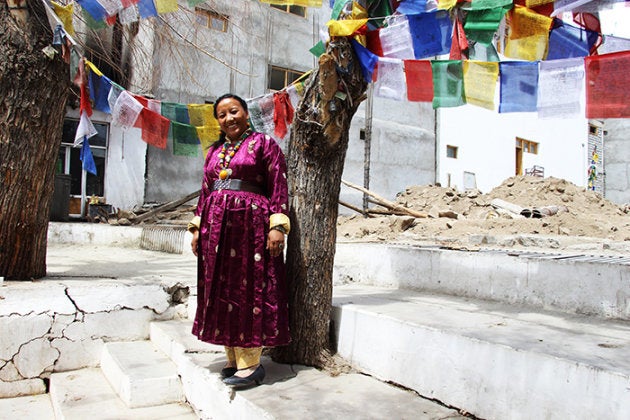 The Singers
"I wish to sing like Stanzin Lamo and participate in my favourite singing show," says four-year-old Changchub Dolkar. Stanzin is a famous singer of Ladakh whose melodious voice is heard in many local movies and radio stations. She remembers how people used to compliment her saying that Ladakh has now got its singer, whenever she performed for festivals. Unfortunately, she has not been able to reach the pinnacle she is capable of. Following her dreams would have meant leaving Ladakh and her parents, which was not an option for her.
There are still no training centres or opportunities for aspiring singers and dancers. She also told me about a Grade XII student named Padma who is an excellent singer, but like her will likely not be heard beyond local radio stations
These Ladakhi ladies don't have the tech know-how to promote themselves on YouTube and the like, but they still keep singing, never losing hope that their talent will one day travel out of the deserted and disconnected valley of Ladakh.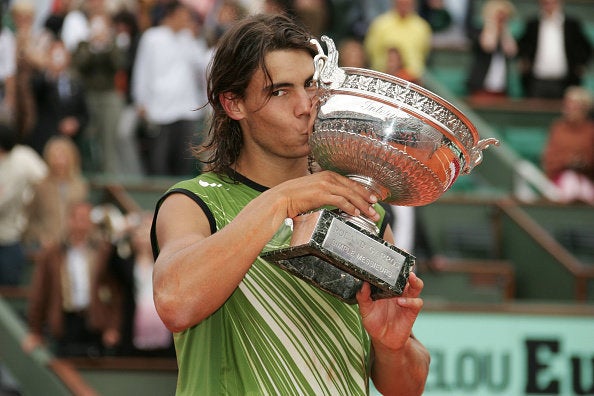 Rafael Nadal's 10 French Open Titles